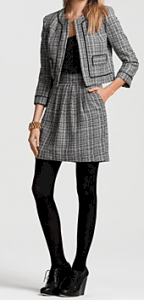 Update: This is still a fun discussion on design no-nos for women's workwear — but if you want to see our current thoughts on design mistakes for workwear, click here! Wondering what we LOVE? Take a look at our wardrobe essentials for work!
Far too frequently, I see a garment that makes me want to take the designer by the shoulders, shake them, and ask WHAT WERE YOU THINKING? I thought it might be fun to round up some of the design issues that bother me on a daily basis, and see which ones bug you guys as well. (Update: Check out this post on workwear trends we hate!)
Some of my biggest no-nos include:
– Women's suit jackets that don't have pockets (or have faux pockets). Hellooo, we need to stick business cards somewhere — and a phone if we can swing it. This may be one thing for blazers, which are more casual anyway, but it just seems like a total sin for jackets that are part of a suit. Networking is difficult enough, and I've frequently been at cocktail events where you're already trying to juggle a drink, appetizers, and leave a hand free to shake hands — and you're supposed to be carrying a purse or wallet with you also?
– Double-breasted looks. These come in and out of vogue — for sweaters! for jackets! — and I wish someone would show me the woman who looks good in a double-breasted anything.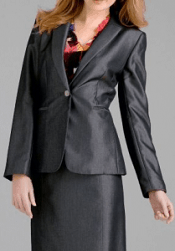 – Shiny suits. Ye gods, what event makes a woman say, "What to wear? I know — that super shiny suit." These suits are not dressy enough to fall into the "cocktail" vibe that some suits fall in (you know the ones — rhinestone buttons, lace details, often perfect for a society matron's night out on the town) — and they're so inappropriate for the office that it's laughable. Maybe in Vegas?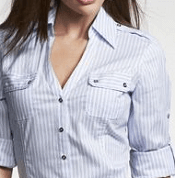 – V-neck shirts that add a collar on the upper portion of the neck (and not on the placket) — I suppose there might be an instance where this look might be acceptable, but it always strikes me as cheap.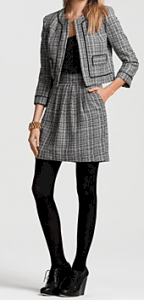 – The suit with either a mini-skirt or shorts. Really, are there so many teenagers and actresses buying suits that there need to be so many of these? (In the example above — hey, the skirt is as long as her fingertips…)
Readers, what are your favorite complaints about workwear designs?