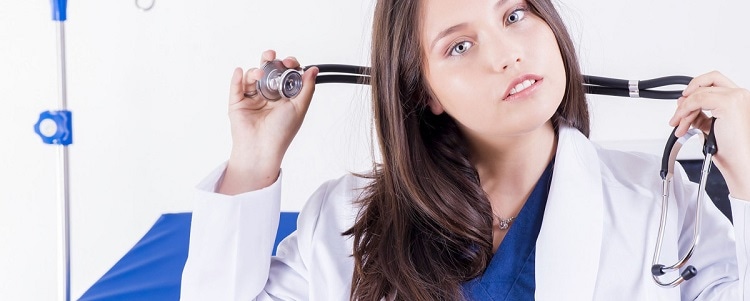 What are the best fashion tips for doctors? What special fashion challenges exist, and what are the best workarounds?
Reader S wrote in to ask…
Do you think you can do a fashion post addressing the specific clothing needs of doctors? Specifically young female doctors who need to look professional but still want to look polished and hip while also being comfortable? Thanks!
Interesting question, Reader S! I had a few ideas, but also reached out to two fashionable doctors I know to get their take.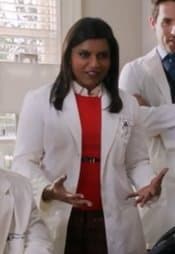 Note, of course, that we've talked in general about how to look professional when you're young, as well as how to act older.
For what it's worth, I've never really noticed my female doctors' clothes, in large part due to the lab coat, but I do remember thinking "ooh, pretty" about various necklaces — big ones, delicate ones, interestingly layered ones.
With my most recent pregnancy, the OB/GYN practice encouraged you to see every doctor in the practice, as anyone may be on call when you deliver — and almost none of the women wore a doctors' coat. They're based in SoHo, so some of the doctors were dressed very fashionably — think jumpsuits! — but no one ever stood out as unprofessional.
In fact, the biggest fashion gaffe that I've noticed among my doctors in general is messy hair. I've never stopped seeing a doctor I liked because of that one factor, but it did leave a "harried and crazed" impression that was less than professional.
SO: for my $.02 as a patient, neat hair and interesting necklaces are the things that I remember.
Otherwise, I would also advise you to wear comfortable shoes since you may be standing a lot. Here are some of our favorite comfortable flats: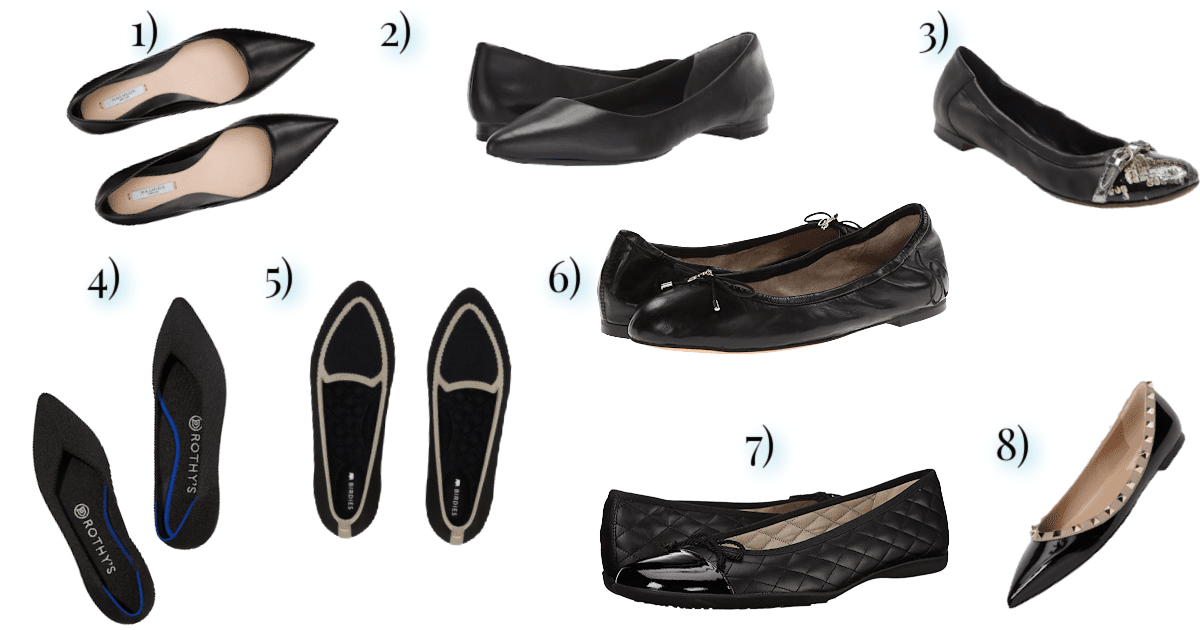 This post contains affiliate links and Corporette® may earn commissions for purchases made through links in this post. For more details see here. Thank you so much for your support!
Also, while every woman has to do the interview mirror test while sitting down, for doctors you want to make sure you won't have a wardrobe malfunction if you lean close to someone (to listen to their heart), if you bend over (either for an exam or to get something out of those low cabinets that seem to be in every doctor's office),  and so forth.
Some of the top products to help you fix a gaping blouse include:

Above, some solutions for gaping blouses: 1) Topstick toupee tape 2) double-stick medical tape 3) Flash Tape 4) Fearless Tape 5) black & white and colorful safety pins — see more clever solutions for workwear problems in our Amazon shop!
Finally, if you're a doctor who wears a lab coat, that will affect some of your sleeve choices — blazers will be out, as will thick knits like boucle and so forth.
In general I advise all women to rotate shoes at least daily (necessary to let the leather air out, etc.), but for a doctor standing or walking a lot, I might suggest keeping different shoes on hand for rotation throughout the day.
I sent this suggested advice to two fashionable doctor friends, to get their take. I'll post their responses in full below, but there are a few key takeaways:
Doctors' Tips for Fashion for Doctors
In a clinic/office setting, heels are OK because you're just going between a few rooms — but in a hospital setting you need comfortable shoes that you can walk for miles in (my friend loves AGL flats)
Dresses are great in a clinic setting, but can pose a problem in a hospital setting because of pagers — clipping them onto dresses can be difficult. (I will note that readers love MMLF dresses, in large part because they have pockets (and many are machine washable!) — ladies, what are your other favorite dresses with pockets? I will note that you can can search for dresses with pockets at Nordstrom.)
Psst: As of 2023, many of the best work dresses have pockets, including M.M.LaFleur, J.Crew, and Boden — Nordstrom also has a bunch!
Nothing should be low cut, or gape-prone while bending/lifting etc.
Belts are an easy, fun accessory to add.
This sounds like brilliant advice from my friend who works in a hospital setting: she does not mix work clothes and play clothes, out of concern for germs and so forth — she has a separate closet just for her work clothes.
(If you prefer work clothes that can be washed, note that every Wednesday is Washable Wednesday on CorporetteMoms!)
Some of our favorite brands of washable workwear as of 2021: green / black / black / navy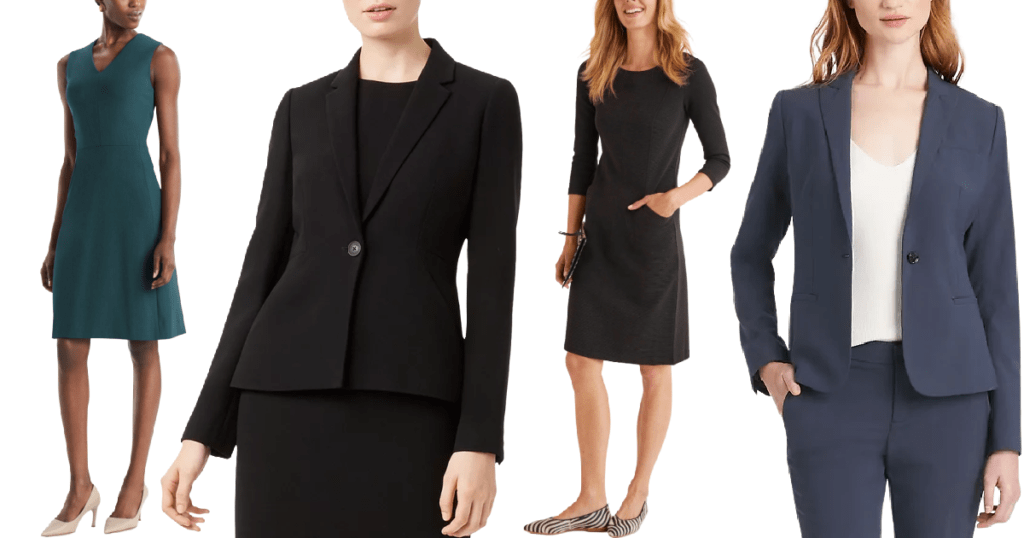 Fashion for Doctors: What This Hospitalist Wears to Work
Here's the advice from my friend the hospitalist, based in VA (she's an internist but only sees people admitted to the hospital):
This is a big "challenge" for me. I am trying to really ramp up on dressing better (I probably am more fashionable than most folks in my field but I'm going for more fashion forward/trying to be more upscale but less actual clothing not so much just looking the part). I think it partly depends on what kind of doctor you are.

— In the clinic (like the doctor you go to see for your annual check up), I think you can get away with heels but definitely need to be more flexible in terms of bending, moving around, etc. (Heels okay b/c limited walking if it is just between a few rooms.)

— In the hospital (which is my realm): comfortable shoes are a must (I walk about 4-5 miles/day at work!) but I have to do less weirdo/random exam stuff so I can wear more pencil skirts, etc.

— My major challenge is wearing a white coat which is mandated at my hospital. Then cute sleeves, blazers, thicker sweaters are out! And how things feel under a stiff white layer of poly-cotton makes a huge difference. Some of my friends get really sweaty, etc. (Hahahaha, too much info.) I wear long-sleeve shirts 50% of the time. Necklaces, belts then make a huge difference. Another "challenge" is that I have to wear a pager all the time and that can be tricky with dresses. I sometimes wear it on my white coat but it is definitely easier with trousers. The other observation I have made is that women sort of dress all over the board (i.e. everything from khakis to full/trendy professional wear) but men are stuck wearing a tie. Honestly, there are some days I wear a plain tshirt tucked into khakis and a cute belt and call it a day.

— Weirdo me-isms: I do not "mix" my work and fun clothes… So I have a whole closet for work clothes (germs, etc.) and don't mingle them with non-work clothes.

— The few blanket rules: (1) nothing low cut or nothing that could reveal too much during bending/lifting/etc. (2) Hospitals have a closed toe shoe policy (in case a needle falls, etc.)

Items I love:
– Silk long sleeve shirts from Everlane
– AGL flats (from Nordstrom) — BEST flats EVER
Huge thanks to my friend the hospitalist! She was also kind enough to share a week in her life with us as a working mother…
Fashion for Doctors: What This Dermatologist Wears to Work
Advice from my friend the dermatologist, based in Boston:
I work in the clinic setting and I do wear a lab coat. For me dresses are a staple, for ease and professionalism and for hiding my thighs! I have a lot of sleeveless sheaths that come in at the waist or that I belt and can layer with a jacket or cardigan if not wearing the lab coat. I wear with flats in summer (we can't do open toes) or a slingback, and boots or booties in winter with tights. I used to wear more heels when I first started working, now I am old and find flats, wedges or chunky heeled boots much more comfy. Lots of walking, up/down from sit to stand make comfy shoes key to my happiness!

For when I was nursing and pumping, it was hard to wear my dresses and get the zip on and off in the short breaks I had to pump. I loved the wrap dress for that, plus comfort when you're carrying some extra pounds!
Psst: these are some of our favorite wrap dresses if you're on the hunt…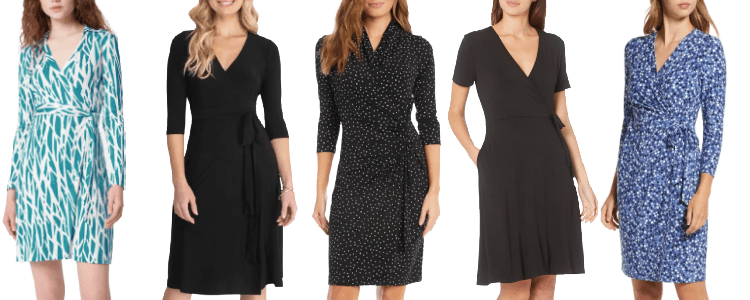 As of 2023, some of our favorite wrap dresses for work include 1) the classic DVF* (also look on resale sites!), 2) Kiyonna*, 3) Karen Kane*, 4) Amazon Essentials*, and 5) Anne Klein (* are available in plus sizes!).
Readers, what are your top tips for fashion for doctors? As patients, have you noticed your doctor's fashion choices? If you are a doctor, what fashion challenges have you faced, and how have you worked around them?