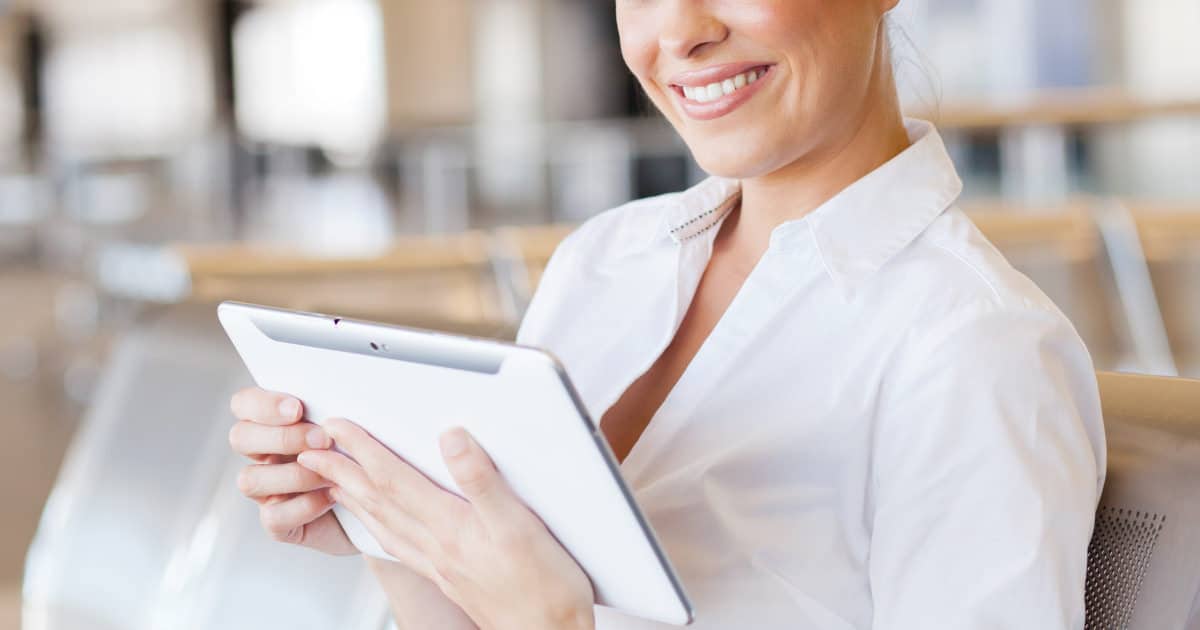 Since it's been a while since we last discussed this particular workwear issue for those of us on the bustier side, we thought it'd be a great time to talk about the best solutions for gaping shirts. Last time, we gave some DIY options for gaping blouses, including recommendations for sewing, taping, and pinning to close up the gaps — and more recently, we've talked about the best women's dress shirts and dress shirts for for women with large breasts, as well as the best workwear for different body types, blazers for busty women, and clothes for the curvy professional.
Here are some suggestions from readers on the best solutions for gaping shirts (other than walking around with a folder in front of you all day like the model in the stock photo, that is):
1. Ask the store to fix the problem. This depends on whether or not they offer free alterations, of course — check out this big list from Racked. One reader reported that Brooks Brothers once sewed a hidden snap between two buttons on a shirt she bought there. One time the store did it for free, and another time she paid $5. (This was several years ago, so YMMV.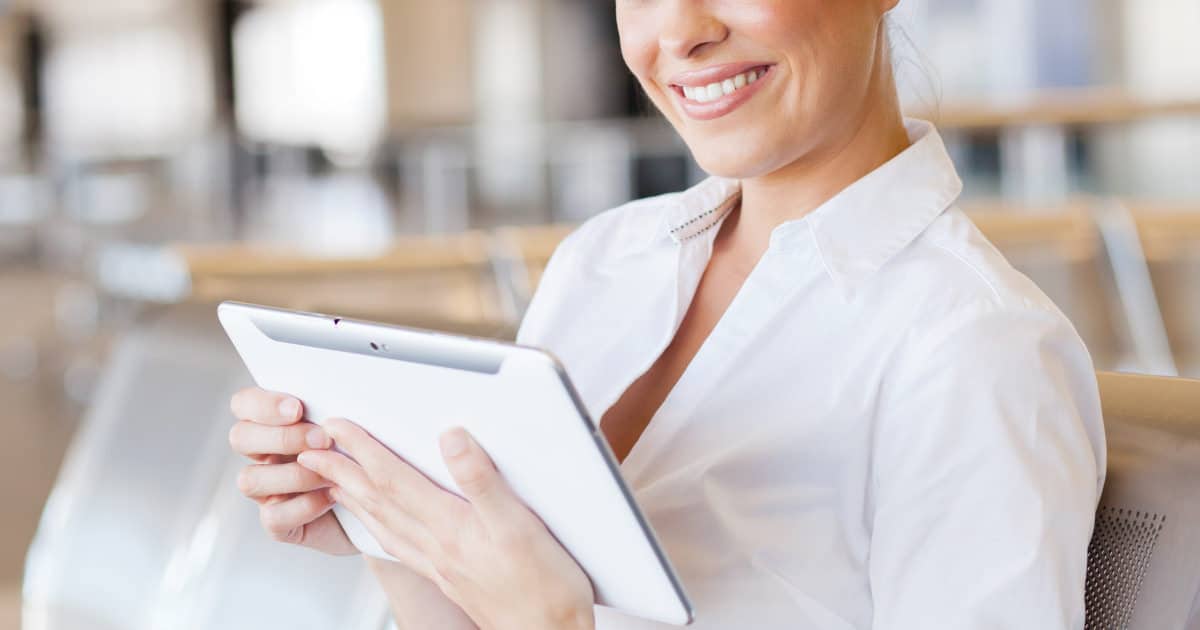 )
This post contains affiliate links and Corporette® may earn commissions for purchases made through links in this post. For more details see here. Thank you so much for your support!
2. Use a backup. Here are a few reader-recommended options:
Sew on a hidden snap (or get a tailor to do it — and let that go without saying for the rest of the sewing suggestions here!). This works especially well on a shirt with a hidden button placket.
Add a hook-and-eye fastener.
Use an "As Seen on TV!" solution: Style Snaps are $8 for 16 on Amazon [affiliate link].
Sew on a thin piece of velcro.
One reader had a suggestion that's kind of hard to paraphrase, so it is in her words:


Sew … a small buttonhole in reverse right between the two existing buttons where the gap happens — the button is on the top layer of the shirt going toward your body, and the hole is on the lower layer of the shirt. So when you button the shirt, the new button will actually be touching your skin. … High-end shirtmakers use this method instead because you can still wear the shirt open. Assuming it is done with thread the color of fabric, you can't even see it.
Some of the top products to help you fix a gaping blouse include:

Above, some solutions for gaping blouses: 1) Topstick toupee tape 2) double-stick medical tape 3) Flash Tape 4) Fearless Tape 5) black & white and colorful safety pins — see more clever solutions for workwear problems in our Amazon shop!
This post contains affiliate links and Corporette® may earn commissions for purchases made through links in this post. For more details see here. Thank you so much for your support!
3. Use the old standby: Try fashion tape, such as the general-purpose Fashion Tape (3 for $13) or Fearless tape ($9 for 50) — or use Braza Flash Tape ($8/roll) which, as the name suggests, is made specifically for this issue [affiliate links].
4. Repurpose an unexpected product: One reader vouched for a toupee adhesive called Topstick, which she said holds up much better than fashion tape. She bought it from Sally Beauty Supply, but (not surprisingly) it's also at Amazon, where it's $7 for 50 strips [affiliate link]. Another reader pointed out that Topstick holds up to many washings and doesn't leave any residue.
5. Layer it up: Check out our some of the brands we mentioned in our last post on the best camisoles for work.

Pictured above, our favorite camisoles for work: one / two / three / four (25+ different color combos in a 4 pack!)– don't forget about demi-camisoles too, such as this, this or this — or chemisettes!)
6. Hide the problem in a pretty way: Wear a loosely knotted scarf to cover the gap — and the reader who suggested this noted that you could even add fashion tape to hold the scarf in place.
7. Solve the problem for good: One reader said she permanently sews the gap closed on almost all of her blouses (in a way that's hidden). She said that most shirts are stretchy and/or loose enough to pull over her heard with two buttons closed.
Another reader offered that she: (1) removes all the shirt buttons, (2) sews down the placket on both sides (leaving enough room to pull the shirt over her head), and (3) reattaches the now solely decorative buttons.
Of course, there's one more option: If it's acceptable within your office's dress code, just give up on button-front blouses altogether — and see our Guide to The Best Tops for Under Women's Suits for options. Alternately, get some bespoke blouses, either from a high-end shop or one of the websites we mentioned in our post on custom-made clothes. You can also try Rochelle Behrens' The Shirt, which we've previously featured in our roundup of the best dress shirts if you're busty.
Do you have any blouses that gape between buttons? What do you think are the best solutions for gaping shirts, and have you tried any of the above?
Image credit: Shutterstock / michaeljung.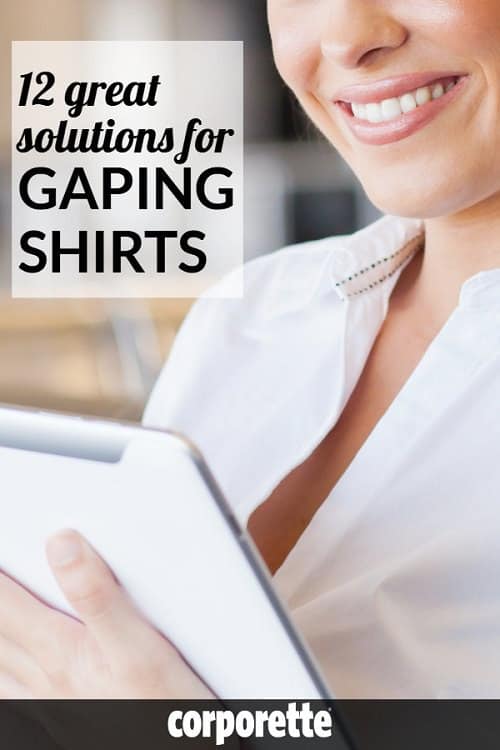 We are a participant in the Amazon Services LLC Associates Program, an affiliate advertising program designed to provide a means for us to earn fees by linking to Amazon.com and affiliated sites.