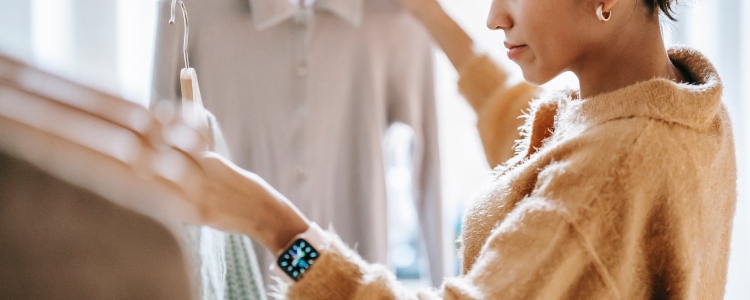 There was an interesting story in The Wall Street Journal the other day titled, "The Devil Wears Costco and $44 Pants: Fashion Insiders' Favorite Low-Cost Basics" — and I thought it might be fun to have the same discussion here. So readers, regale us with your multi-pack / BOGO / always-on-sale favorites — for work or for play. Here are some of ours…
This post contains affiliate links and Corporette® may earn commissions for purchases made through links in this post. For more details see here. Thank you so much for your support!
We are a participant in the Amazon Services LLC Associates Program, an affiliate advertising program designed to provide a means for us to earn fees by linking to Amazon.com and affiliated sites.
Elizabeth's Favorite Low-Cost Clothing Basics
I have several wardrobe workhorses that get the job done without breaking the bank. The first is my ride-or-die white tee. I don't remember how I found out about the Fishers Finery brand, but now that it's in my life, I'm never looking back.
This t-shirt is completely opaque, incredibly soft, and just slouchy enough to be comfortable without looking sloppy. The fabric is a viscose/cotton/spandex blend that washes beautifully and can go right in the dryer. I've worn it dozens of times and it still looks as good as it did the day I bought it. The price is usually under $30, but I would pay a lot more.
My second item has caused no fewer than five people to whip out their phones in my presence so they can order one of their own. In fact, if this company had a small unexplained spike in purchases in late May, it is probably attributable to a girls' trip with my college friends.
If you are unfamiliar with the Goodr brand, they make amazing sunglasses at an incredibly reasonable price. But that's not all. Let's say, hypothetically, you are a person who loves the look of a classic Rayban Wayfarer, but you have an enormous noggin that makes Wayfarers look teeny tiny in comparison to the rest of your face. Goodr makes a style of sunglasses that are proportioned for a larger melon, but still look rad. They also make a pair for smaller heads.
I currently have four pairs stashed in my car and my most-used handbags, and at $35 a pop, I don't have the panic that I usually associate with carrying around a more expensive pair.
Kat's Favorite Low-Cost Clothing Basics
For my $.02, some of my favorite low-cost basics include:
My Amazon favorites:
I also have a ton of favorites from Nordstrom, of course — I know most people don't think of Nordstrom for low-cost basics, but a lot of my favorites regularly go on sale there:
My Costco favorites:
I also tend to buy a lot for my kids at Old Navy, so I often throw a few things into the cart for myself as well. My Old Navy favorites:
Other random sales I stalk:
Finally, their prices are so low they don't usually have big sale codes — but I buy a lot of our prescription glasses and prescription sunglasses at Zenni. My $.02: avoid the wire frames, and use the virtual try-on feature. We get a ton of flexible-framed glasses for my son (and you can get sunglasses or transition glasses also); we just bought 2 more pairs of glasses in this frame for my husband because he liked the lightweight feel of them.
I have three pairs of a this oversized sunglass frame – the sunglasses become a bit more expensive than the glasses (usually around $60-$90 for prescription sunglasses and $35-$70 for prescription eyeglasses), but I like all the options for sunglasses, including the fun gradiant and mirror tints. (They even have weird things I haven't seen commonly available before, like prescription safety glasses and "active eyewear.")
How about you, readers — what are your favorite low-cost clothing basics?
Stock photo via Pexels / Liza Summer.