One of the things I've employed for YEARS now is what I call "fashion math." I use a simple equation to figure out if a purchase is "worth it" to me. So let's take this recent purchase — a cashmere sweater at Brooks Brothers marked down from $398 to $89 (pictured below).  The circumstances: it's hot outside, I am hugely pregnant, and if all goes as planned, I'll be breastfeeding through the fall and winter. This sweater will probably only be worn a few times in the immediate future, so was it a good purchase?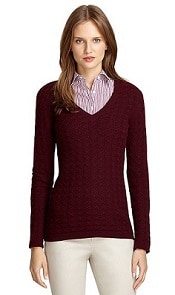 To start with, the dealbreaker question: do I have the money to pay for the item NOW? As always, avoid credit card debt at all costs. Here, the answer is yes, so let's move on…
My fashion math: A + B + C + D – E = what this Brooks Brothers sweater is worth to me
A) $1 x the number of times I expect to wear it. Here, this is a simple cashmere sweater — it isn't trendy, it's a flattering color on me, and it's the kind of thing that I can wear with jeans or a much nicer skirt or pair of pants. Once the piece arrives, though, I'm going to have to assess it for durability — some items are "snagarific," as I like to say, and if the knit snags or starts to look lousy, I'm probably not going to get THAT much wear out of it except around the house. So let's assume maybe $20 here, even though in theory I might have to retire it after 5 wears, or I could wear it until the year 2020, far more than 80 times. (Update after seeing it: it's a nice tight weave and doesn't look that snagarific at all — I'll bet this guy will stand the test of time.) Which brings us to our next point:
B) $5 x the number of times I pat myself on the back for getting a great deal and owning a lovely piece. Also in this category: the internal pride you get from buying something from a brand you've wanted to own for a while. (Yes, of course I feel MORE pride in my son, or my accomplishments, or whatever modicum of good I've done in the world than I do in my clothes. That goes without saying but, hey, we're talking FASHION MATH here.) So, I'm looking at $400 sweater marked down to under $100, from a "nice" brand whose cashmere I trust is top notch. If this sucker is soft enough and luxurious enough I may pat myself on the back EVERY time I wear it. Let's say $15.
C) $5 x the number of compliments I get from other people. Is it flattering enough, interesting enough, or otherwise noteworthy enough that someone (my mother, a friend, even my husband) might say, "Hey, that's a nice sweater." Sure, the fact that I like the sweater myself holds more weight, but a few compliments here and there just make something like this sweater more fun to wear. I'm going to assume at least $5 here, but it may prove to be less than this.
D) $5 x the number of seasons I can wear it (or: the likelihood that it WON'T be forgotten in the back of my closet). I'm going to say that this will probably be a fall and winter sweater, but less likely a spring one (although with a light blue tank top or chambray button-front it could make the leap…). Let's say $10 for the first year I own it, and because it's Brooks Brothers quality, let's assume it will last into a second year as well — so let's say $20.
We're up to the sweater being worth $60. Finally, I have to consider:
E) The amount of money I'm going to have to spend on care. A "dry clean only" piece will get $10 subtracted every time I have to dry clean it. But because this is a pure cashmere sweater (and the tag says "dry clean," not "dry clean only"), I'm likely to just pop it in the washer with Woolite and let it air dry. So hopefully I don't have to subtract anything.
So we end up with a $400 sweater being worth, to me, $60 — and it's priced at $85. That, to me, is close enough that I'll order it. Obviously reassessments happen — if it isn't flattering on me (but is still functional/wearable) that's going to cut into the value assessment that stems from B and C. If it's too heavy to wear in the early fall, that's going to cut into the value that stems from D. If it looks snagarific, that's going to cut into the value assigned from A. On the flip side, we have this sweater's happy conclusion: it arrived and I'm delighted with the color, the weave, and the softness — so its value has only increased to me (and I'm already patting myself on the back for buying it).
Ladies, what kind of fashion math do you do when assessing whether to purchase an item? What pieces have you bought for next to nothing that you wore into the ground — and what pieces have you paid too much for that didn't last?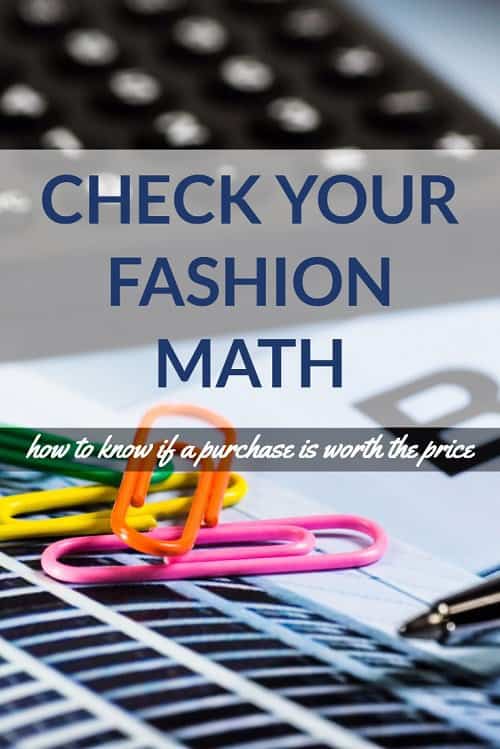 Picture via Stencil.