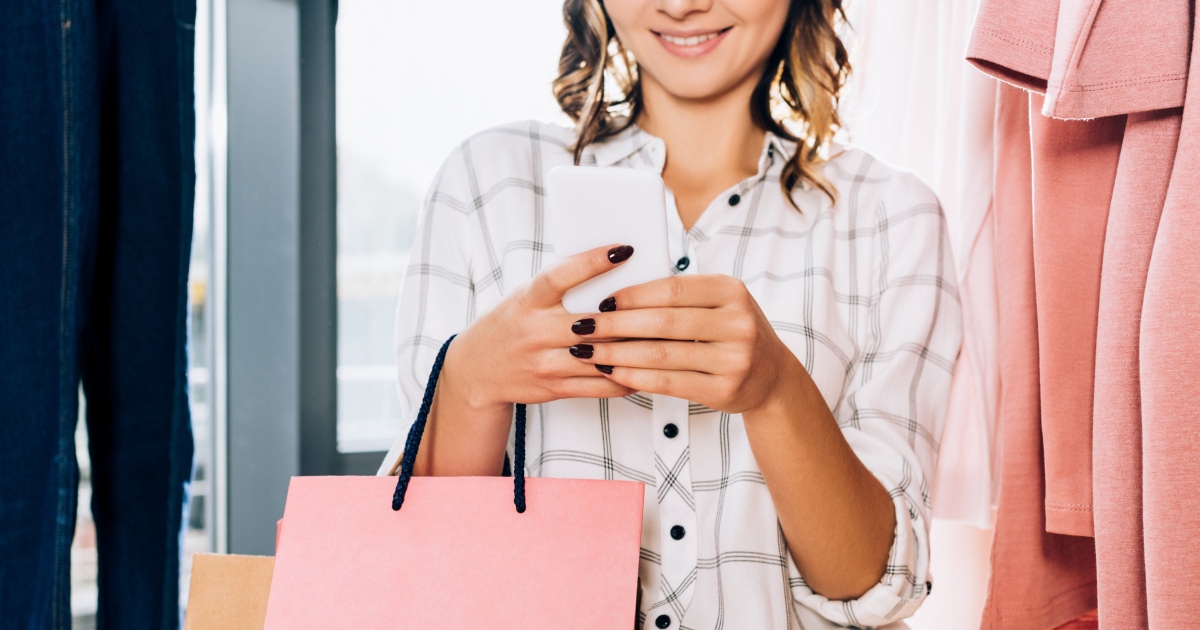 It's a common problem for people just starting out — you may need to buy an entire work wardrobe with no money or an extremely limited budget. Short of relying on the kindness of parents (or using credit cards — please resist the urge to go into debt to build your work wardrobe!), what's a person to do?
Whether it's for an internship or a new job, let's talk about it: what are your best tips on how to buy an entire work wardrobe with no money? Where can you cut — and where can you save? A fun question for today: what did your very first work wardrobe look like — did you have a strict budget? Did you buy it in one trip to the mall or over a series of weeks or months? 
The Guiding Principles: Know Your Office — and Let Your Work Speak Louder Than Your Clothes
If you're just starting out at a new office, you don't "know your office" — that's the trick. You may THINK you know your office. But really you've got to work there for a week or two to get a feel for how people dress for work, what's usual, what's off limits or eyebrow-raising. The whole goal of buying a working wardrobe when you're starting out is to let your WORK speak louder than your clothes. So in the beginning, you want to stick to the "safe" options that are appropriate for work at even the most conservative of places, and focus on doing a great job on your work. This isn't to say you have to look frumpy or boring — think sleek, classic, polished, timeless.
Note that "business casual attire" can be even more complicated than conservative office attire because the margin for error is wider. You can check out our Ultimate Guide to Business Casual for Women, but when in doubt your best bet from a budget perspective is to buy more conservative options at first if you're trying to buy an entire work wardrobe with no money. (This goes double if you're just interning and might some day be working in a conservative office.)
Assess Your Existing Wardrobe: Know What You Can't Wear to Work
Before we talk about what you need to buy, let's talk about what you've already got — which may be easiest by going through what you can't wear to a conservative office (and may not even be able to wear to some business casual offices depending on geography and industry).
So: these are the items you shouldn't wear to work until you know it better: graphic t-shirts, hoodies, ripped denim, maxi skirts and dresses, mini skirts and dresses (if it's more than 5″ above your knee it's way too short), spaghetti-strap camisoles (really anything that shows your bra or requires a special bra), jogger pants, cargo pants, and anything exposing your back or midriff. (See more discussions on what not to wear to work here.)
So…. what's left? If that is literally your entire wardrobe, let's look at your t-shirts or blouses — if any of them are too fancy to work out in (polo shirt, polyester floral t-shirt, etc) then you can probably wear them to the office. Look at your accessories: do you have closed-toe shoes that aren't sneakers? Belts? Jewelry?
You may want to look at the colors and metals in what you've already got — if everything you have is silver-toned and you're not an expert in mixing metals, you may just want to stick with silver-toned stuff for accessories. If you have a bright red necklace you love, consider making that one of your accent colors (see below).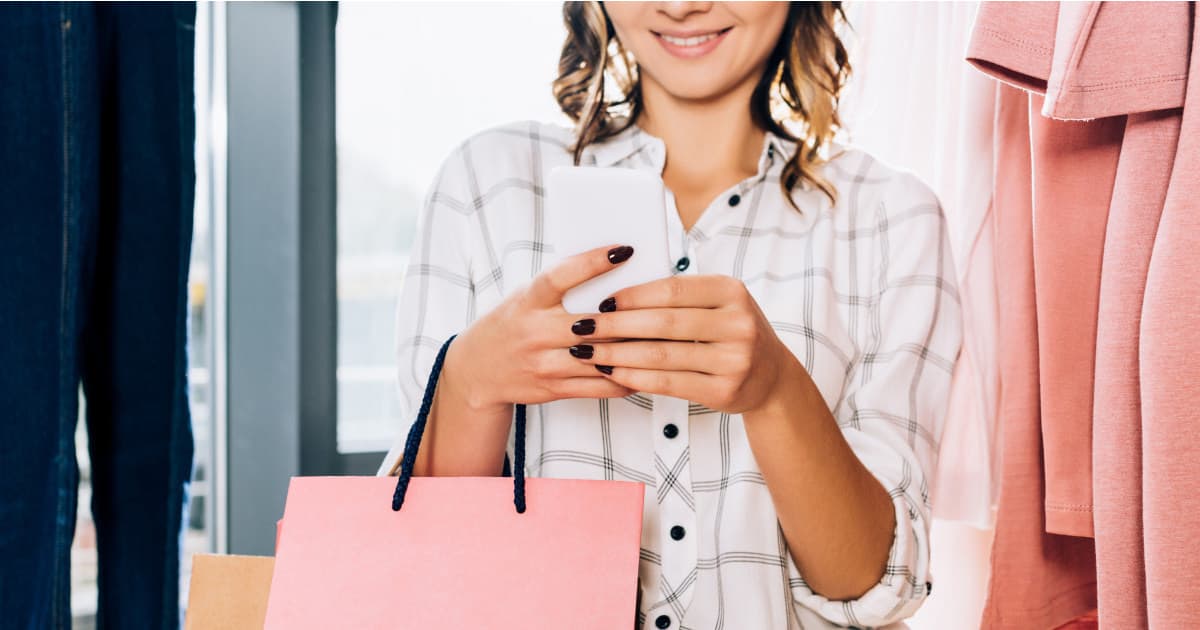 The rest of the blanks you'll have to fill with affordable office attire and some intentional shopping.
Your Initial Shop: WHAT and HOW MUCH to Buy
You really don't need that many pieces to have a professional wardrobe, and if you're trying to buy an entire work wardrobe with no money, it's better to have fewer pieces to start.
In your initial shop, buy enough clothes for 7 or 8 days of work, and look for pieces that you can mix and match so by the time you rewear the same pants to the office you're wearing them with a different top.
(It may be a bit weird if you wear the exact same outfit to work repeatedly, but mixing and matching, as well as a wardrobe full of neutrals, is just part of the game.)
Reassess after you've worn everything to the office once. To that end, go for quality over quantity — if you're building your work wardrobe you should look for classic pieces that you think will last you for a few years, and use fast/cheap fashion sparingly to add trendier pieces.
You may want to check out our work outfit challenge, or our post on how to build a capsule wardrobe for work (one suggested wardrobe for a conservative office below) — note that all of these pieces can be mixed and matched, and if you need to transition from a conservative office to a more casual one, just the addition of one pair of dark rinse denim and a pair of funky shoes can go a long way towards bridging the gap.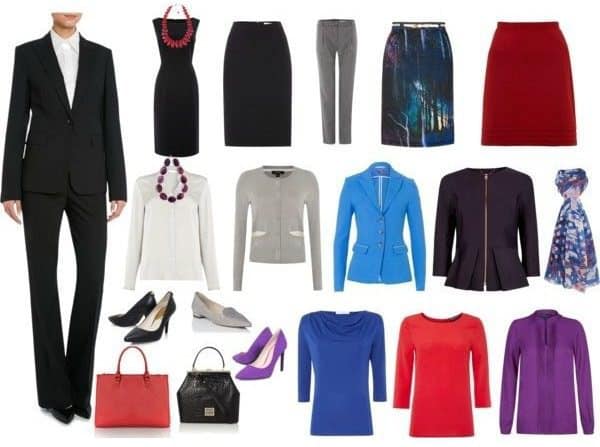 If you need a suit that will probably be the biggest expenditure, so make sure you can wear the blazer, skirt, dress, and pants all as separates as well as together as a suit. For a business casual office, though, all you may need are separates.
My best advice is to pick a neutral base (black or gray will probably easiest) and then a few accent colors (red, light blue, and white for example) and buy within those accent colors. Everything should work together; you shouldn't have any closet singletons.
An initial shopping list might look like this — note that if you've already got a suit you may already have some of these pieces:
1-2 pairs of nice trousers in a neutral color (not too tight, not too loose)
at least one skirt in a neutral color that isn't too short
a neutral dress in a flattering shape – no special bra required! Sheath, shift, or fit & flare are the most common.
4-6 nice tops (you can go for a basic t-shirt here or sweater here! — they just have to fit well and not be washed out or workout wear
2-3 toppers: cardigan, jardigan or blazers
1-3 accessories: a watch, a scarf, a necklace you love — I'd go with necklaces to make the biggest impact on your wardrobe
1-2 pairs of neutral, classic shoes you can walk in — for my $.02 I'd argue one pair of heels and 1 pair of flats, but that's me. You always want to be able to let your shoes "breathe" for a day between wearings so you should be able to alternate.
Where to Buy Affordable Office Attire: Stores, Thrifting, and More
Fast fashion is everywhere these days, and if you really have to buy your entire work wardrobe at one of those spots, so be it — but don't get carried away and get 100 pieces because everything's so cheap. (I would suggest shops like Express, Uniqlo, Old Navy for reliable basics — H&M, Topshop and Zara can be hit or miss in terms of what's too trendy or youthful for a conservative office.) You may want to check out our regular series, How to Build a Work Wardrobe At… to see which are the best-sellers/reader favorites/repeat classics from the various workwear stores.
If you are REALLY working with an extreme budget — and truly are wondering how to buy an entire work wardrobe with no money — look to thrift stores and eBay — sometimes you can buy an entire work wardrobe that someone's outgrown or no longer needs in a single lot. Don't forget your friends, either — if you all graduate together and then start work together soon, odds are good everyone will have some hits and misses. Schedule a closet swap party for a few months in so you can swap the misses out early.
How to Pay For Your New Work Wardrobe
I would argue that you should NEVER go into debt to buy a bunch of new clothes — don't put it on a credit card and figure you'll pay it off later! If you can start early, one way to make a big spend less painful is to put aside a little bit of money each week or month so that it builds up over time. If you put $20 away each week you'd have $520 in six months. If that's your budget, you can still buy a work wardrobe for that first year of working, but it will likely be very much on the minimal/capsule side.
Readers, what are your best tips on how to buy an entire work wardrobe with no money? What are your favorite spots for affordable office attire? Do you have any hacks or tricks for building an entirely new wardrobe on a very tight budget?
Pictured at top and on social media: Deposit Photos / IgorVetushko.