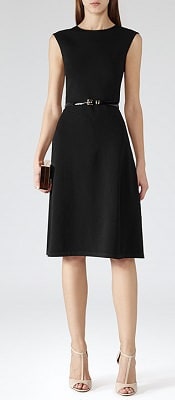 Sure, we all know what basics professional women are supposed to have in their closets, but if you're buying one for the first time or replacing one you've worn into the ground, it can be a pain to find exactly the right incarnation in stores. In "The Hunt," we search the stores for a basic item that every woman should have.
We haven't rounded up
fit and flare dresses
in almost a year, so I thought we'd take another look. It's such a popular silhouette that I'm going to focus this Hunt on not only work-appropriate ones but on solid, conservative ones that will be workhorses in a wardrobe.
Ladies, which are your favorite fit and flare dresses — and do you have any favorite accessories to wear with them (blazers, cardigans, shrugs, etc)?
A fitted A-line dress is one version of a fit-and-flare dress — this one has pockets, is machine washable, comes in a number of sizes (including petite, tall, and plus sizes), and is on a great sale: it's $39 today. It's available in black and pink. (FWIW, I tend to take petites in Land's End, and I'm 5'4.")  Women's Ponté A-line Dress 
Calvin Klein has a ton of fit and flare dresses — but this one really stands out. I love the panels on the bodice, which gives it just a touch more structure and interest; the boat neck and high arm holes are also great. It's available in black and white, with the black marked to $75 at Amazon (most sizes eligible for Prime). Calvin Klein Women's Sleeveless Textured Dress
This ottoman-ribbed dress is available in both black and navy, and there's a lot to like — the slightly interesting knit, the work-appropriate length, and the fact that it's hand washable. It has rave reviews at Nordstrom from everyone from 25 year olds to 60 year olds, and is $98, available in regular and petite sizes. Halogen® Ottoman Knit Fit & Flare Dress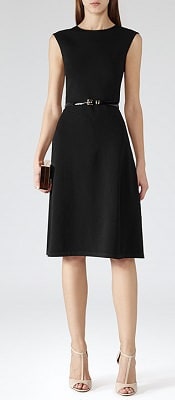 Oooh: I always love a good sale, and the black version of this $320 dress is now marked to $160 over at Reiss. (There is also a pale, pale blue — almost a gray — on sale for $208.)  Love the work-appropriate length, the seams on the skirt, and the general tailored, structured feel to this one. Lovely. (Another sale worth noting, sort of in this range: the Kadira dress at Hugo Boss marked to $328 down from $545.)  Alana Structured Fit and Flare Dress
If fit and flares go anywhere soon, they will morph into the shirt dress, which is on the rise. (I've recently seen three articles about they're replacing the sheath dress, which I find hard to believe.)  I have mixed feelings about the rise of the shirt dress: most have better lengths for work, but they introduce a lot of problems with gaping, layering, and crispness that aren't generally present with fit and flare dresses. Still: I do like this muted gray version from J.Crew (also available in pink) — it's $228, and available in regular, petite, and tall sizes. (Although: try code GOSHOPPING to take 30% off, bringing it down to $160.) Cap-Sleeve Shirtdress in Super 120s Wool
For your Monday drool: this gorgeous fit and flare dress from Burberry London. It's wool and silk, which already feels a lot more lux, and though I've gone back and forth on the slightly curved waist detail, I think I like it. The dress is $1,495 at Nordstrom, available in sizes 2-14. Burberry London Wool & Silk Paneled Fit & Flare Dress
Like this feature? Check out other recent installments!

(L-all)
We are a participant in the Amazon Services LLC Associates Program, an affiliate advertising program designed to provide a means for us to earn fees by linking to Amazon.com and affiliated sites.