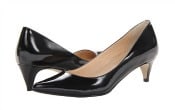 I'll be honest: a lot of my hesitancy with newer, trendier looks for the office is that they never seem to be that figure flattering. So I'm thrilled to bring you today's guest poster: Angie Cox of YouLookFab, offering her expert style advice on how to elongate outfits and achieve figure-flattering business casual style. Angie was awesome enough to guest post for me back in my first maternity leave, as well, on stylish eyewear. Welcome back, Angie! – Kat.

Today's fashions put much less emphasis on conventional figure flattery. Silhouettes frequently surrender the waistline and make lengthening the leg line a lower priority than it used to be. This is generally a very positive thing. It is liberating, and often leads to outfits that are a lot more comfortable and forgiving around the midsection.
But that doesn't mean letting go of the conventional approaches completely. As I help my business casual clients refresh their wardrobes with newer fluid and oversized fits, and trendier items like cropped pants, boxy jackets, high vamped footwear, flat shoes, and high-low hemlines, I've found that we are striving for an attractive and current look that is "just flattering enough."
With that in mind, here are ten ways to elongate an outfit that might come in handy as you experiment with conventionally unflattering proportions. You can use more than one of these strategies in the same outfit:
Heels: Heels, even ones as low as one or two inches, make your legs look longer. High vamped D'Orsay pumps or pointy toe ankle strap pumps are excellent on-trend styles to add to your career wear capsule.
Low contrast footwear: Similar colours for your shoes, skin tone, and pants. For example, wear black cage heels or ankle strap pumps with black ankle pants.
Pointy toes: Pointy are best, but almond toes also count. Pointy toe flats with metal toe caps are particularly great for office wear because they are a bit more dressy.
Tucking: Tucking (or partially tucking) a top shortens the torso, lengthens the legs, and adds waist definition. This is particularly effective when wearing flats. If partial tucking is too casual for your work setting, opt for a fluid or oversized top with a welt (the narrowing band on the hem of a top). The welt reins back in the volume and provides structure.
Column of colour: Wear a similar colour on the top and bottom under a third layer like a jacket, coat, or cardigan. This emphasizes the vertical and eliminates horizontal lines across the middle of the body. This is often an easy tweak to business outfits.
Tapered hems for cropped pants: The hems should fit closely to the calf or just above the ankle. Matching the colour of your footwear to the colour of your pants, as per point #2, elongates the outfit further.
Floor sweeping lengths for flared pants: The hems should be no more than a quarter inch off the ground for bootcut and wide leg trousers. Reserve this strategy for dry days because soggy hems are no fun.
V-necks: The "V" lengthens your neck and accentuates your long lean line.
Raise the hemlines on skirts and dresses when wearing flats: The shorter hemline, which needn't be shorter than an office appropriate just-above-the-knee, elongates the leg line.
Unbuttoned topper: The vertical line that is created down the centre front of the body by leaving a coat or jacket unfastened draws the eye up and down thereby increasing the vertical integrity of the outfit. It's a magically slimming strategy.
It's all about finding your figure-flattering sweet spot. Sometimes when an outfit isn't working, all it needs is a little tweak, like switching to low-contrast footwear, adding heels, tucking the top, or unfastening the jacket.
If you're interested in more information on dressing for your shape, take a look at my body-type dressing guidelines for the inverted triangle, apple, pear, rectangle, and hourglass. I recently updated them in the context of current trends.
Readers, do you ever hesitate to wear the newer business casual styles because you haven't figured out how to make them look good on your body? Which are your favorite tips to make the newer shapes flattering to your figure?
—————
N.B. PLEASE KEEP YOUR COMMENTS ON TOPIC; threadjacks will be deleted at our sole discretion and convenience. These substantive posts are intended to be a source of community comment on a particular topic, which readers can browse through without having to sift out a lot of unrelated comments. And so, although of course I highly value all comments by my readers, I'm going ask you to please respect some boundaries on substantive posts like this one. Thank you for your understanding!