2020 Update: We still stand by this advice on business casual for women, but you may want to check out The Ultimate Guide to Business Casual for Women.
How do younger women do "business casual" in a male-dominated environment — without ending up looking like the mom (or younger sister) of the group? Reader S asks:
I have a question about work attire: is it possible to be "over-dressed" for work? Without getting in to too much detail, I work for a medium sized engineering firm as an engineer. I am the only female engineer in my group so it's really hard for me to gauge what would be deemed appropriate work attire for my office. Most of the men dress business casual (as in jeans, or khakis at best, and a polo shirt- even on client meeting days) during the weekdays, with casual Fridays being jeans and a t-shirt. I usually wear dress pants, and an appropriate top; Fridays I wear jeans and an appropriate top. Am I overdressed? The only other person who wears dress pants is the group manager. I should mention I'm only 3 years in to my career.
I can totally see this being a problem. The guys are wearing jeans and polos and look like regular workers — meanwhile, if you wear jeans and a t-shirt you end up looking like their scrappy younger sister, and if you wear trousers and a nice top you look like the mom of the group. We've covered whether you can
dress "too nice" for work
, and also
how to transition to business casual
from a more conservative environment, but I don't think we've really talked about this exact question.
2020 Update: These are some of the best jeans for work (affiliate links): 1) Paige 2) Madewell 3) Topshop 4) Wit & Wisdom 5) Levi's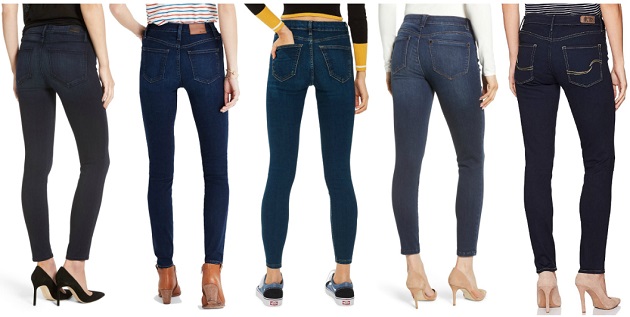 For my two cents, here are a few tips on business casual for women — I'm really curious to hear what the readers have to say on this one, though.
First, assess your own style. Are you uncomfortable in jeans? Do you love wearing skirts and dresses? To be honest, it sounds like pretty much anything will go in your office, so as long as you're dressed in clothes that aren't ripped, see-through, low-cut, or otherwise inappropriate, I would suggest wearing what you want. Things that may be unprofessional even in your laid-back office: flip-flops, shorts of any kind, strapless dresses, mini skirts, maxi skirts/dresses, sequins, athletic wear… I'm sure the readers can add to this list! (We've talked about what not to wear in more conservative environments before — check here for the summer list of what not to wear and the winter list of what not to wear.) If you're comfortable in what you're wearing right now, I say keep on wearing it. Remember that professionalism is more about how you act — ultimately, "dressing professionally" for your office means that your outfit does not distract from your actions and work product.
If you're saying, "I don't have a style," here are some tips:

Consider 5-pocket styles in fabrics other than denim — for example, cords. There are even ponte knit pants that might be appropriate for work, yet more comfortable than traditional trousers. (I think some nice jeans in a dark rinse — perhaps in a trouser cut and a skinny cut — would be fine in your office.) (In fact, perhaps our last roundup on the best washable pants for work will be helpful for you.)
To go back to a golden oldie, you may want to take a look at some of my previous advice in "What to Wear When You're Laid Off and Looking"– there are a number of footwear options, as well as outerwear options, that are going to be comfortable and might nudge in the right direction of "laid back business casual."
Stock up on basics like professional t-shirts and other classics like cashmere sweaters.
Keep a blazer in the office (and perhaps a pair of classic pumps) to throw on if the opportunity arises to meet an important client.

Finally, find a "muse." Find a character on television who you think looks professional, or a personal style blogger, or even a particular catalog or store stylist, and follow them.
2020 Update: These are some of the best sweater jackets for the office or working from home: gray / gray / green / navy with pockets / cropped navy

Readers, what are your tips? How can women look professional in a business casual, male-dominated environment, without looking overdressed?
We are a participant in the Amazon Services LLC Associates Program, an affiliate advertising program designed to provide a means for us to earn fees by linking to Amazon.com and affiliated sites.