2020 Update: We still stand by this advice on how to look stylish and professional at a business casual office, but you may want to check out The Ultimate Guide to Business Casual for Women.
When you're used to dressing conservatively for work and your new office is much less formal, how do you put outfits together to look casual but still professional and stylish? Some women would react to a dress-code switch like this with a "Score! Jeans and comfy shoes EVERY day," but others are bigger fans of dressing conservatively in a casual office, like Reader J, who wonders…
I just started a job as an in-house attorney at a tech company. Before this, I worked at a big law firm with a conservative dress code. Now I'm in the dilemma of having a closet full of clothes that are too dressy for my job. I enjoy dressing up, but I don't want to look too stuffy in this new environment. My boss wears hoodies everyday, and I was told that I'd be teased if I dress up too much. Any suggestions for where to shop for casual outfits that are still cute and classy?
In the past we've talked about wearing jeans to work and what to wear for a big meeting at a casual office, as well as the stories linked above. Now let's revisit some of that advice and take a look at several examples of how to look stylish and professional at a business casual office:
(Pictured: Nordstrom's very popular open front cardigan by MOD.lusive by Bobeau, $25-$42 in lots of colors and regular and petite sizes.)
2020 Update: These are some of the best jeans for work (affiliate links): 1) Paige 2) Madewell 3) Topshop 4) Wit & Wisdom 5) Levi's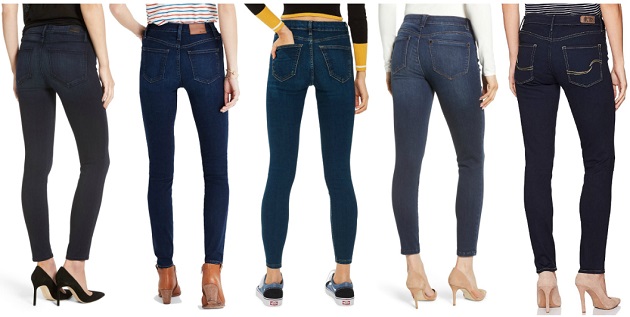 Expanding Your Wardrobe
So, although I'm assuming you probably don't want to go out and buy a whole new casual wardrobe, it's pretty likely you'll need to add some new pieces to make sure (as you pointed out) that you don't look too dressy or stuffy at your new office. Try these ideas:
2020 Update: These are some of the best sweater jackets for the office or working from home: gray / gray / green / navy with pockets / cropped navy


Pants
For pants, your best bet is to wear dark blue jeans with very little or no distressing — try trouser jeans — and pair them with things like a structured, fitted blazer, or a button-front blouse. Denim tends to make any outfit more casual, and if you incorporate one or two nice new pairs of jeans, much of your old law-firm workwear (button-fronts, blazers, etc.) will be much more wearable. Also, go with the five-pocket styles in fabrics other than denim — for example, cords, khakis, velvet, or even certain ponte knit pants. Your new office's dress code may give you more freedom to wear trendier or somewhat edgier pants like wide-leg or ankle styles.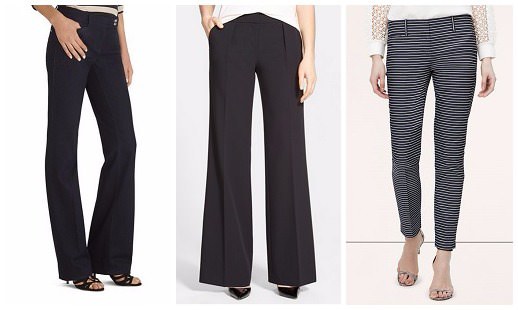 (WH|BM Saint Honore Chino Trouser Jean, $84 / Halogen 'Quinn' Wide Leg Pants, $79 / LOFT Striped Denim Riviera Pants, $69.50)
Blazers & Cardigans
If your tailored black, gray, or navy blazers you wore to your previous job seem too formal for this new dress code — even when paired with jeans — try some alternatives with interesting cuts, prints, and colors.
(Halogen Zip Pocket Jacket, $98 / Chelsea28 Scalloped Front Jacket, $98 / Halogen Stripe Collarless Zip Front Jacket, $58 (was $98))
Corporette readers have often recommended cardigans as a less-dressy substitute to blazers (especially those that are open-front, I'd say). Kat rounded up some good examples of jeans + cardigan combos in last month's post on building work outfits around jeans.
Accessories
At your former office you may have felt limited to small and classic jewelry — small gold earrings, pearls, etc. — so here's your chance to have more fun with your jewelry by expressing yourself and highlighting your style. Switching a pearl necklace with a striking, colorful one can definitely tone down the conservative feel of an outfit. So, where to get these new accessories? In the past we've recommended shopping at museum stores — for example, MoMAStore.org — and you might also check out the stores at galleries and museums in your area, as well as local arts & crafts festivals.
Etsy is always an option, of course, although with the current number of artists and offerings, handmade and vintage, shopping for anything there tends to be overwhelming. To make it easier by narrowing down your choices, browse the Editors' Picks, see what's trending, view the favorites on Etsy Pages, or look at blogs like A Cut Above the Retsy. Try venturing beyond gold and silver jewelry to wood, beading, or even fabric/textiles.
(Wooden Statement Necklace (Etsy), $47/ Mandala Necklace (Etsy), $31 / Indigo Bead Necklace (MoMA), $290)
Readers, what would you add to the advice for Reader J — what are your best tips for looking stylish and professional in a business casual office? How have you changed your style or your wardrobe when you moved from a conservative office to a casual one?
N.B. This article was originally written Apr. 9, 2015, but has been updated since then!