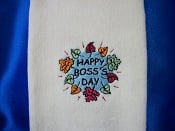 2017 Update: We still stand by this advice on gifts for bosses, but you may also want to check out all of our posts on holiday business etiquette.
Should you get presents for your boss? If so, what gifts should you get? Reader A wonders:
I've been with my company for less than a year, and it's also my first corporate job. I work in a very small team, consisting of my two bosses and myself. As holiday season is almost upon us, I was wondering if you had any guidelines for what (if anything) is appropriate to give as a small gift for two supervisors who have been very generous with their time and expertise while I've been learning the ropes. Any suggestions welcome!
Hmmn. Hmmmn. We've talked about gifts for associates who refer you new business, hostess gifts for a dinner party at your boss's house, and gifts for your secretary, but this is a new one, and I'm curious to hear what readers say. For my $.02: I would be verrrry careful about giving gifts to a boss because I think it's unnecessary, and it's easy to offend. A too-personal gift (like towels or something) may create the impression that you don't know the difference between family and the office. On the other hand, a too-impersonal gift (a random gift that reads "this is my go-to gift when I don't know what to get," like a bottle of wine or a box of fruit) simultaneously smacks of "why even bother" along with "wait, does she think we were supposed to get her something?" A gift that's too small (like a $25 gift card) is both cheap and insulting (as in, you think your boss needs a $25 gift card) — but a gift that's too generous raises the problematic interpretation of, "she isn't working for the money."
So here's my $.02: don't get them anything. If you must, though, here's my suggestion: get something small but thoughtful that relates to something your boss told you in the course of your conversations. Note that all of the above disparaging comments on towels, wine, pears, and gift cards go out the door if your boss avidly collects towels (or always carries one with him) or whatnot.  Things to convey with your present:
I listen well and pay attention to details!
I appreciate what you've done for me this year!
The gift is a gesture and isn't a big deal.
If at all possible, I'd try to avoid the impression that you scoured the ends of the earth to find the perfect gift for your boss — rather, serendipity placed the perfect gift in your way and, well, you just HAD to get it after that conversation that time about the thing.
Maybe I'm crazy?  Would you get your boss anything? If yes, what would you get for a boss in a small office? What message(s) would you want to convey?
(Pictured: beautiful embroidered towel at the Custom Embroidery shop at Etsy.)