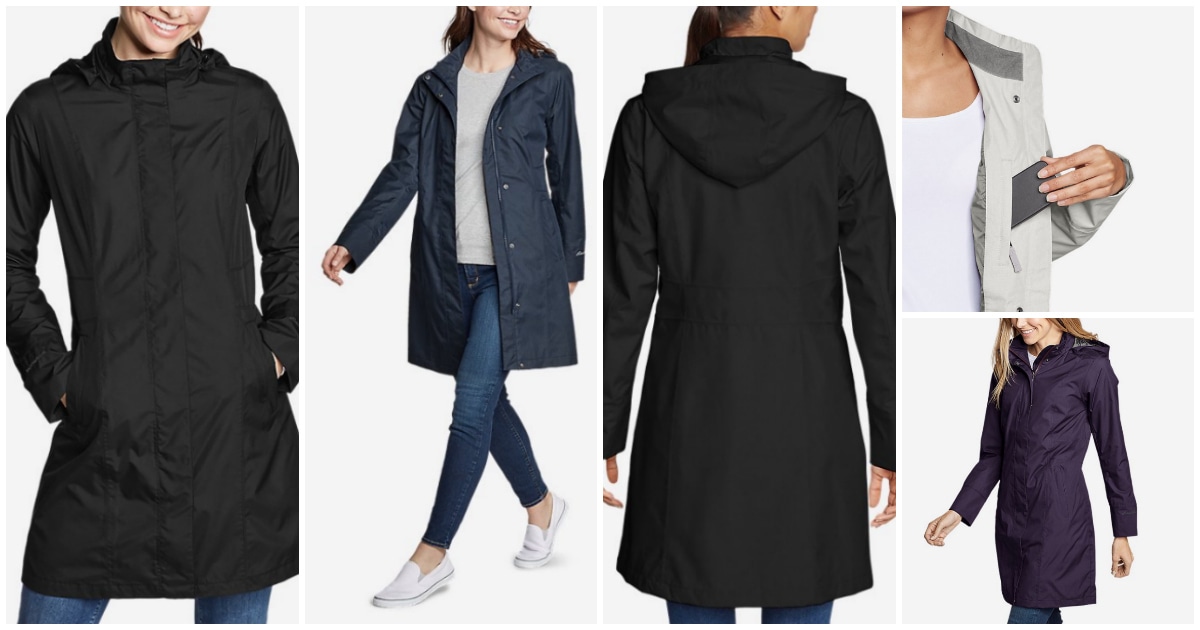 Readers turned me on to this great hooded rain coat a few years ago, and I just realized we've never written it up (whoops, we have)– so to everyone who recommended Eddie Bauer's popular Girl on the Go trenchcoat, thank you!
The brand always has a black and navy option available, as well as other seasonal colors that come and go (right now they have a lovely purple and a burgundy, and a light gray option is on clearance). I also like that the trench coat is available in regular, petite, tall and plus sizes. There is an "insulated" version with a removable liner (good to -25 degrees F°, according to Eddie Bauer) as well as a simple rain coat, which is the one I have. Both options offer big fleece-lined pockets with zippers, a huge removable hood (very functional for keeping my hair dry if I'm walking a short distance!), and a nice big internal pocket, also with a zipper.
I really like the jacket, recommend it to friends, and wear it all the time. My one minor complaint in an otherwise effusive Girl on the Go review is that the moisture-repelling fabric of the rain coat is slightly loud, if that makes sense — some of the drapier options I've had from, say, Gallery were quieter, but then they also didn't do as great a job as repelling moisture. This also may not be the best option if you're somewhere humid and rainy — I took it on a date trip to New Orleans last November with my husband and nearly sweltered in it while we explored his undergrad campus (but it did wrap around my waist, so THAT was super flattering) (narrator: she's kidding; it was not super flattering).
Regarding the insulated option — I actually just ordered the insulated version to see if I liked it as a lightweight winter coat, but to me it's a bit bulky and I like some of my other winter coat options better (I'm on the hunt) — but if I didn't already have the non-insulated version I might strongly consider it since then you have two coats in one.) If memory serves Eddie Bauer often has 50% off sales around Black Friday — you may want to keep an eye on the space if you're curious. At full price, the non-insulated version is $149-$169; the insulated version is $229-$249. Girl on the Go
This post contains affiliate links and Corporette® may earn commissions for purchases made through links in this post. For more details see here. Thank you so much for your support!