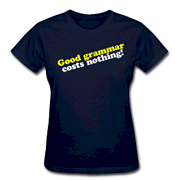 2016 Update: We still stand by the advice below, but do check out our latest discussion of grammar rules you absolutely, seriously must know.
I've seen a lot of fun grammar roundups lately, such as
The Oatmeal's breakdown of who versus whom
, and this
Buzzfeed roundup of grammar jokes
. So I thought we'd have a little discussion:
what are your biggest pet peeves when it comes to grammar (particularly with coworkers)? What are your best tips?
(Pictured: I own this shirt! Good grammar costs nothing, $16 at Glarkware.)
For my $.02 — as a graduate of the Medill School of Journalism at Northwestern (my undergrad degree), I sat through so many lessons in copyediting that I still remember the different meanings of ordinance and ordnance, and the proper spelling of ophthalmologist. (Ha, I kid, WordPress's spellcheck just changed my A to an O. Fine.)  This came in handy during my
Bluebook
years (I went on to become executive editor of Georgetown's law review). Accordingly, I'm always, hugely, deeply embarrassed whenever I make a mistake! I definitely used grammar as a gauge with coworkers (particularly subordinates). I even remember holding my breath the first time my husband emailed me, hoping against hope that this Guy I Really Liked would not totally ruin that impression with poor spellings or some frat-brat colloquialisms (yo yo yo dawg!). I even spent some time in my mid-20s (? the thought of having this much free time boggles my mind) making up little JPGs with lessons from
When Words Collide
, my favorite grammar book, which I used for my Windows screensaver for a time. Such as this one, on the difference between bad and badly: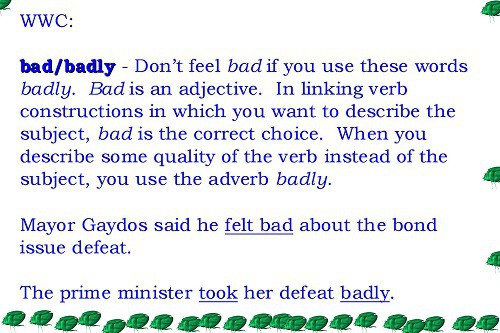 I guess the grammar lessons that I use the most are these:
It's = It Is (otherwise, its)
Stationery/stationary – E is for eraser, A is for action
That/Which — If the phrase that you want to use is an essential part of the sentence, use that. If it could be a sentence of its own, use which.
I'll admit that I Google a lot too, when in doubt (particularly with word choice) — but I think being a bit of a grammar nerd and knowing that, say, there's a difference between compliment/complement, elicit/illicit, discreet/discrete, etc, is
half the battle
.
Readers, what are your best tips with grammar? What gaffes drive you up the wall when you see coworkers, friends, or dates make them? Which are your favorite books or blogs to brush up your grammar skills?
We are a participant in the Amazon Services LLC Associates Program, an affiliate advertising program designed to provide a means for us to earn fees by linking to Amazon.com and affiliated sites.