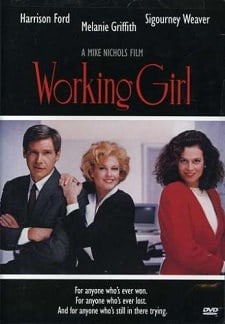 Welcome to the second installment in our discussion of some iconic movies featuring "working girls" — today, we're discussing the 1988 movie Working Girl. You can find our earlier discussion of the 1980 movie 9 to 5 here. So, ladies, what were your thoughts on Working Girl? If you haven't seen it before, what were your thoughts with fresh eyes — if you HAD seen it before but rewatched it for this discussion, did you have any new insights on the movie?
Warning, spoilers ahead…

This was one of my favorite movies growing up, and in the early days of this blog I remember wanting to illustrate pretty much every discussion we had with stills from the movie, or refer to iconic lines or plot points from the movie. (It's also one of my husband's favorite movies — I had to wait for him to rewatch it. We named our youngest son Harrison for a reason…) Some random thoughts, in roughly chronological order:
WHY DOES THIS MOVIE ONLY HAVE THREE STARS ON NETFLIX?!? Interestingly, over at Rotten Tomatoes I always focus on the critics' score (this movie has an 83% fresh rating), but it's only got a 67% score from the audience. Ladies, if you're among those who didn't like it, please speak up — I'd love to hear your thoughts.
The opening song, Let the River Run, won an Oscar for best song, I believe, and it was so popular for the following years that my all-city a capella choir sang it. (I was a choir geek in high school.) 
The first time I lived in Brooklyn, in 2005, I hated it — at the time I was single and trying to date and it seemed like everyone around me was married and none of my dates wanted to do anything vaguely near Brooklyn — and I kept thinking of this song as I'd go for morning jogs on the Promenade.
(I moved back to Manhattan a year later, eventually meeting a nice Brooklyn boy and buying an apartment just a few blocks from that first hated apartment.)
I blame this movie for my overconsumption problem with media and general information overload. As Tess says (and demonstrates several times in the movie when various things she's read solidify into one idea), you never know where your next big idea is going to come from!
There are SO MANY ICONIC LINES!
"I've got a head for business, and a bod for sin."
"Six thousand dollars? It's not even leather!"
"Never burn bridges. Today's junior *prick*, tomorrow's senior partner."
"I'm not gonna spend the rest of my life working my ass off and getting nowhere just because I followed rules that I had nothing to do with setting up, OK?"
"The earth moved. The angels wept. The Polaroids are, are, uh… in my other coat."
"I'm telling you, she's your man!"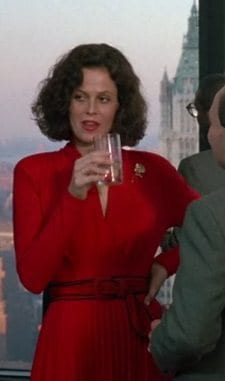 I'm kind of obsessed with that red dress Katharine Parker wore to her party (pictured at right, and below), although I think a shorter length (or a less full skirt) would work better for today. (Nice use of a brooch!) Her entire wardrobe has aged very well, I think — sure there are the obligatory heavily-padded blazers and Super-'80s-color combos (like the red, white and black in the boardroom scenes at the end), but I'd say 80% of her wardrobe would still be wearable today. That's really impressive.
Tequila GOLD?!? They drink tequila GOLD? Did they not have reposada, or añejo, or, you know, silver back then? What the heck?
Who wears white to a wedding? (And: with black hose?!)
If this movie is any indication, I feel like people way, way, way overused perfume in the '80s. And eye shadow. (Joan Cusack, you're killing me!) And hairspray. And mousse.
To add to the red dress discussion — I think the whole scene (below) does a great job of summarizing women at work in the '80s in general. Sigourney Weaver's character is shown as kind of Machiavellian, but she was working it with the tools she had — appropriate but definitely standing out as feminine, powerful, and comfortable with risk. Now, of course, she's the villain in the movie, and one should never steal an idea and try to pass it off as your own — but still, in many ways I think she's stood out in my mind over the years more as an individual and interesting woman in power than Melanie Griffith's character Tess has, with her baby voice, bouncy hair, and garters. (I'm too much of a rom-com addict to really agree with this writer's decidedly negative take on Tess, but it's interesting:
"As Katharine sits, immobilized and clueless, Tess gets her revenge, upset that her would-be mentor isn't planning to share the credit. She uses her boss' home, office, and belongings to put her business plan into action — with Katharine's colleague no less — before the executive can steal it."
Huh.
Also, it's interesting to note that Sigourney Weaver was closer to 40 when she made this movie, and Melanie Griffith was actually 31 — it's nice that they cast women in the role instead of 22-year-olds who were supposed to be 30, as I suspect they might do nowadays. (Harrison Ford was already 45!)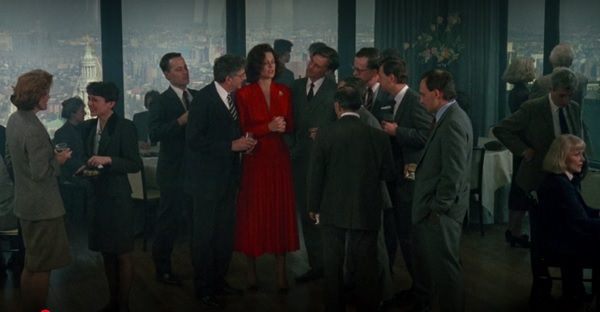 Ladies, what were your thoughts on watching Working Girl?
Further Reading: