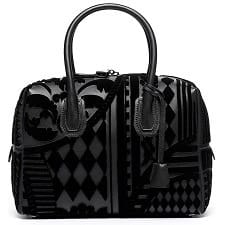 I'm not usually a big fan of MCM bags — I find them to be a little too busy for my taste — but this gorgeous, textured black bag is fantastic, and I love the embroidered geometric pattern on the soft calfskin leather. If you're feeling extra lucky this year, put this one on your holiday wishlist — it's a bit of a splurge, but it is on sale, from $2500 down to $1674. MCM 'Munich Tapisserie Boston' Leather Tote
Update: It looks like the bag has now sold out at Nordstrom, but it's still available at MCM's own site, where it's on sale for $1750.
Here's a lower-priced option.