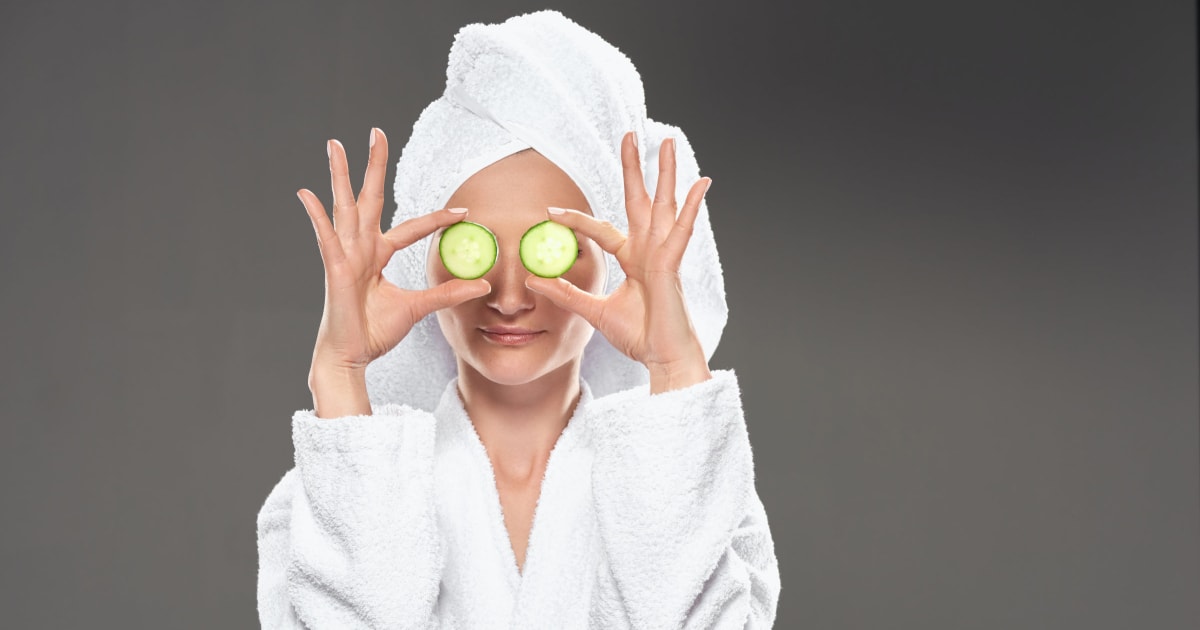 With so many people working from home, or with greatly reduced formality requirements if you are going into work, I thought this might be a fun discussion: What's your current skin, makeup, and hair routine right now? How does it compare to your previous routines?
For my $.02, having worked from home for a while now, I know these routines can change a lot once you're working from home and not seeing too many other people.
As I've written before, when I was a lawyer I had work makeup and going-out makeup; weekend makeup was pretty much me, barefaced, in workout clothes until it was time to shower and get ready to go out. Once I started working from home I struggled with finding a happy medium and settled on what I now call my 2-minute look: MLBB tint or lipstick, blush, concealer, waterproof eyeliner (only occasionally mascara or eyebrow pencil, although I benefit greatly from both); eye shadow is a pretty fancy day. Still, when you've got different makeup looks for different occasions, what is your makeup looking like in 2020 with pandemic chic?
These are pretty much all of the makeup products I use regularly; I basically pick the eyeliner shade based on my mood. (Chanel eyeliner is by far my favorite, but I have a lot of others right now.)
This post contains affiliate links and Corporette® may earn commissions for purchases made through links in this post. For more details see here. Thank you so much for your support!
My Current Work From Home Makeup Routine
As of 2021, my short makeup routine is pretty boring — curled eyelashes + concealer + blush (Nars Orgasm) + powder, with a different lipstick and eyeliner depending on my mood. If I'm feeling extra fancy I'll add mascara, highlighter, and/or do my brows with this cream and this brush (here's my review). (I also add eye shadows in the "extra" days but it's a huge variety, maybe 25 or so different ones.)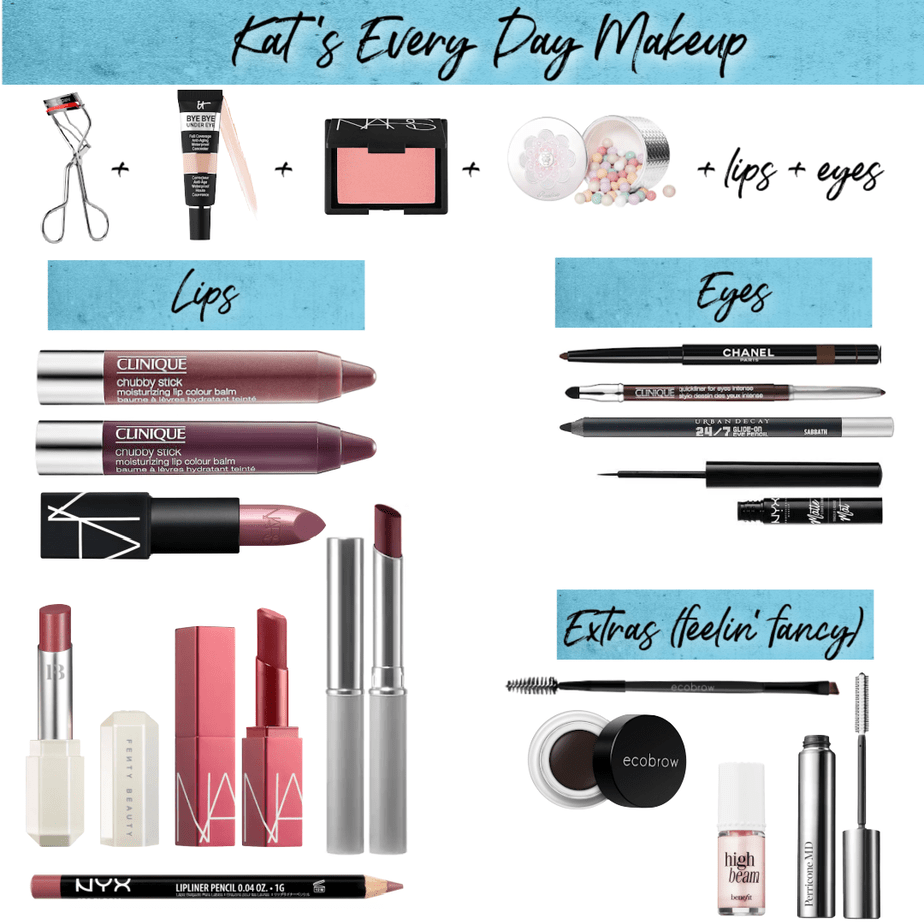 Some favorite lipsticks include Clinique (Graped Up & Voluminous Violet), NARS lipstick (Damage), Fenty (Goji Gang), NARS gloss (Orgasm, Fast Lane), and Clinique (Black Honey). I use this NYX lipliner (Natural) for almost all of them.
Favorite eyeliners include Chanel (Espresso), Urban Decay (Sabbath, Smoke), Clinique (Intense Chocolate & Plum), and this NYX liquid one.
If you're like me, your skincare routine probably hasn't varied too much, although you may have time for more masks or may be being more careful about sunscreen if you work outside or in a sunnier indoor spot than you worked in the office. I
t also is a great time to try a retinol product and get past the inevitable first few weeks of flaking. In addition to the skincare triumvirate of Vitamin C, retinol, and sunscreen, I do occasional overnight masks from Sunday Riley Good Genes or LANCER Intense Radiance Awakening Mask; I also occasionally do a pre-shower mini-mask with Drunk Elephant BabyFacial. (Here's my review and comparison of Good Genes vs Drunk Elephant.)
For general facial moisturizer I'm liking Drunk Elephant's Protini, but I have a huge quantity of Clinique moisturizer somewhere in my bathroom that I need to locate. (For winter, with dryer skin, I still swear by Bioelements's Really Rich Moisture.)
I just bought a second container of 9 Wishes' Foaming Rice Face Wash for in-shower use, and I still like Glossier's Milk Jelly for washing my face in the morning.
My 2020 Skincare Routine
Here's my latest skincare routine! Not pictured: prescription Vitamin C and trentinoin)

For hair, working from home allows for a ton more air-drying — I recently put my beloved Revlon straightener in the closet since I figured a) it's summer and b) I'm not going anywhere where I'd prefer to have straight hair. (I actually gave myself a haircut a few weeks ago, cutting each individual curl — didn't take crazy long and looked OK immediately after, but as it's growing out I'm definitely eager to go back to my hairstylist!
(As I've mentioned before, my family is high risk for a variety of reasons, so we're still pretty isolated; it will probably be a while before I get an actual haircut.) I did recently have the thought that I could try styling third-day hair with my Sleep Stylers, but instead of sleeping in them, just wearing them around the house for an hour or so — but I haven't tried that theory yet.
I generally rotate through pretty affordable shampoos and conditioners (Kirkland, Giovanni, Not Your Mother's (currently the blue but I think I'll try pink the next time I need shampoo and conditioner), but I splurged on a large size of Caviar Alterna's Anti-Aging Shampoo and Conditioner a while ago and still feel like my hair looks best with it.
I'm not currently doing a "curly girl" routine, so at the moment I'm using lots of hair stylers with silicones… when I remember to put them in. I've also been loving leave-in conditioners (in addition to my very moisturizing regular conditioners), generally from Mixed Chicks or Ouidad.
My Favorite Hair Products for Working From Home
Psst: As of 2022, these are some of Kat's favorite hair products (she largely follows curly hair routines)… but she loves this $30 brush/blowdryer!

Readers, how about you? How has your skin/hair/makeup routine changed in the past few months? What are you finding to be essential — and what not so much?
Stock photo via Deposit Photos / EdZbarzhyvetsky.
We are a participant in the Amazon Services LLC Associates Program, an affiliate advertising program designed to provide a means for us to earn fees by linking to Amazon.com and affiliated sites.