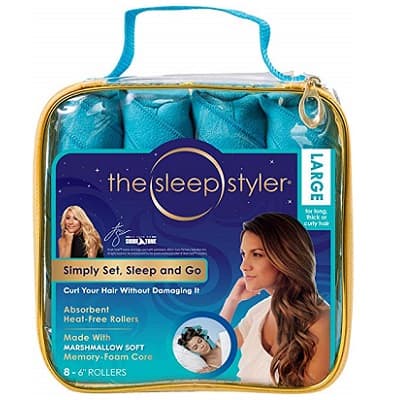 I recently bought a set of jumbo heat curlers and, because I have zero skill with curlers, I was looking at a lot of YouTube videos trying to figure out how to put them successfully — when I saw a bunch of YouTube videos for The Sleep Styler, which I got for Christmas in 2017 and then totally forgot about. (It was on Shark Tank around then; here's a nice article in Success Magazine about how they fared.)
All of the YouTubers who tried the sleep styler were impressed by how easy it was, and how much hair one of the stylers held, which is key for me because I have enough patience for about six curlers and usually my thick, curly hair needs more like 20.
(This YouTube review was particularly helpful.)
Now to be totally clear here: my hair, left to its own devices, is maaaaybe a 4 for polish when it's freshly air dried and curly; it's more like a 2 (as in: pretty fugly hair) on any normal day, which is fine for me because a lot of the time it's just up in a bun or easy updo. The only time I ever feel my hair is at a 10 is when I've got a fresh blowout; I'd even put it at a 7 or 8 several days after a blowout.
So how does my hair look with the Sleep Styler? It's a solid 6 — and considering that it takes me literally 5 minutes to put in the curlers and then sleep in them mostly comfortably, that's a win. (Sadly, not a fantastically sexy look for bed, but hey, we've been married almost ten years.)
The reason I dislike my hair so much is because it's more kinky than curly or wavy, with parts of my head much much kinkier than other parts. (Let's all pause while I shake my fists at the back of my hair.) Meanwhile, other parts of my hair are almost totally straight. So I wasn't even fantastically concerned about curls STAYING in my hair so much as the curls falling out to give me a generally uniformly "kinda wavy" look, which is still a vast improvement over my usual hair.
I actually put them in over the weekend because we had some nice dinners to go to, and so today is Day 3 — I'd put my hair at a solid 4.5-5 with very gentle waves; a vast improvement over usual hair.
(Still, a tip if you do want them to stay: put gel in your hair beforehand, and put them in when your hair is about 15% wet/85% dry, maybe even just 10% wet/90% dry.)
If you're curious how Sleep Stylers compare to jumbo heat curlers — they are different; my hair is much poufier after I do heated curlers, and again, because I am not talented and have no patience for curlers, every so often a curl is going in the wrong direction.
That's a skill problem more than an equipment problem, but if you need to put in 20 curlers your skill matters more than if you only have to put in 6-8.
It probably takes me 5-10 minutes to put in the heat curlers, and I leave them in while I do my makeup, pick out outfit and accessories, and then take the curlers out. So "prep time" is double that compared to the Sleep Styler (comparison time: it often takes other people 45 minutes to blow out my hair, and the one time I got curling iron curls professionally done (my wedding) it took her 45-60 minutes).
I actually prefer the look of the Sleep Stylers; I'd put my hair after jumbo curlers at a 5.5. Both curling styles, honestly, would look vastly better if I bothered to straighten the back of my head (shaking fist) but, well, if I were that committed to spending time or energy I'd just go get a blowout.
Other random comparisons to throw in here: my own attempts at blowouts take 45-60 minutes and tend to put me in the 3-5 level — frizzy and kinda poufy. Old-fashioned sleep curlers, either of the bendy styrofoam variety or the tiny sponge variety, both required way too many curlers for my level of patience, 20+, and were crazy uncomfortable to sleep in.
A few years ago I got into the habit of French braiding my hair while wet before bed, or doing some crazy twists/rolls — that put my hair at about a 4 and was pretty easy, but then I started noticing patches of hair that seemed to be thinning… so I took a break from anything where my hair is pulled really tightly.
(I think the patches have disappeared? Yay postpartum hair.) 
Headband curls are really good if you have the patience for them and don't mind looking like you're in a Jane Fonda workout video while sleeping.
I also bought The Carlin, which also seems promising from a no-heat styling perspective, and I wish I loved it but it does not like the layers of my hair at all.
So, to sum it up: I like The Sleep Styler and recommend it if you are super lazy with your hair. You can find them at Amazon, Target, or Wal-Mart for $21-$30.
This post contains affiliate links and Corporette® may earn commissions for purchases made through links in this post. For more details see here. Thank you so much for your support!