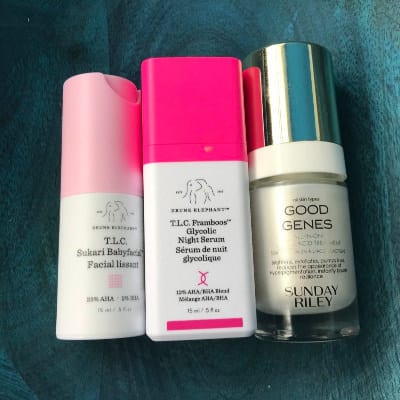 Ladies who've compared Sunday Riley's Good Genes with Drunk Elephant products like TLC Sukari Babyfacial, what are your thoughts? Here's my mini review of Good Genes vs. Drunk Elephant…
I haven't tried every AHA/BHA/exfoliating acid product out there, but I've used some of the good ones that readers often talk about, and since the big beauty sales (and holiday gift sets!) are all coming up I thought it might be a good time to discuss the pros and cons of a few different products so that you can make an informed decision if you're looking for a new exfoliating acid to add to your skincare regimen.
Readers, have you used Sunday Riley's Good Genes, or either of Drunk Elephant's popular products? What other exfoliating acids or physical exfoliants are you a fan of?
2022 Update: Here's my latest skincare routine! Not pictured: prescription Vitamin C and trentinoin)

This post contains affiliate links and Corporette® may earn commissions for purchases made through links in this post. For more details see here. Thank you so much for your support!
Sunday Riley's Good Genes
I got Sunday Riley's Good Genes after I heard readers talking about the shocking effect that just a single use of the product can have. While I think that's true, for me this is not an "everyday" product because it makes my skin a little too shiny, and I feel oily rather than youthful — it's something I'd use one or two times a week.
Pros to Good Genes: The time involved is very minimal (spread it on before you go to bed, wash your face in the morning), and the payout is pretty great — my skin looks more radiant and just generally has a healthy glow. I just ran out of the 0.5 oz bottle after using it solidly for almost 10 months (not sold separately, but you can usually find it as part of a gift set like this one), and for me, getting a smaller gift set (rather than a bigger product) is worth it because a) I feel like when you're working with acids you want to pay attention to shelf life (I can't find the info for Good Genes but for Drunk Elephant products they note the shelf life is one year after opening) and b) you get to try other products as well.
Cons to Good Genes: Price — and, for some people, the smell. It doesn't smell BAD to me, but it does have a distinct, maybe medicinal kind of smell. Another minor con for me: I typically alternate using my retinol product with a product like Good Genes. I've seen some things saying it's OK if you wait 30 minutes between applications, but I never remember after 30 minutes have passed.
Cost: $105-$158 if purchased by itself (Sephora, Nordstrom, Anthropologie) — this value set at Nordstrom also looks great
Purpose: From Sephora's website: "Good Genes All-In-One Lactic Acid Treatment is formulated with high potency, purified grade lactic acid that immediately exfoliates dull, pore-clogging dead skin cells, revealing smoother, fresher, younger-looking skin. Fine lines appear visually plumped while the skin looks more radiant. With continued use, the appearance of stubborn hyperpigmentation and the visible signs of aging are reduced for a healthier-looking complexion. Perfect for all skin types and all ages, this treatment is enhanced with licorice for brightening, Good Genes clarifies, smooths, and retexturizes for instant radiance."
Kat's Suggested Usage: 1-2x a week
Time: 30 seconds before bed — note that I've also seen that you can wear this during the day if you want to, but only with lots of sunscreen — I already wear lots of sunscreen and wouldn't wear this product during the day, but that's just me. I've also read that you can use Good Genes as a 20-minute mask if it's too intense as an overnight treatment for your skin.
Drunk Elephant's T.L.C. Sukari Babyfacial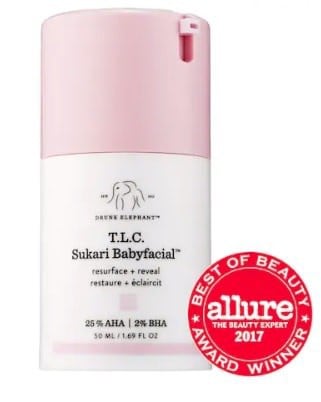 I heard readers singing the praises of this one, and was thrilled last year to find a Drunk Elephant value set at Sephora last year that had their T.L.C. Sukari Babyfacial, T.L.C. Framboos Glycolic Night Serum, their vitamin C product and their Virgin Marula Facial Oil. (Just a minor note on facial oils like these — I have pretty dry skin, and I'm not a fan of facial oils like this one or Sunday Riley's Luna Sleeping Oil — maybe in the dead of a cold winter I would want them, but right now they just feel way too heavy for my skin.) Babyfacial is a bit different than Good Genes in that it is DEFINITELY not a daily product — it's a mask that stays on for 20 minutes before you rinse it off. I like both Baby Facial and Good Genes, and use both — but for me, the fact that this is a mask means I use it less, maybe two times a month. The payout is good (it's stronger, so it's going to be a bit more extreme than Good Genes), and I prefer the smell of Baby Facial to Good Genes, but I just don't do it as often. For what it's worth, on me the mask blends into my skin, although there's a slight pink sheen to it — my kids have never noticed if I had it on. (Unlike the Hanacure mask!) Another pro: as we noted in our post on cruelty-free beauty products, Drunk Elephant products aren't tested on animals.
Cost: $28-$80 (Sephora) — they actually offer a $28 mini version that comes with the Marula facial oil and for $28 I think it's a great deal just for the Babyfacial product. My .5 fl oz size isn't empty yet after 10 months of using it once ever 1-3 weeks.
Purpose: From the Sephora website: "A pro-quality AHA/BHA "facial" that resurfaces to reveal greater clarity, improved skin texture and tone and a more youthful radiance—think of it as an extra nudge for stubborn, dull skin."
Kat's Suggested Usage: 1x a week maybe, at most (I use it more like once every 1-3 weeks)
Time Required: 20 minutes
Drunk Elephant's T.L.C. Framboos Glycolic Night Serum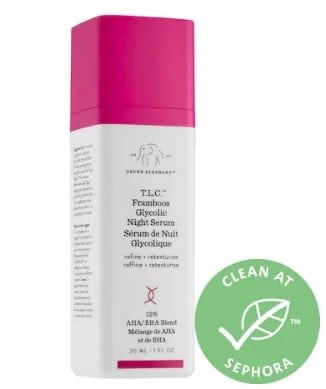 Finally, Drunk Elephant's T.L.C. Framboos Glycolic Night Serum is worth discussing in this post also — whereas Babyfacial has 25% AHA and 2% BHA, the Glycolic Night Serum has 12% AHA and notes that it's a "BHA Blend." This is noticeably a much gentler product than either Babyfacial or Good Genes — but while it's acceptable for daily use, you don't get the same instantaneous results that you do with Good Genes and Babyfacial. Pros: time involved is minimal, and you can apply it quickly before bed and sleep in it. But cons: Again, if you've got other products in your nighttime routine that you don't like mixing (like retinols) or that you want to give a wide berth to, and not apply until each product has fully dried — then this one gets used less.
Cost: $90 for 1 oz (Sephora exclusive) (FWIW I still have lots left in my .5 fl oz mini after about 11 months of use)
Purpose: From Sephora: "A 12 percent AHA/BHA night serum that refines and resurfaces skin to reveal a smoother and more radiant complexion."
Kat's Suggested Usage: You can use this one daily — I tend to layer it into my nighttime routine if I want something gentler than Good Genes or Babyfacial.
Time Required: 20 seconds before bed (wash your face in the morning)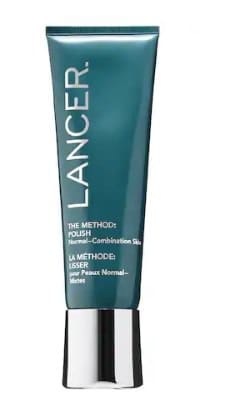 One more little note: I got a Lancer set that included The Method: Polish during the Nordstrom Anniversary Sale and like it as a physical exfoliant — I use it a ton more than I ever did my Clarisonic, which is languishing at the back of a drawer somewhere (I guess?) and it's quick and easy. While I'm a big fan of the Lancer Radiance Awakening Mask I'm not sure I'd buy the Polish again, at least at these prices. (As part of the set I got the Caviar Lime Acid Peel which I keep forgetting about, and haven't tried yet!)
Readers, how do you deal with dull skin — what products do you like? What are your favorites, and how often do you work them into your routine? If you've tried these products, what are your thoughts on Good Genes vs. Drunk Elephant?