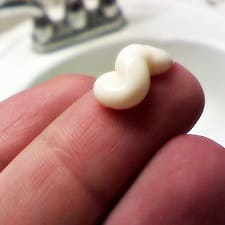 Ladies, what is your skin routine? At what age did you get serious about skincare? What are your favorite products, both over-the-counter and prescription, whether for anti-aging, anti-wrinkles, exfoliating, or something else? 
I've seen a lot of readers talking recently about serums, sunscreens, retinoids and more, so let's discuss. I'm curious to hear what everyone else is doing, what products you like, and if you have any tips/tricks for applying — but here's my own story:
After years of using only organic options while pregnant/nursing (based on something my first OB/GYN said to me), I was eager to get "the good stuff" when I finally had my body back to myself. As I often do, I turned to the commenting threads for advice and found an older thread where a reader had said that for a woman in her 30s, the main things you need are Vitamin C, sunscreen, and a retinoid.
I liked the simplicity of this statement, as well as the chorus of agreement from other readers. I already had an organic, nursing-approved Vitamin C serum and have been using sunscreen daily since my teenage lifeguard years, so I thought, OK, to the dermatologist I go for a retinoid. (Just a quick science/vocab lesson, at least as I understand things: Retinol and retinoids are both Vitamin A. Retinols are available in over the counter (OTC) products; retinoids are available in prescriptions only. Retin-A is the brand name for one of the retinoids you can get.)
Now: I really did not investigate OTC products with retinol, such as RoC, and, looking back, this might have been worthwhile. I read a ton about the wonders of retinoids — I found one article that even said that dermatologists can tell from across a crowded restaurant if someone is using it — but I didn't understand until my dermatologist appointment how long it takes your skin to get ramped up and used to using retinoids and retinols.
Nor did I understand, in fact, that your skin can look pretty lousy for several weeks. The whole point of the treatment is that it increases the rate at which your skin regenerates — so there's a sloughing/shedding/I'm-a-snake period that can be rough. So, some tips I've found for getting through this induction period:
If you've never used a retinoid or retinol before, consider using an OTC product first. It's a lower dose than the prescription retinoids, so your skin will freak out less — you can even use it as a gateway/first step to prescription retinoid use. It's also a helluva lot cheaper.
Choose carefully when you start your treatment. What you're looking for, ideally, is 2-3 months free of major life events, without other great threats to your skin. So: don't start it a week before your wedding. Don't start it in the wintertime as you head into dry skin season (this is what I did). Don't start it right before you leave for that beach vacation.
Read the instructions! I used it for about three weeks before my skin freaked out. I called my doctor for advice, and her nurse advised me to cut it with moisturizer. Then, I found the instructions to the product and realized it came with lots of helpful tips, such as: don't apply the product directly to the area around your eyes or your mouth. Huh: this was exactly where my skin was shedding the most. The instructions also noted (but my doctor hadn't mentioned to me) another important fact: your skin has to be completely and totally dry when you use the product. The instructions suggest waiting 20 minutes after you wash your face before you put it on.
Only use retinols and retinoids at night. Because it makes your skin more vulnerable to the sun, this is not a daytime application — put it on at night and wash it off in the morning. My dermatologist gave me a recommended morning routine that includes another round of Vitamin C, moisturizer, and then sunscreen. (I usually just use a bar of CeraVe soap or my usual Burt's Bee moisturizing cleanser.)
Cut the potency of retinoid by mixing it with moisturizer before you put it on. Another option: only use it every other day. I actually do both of these, and my skin still occasionally freaks out on me.
Finally, just a note: talk to your doctor if you're trying to get pregnant and using retinol or retinoid products. My first OB/GYN (who I ultimately had a lousy birth experience with, so I now view anything she said with suspicion) suggested I stop using anything with chemicals on my skin and told me to just "go to Whole Foods and buy one of their moisturizers plus sunscreen." I wasn't even using retinols at the time, just a Neutrogena moisturizer with sunscreen and maybe a fancyish face wash with AHA or BHA. Your doctor may advise differently though. (Whatever you do, make sure you've got a great sunscreen while pregnant, and wear a hat! My sun was so much more sensitive to the sun while pregnant. We've also talked about some of our favorite maternity skincare products over at CorporetteMoms.)
Because I was concerned about the ways the products interact, I decided to just use the whole suite of products my doctor sold me on from Ojabi Skin Care, including the Obagi Professional-C 10% Serum, the .05% Tretinoin cream from Obagi, and the Obagi Mineral Broad Spectrum SPF 50 sunscreen (totally a physical sunscreen; I really like it).
I later decided to get Ojabi's moisturizer, too, but just bought it on Amazon — apparently it's not recommended you do that because products may be old or counterfeit, so proceed at your own risk. I still only put the retinol cream on every other night, and I still cut it with moisturizer — when I run out of the tube or feel like I want more of the product, I'll reassess.
A few other random notes, just about what I'm doing for my skincare routine — I'd love to hear what other tips and tricks you guys have!
Count your drops! With Vitamin C serums, I've always heard to use as little of the product as humanly possible, mostly because it's such an expensive product. Someone told me three drops should be my goal — but I really find that four drops are needed. I use the product like this: I put one drop on my index finger, and one drop on my middle finger — and then take my other hand and dab the index/middle finger on the opposite hand with the product. So with my four fingers with drops of serum, I briefly touch my forehead and the sides of my face — then rub it in. Then I go back for my third and fourth drop to do the bottom half of my face. If any is left over or spills on the counter, I put it on the back of my hands, my neck, or clavicle. Fun note: the first time I used Vitamin C, the next morning I woke up and felt like my face was buzzing, in a really good way. Oh, another note — if you want to get rid of dark spots/freckles, you can probably talk to your dermatologist about a higher concentration of Vitamin C. I feel like I picked up a lot of freckles during my first pregnancy, and I kind of like them, so I'm just using a regular concentration of 10%.
Sunscreen everywhere! With sunscreen, I always cover my entire face. I also try to cover any exposed area of my chest, as well as the back of my hands. I figure even if I wash my hands frequently it'll still make a difference. (I'm mostly an inside cat anyway, so putting SPF-50 on daily seems like overkill, but I'd rather be cautious now rather than have regrets later.)
Eyecare. After years of using a special moisturizer for my eyes, I don't do that anymore. Currently what I do is I wash my face, dry it off, and immediately apply Vitamin C (morning and night). Then I wait a minute or so and, if it's nighttime, I'll put my regular moisturizer around my eyes and my mouth, since I figure I'm supposed to be avoiding those areas anyway with the retinoid cream. Then I wait for 20 minutes (cough, 2 hours) and put on my retinoid cream, mixed with moisturizer, right before bed. If it's morning I'll put moisturizer on and then sunscreen — I like to wait at least 20 minutes after sunscreen before applying makeup, but that's me.
Neck and clavicle care: At night I almost never put the retinoid on my neck or clavicle, but if memory serves my derm told me I could do it occasionally, like once a week. I do have a recentish jar of Olay Regenerist lying around, though, so sometimes I'll slather that on the area. If I'm thinking about it I try to put a bit of moisturizer all the way up my neck, including behind my ears, inspired by a random infomercial I saw once. (I don't actually remember the product in the infomercial. They also advised to put the moisturizer on your neck in an upward stroking motion, but I don't do that, although I suppose it can't hurt.)
For dry skin: I'll save this for a longer post in fall or winter, but the older I get, the dryer my skin gets. I really liked the BioElements sleepwear for the dryer days this winter, and a few times this winter I even started getting into putting coconut oil on my face for a minute (a mini-mask!) before I hopped in the shower.
2022 Update: Here's my latest skincare routine! Not pictured: prescription Vitamin C and trentinoin)

Hats and sunglasses: Just in general, I now use a hat anytime I expect to be out in the sun, whether it's throwing on a baseball cap before outdoor exercise, a straw fedora before a trip to the playground or to dine/drink outside, or a crazy beach hat (which I got on one of those Amazon lightning sales, but actually kind of dig) before a trip to the beach. Sunglasses aren't just for show, either — the less you squint, the fewer wrinkles you have. Plus, they do protect your eyes.
Ladies, what do you do for serums, sunscreen, and anti-aging products? What are your favorite products, what do you do, how do you apply it, etc?
We are a participant in the Amazon Services LLC Associates Program, an affiliate advertising program designed to provide a means for us to earn fees by linking to Amazon.com and affiliated sites.