Here's a fun question for today: How have you updated your makeup over the years?
I've recently seen a few YouTube videos suggesting that the "newer" way to do blush placement on is high on your cheekbones, instead of on the apple of your cheeks, which was news to me — as well as some suggestions for "lower lash mascara," which I had always associated with the '80s — so I thought it might be interesting to discuss.
What makeup looks dated to you? What makeup looks do you think are classic/HG for your situation (face shape, eyelid shape, brow density, cheekbone sharpness, etc.)? What newer makeup looks do you want to try?
Another interesting question: Have you changed certain things like eyeliner or eyeshadow placement, or have you kept that pretty consistent because you feel like it's based on the shape of your eyes? Ditto for brows — there are several popular product types for brows (brow gel like Boy Brow, brow pencil, the microfill "tattoo" gel pen for brows (like this), brow creme like Urban Decay or Anastasia, and of course microblading and dyeing your brows). Do any of those methods look "dated" to you? 
This post contains affiliate links and Corporette® may earn commissions for purchases made through links in this post. For more details see here. Thank you so much for your support!
I suspect this conversation will vary widely based on how old you are (and maybe where you're located also!), so if you can, please share that info when you comment. 
For my $02… I'm questioning a lot of stuff right now! Here's what I know about my own makeup routine and how it's changed over the years:
I vastly prefer brow creme or brow pencil if I've got time — but most days brows aren't included in my two-minute makeup routine. My brows aren't terribly unruly (so no benefit from a gel) and are just a liiiiitle sparse, but not evenly, so pencil or creme is the best for me. Dyeing my brows at home, while super easy, didn't add enough darkness to frame my face, but maybe I chose the wrong color — I have dark brown hair but often choose blonde pencils because my face is so pale that dark brown eyebrows are too much, I feel. I did choose brown hair dye for my brows, but perhaps should have gone even darker. Hmmn.
For years and years I used liquid eyeliner, but I switched to waterproof pencil liner somewhere between the time I damaged my eyes and had kids, in part because liquid liner just felt too drying/uncomfortable. But I never really adapted my pencil eyeliner technique and am now hunting for a good tutorial to help me choose because I feel like I should have more of a strategy.
Blush/bronzer/highlighter… I've been experimenting. For years now I've put highlighter on high/outside cheekbones, blush on the apple of my cheeks, and (sucking in) put bronzer under the cheekbones — but now sometimes my two-minute makeup routine is just putting blush on high cheekbones. Again, I'm reassessing. 
For better or worse, something I associate as a definite trend right now that I'm still pondering is shinier, luminescent, almost oily skin — I keep seeing older women (like 45-50ish) do tutorials resulting in extremely shiny skin after $1000s of products and… I'm not sure I'm into it.
In large ways, though, my makeup routine has largely stayed consistent for years. I still love my rose plum lipsticks, my brownish/blackish/dark navy eyeliner colors, my gray/brown eyeshadows… I still love the same highlighter and blush I've used for years. Here are some of my favorites:
As of 2021, my everyday makeup is pretty boring — curled eyelashes + concealer + blush (Nars Orgasm) + powder, with a different lipstick and eyeliner depending on my mood. If I'm feeling extra fancy I'll add mascara, highlighter, and/or do my brows with this cream and this brush (here's my review). (I also add eye shadows in the "extra" days but it's a huge variety, maybe 25 or so different ones.)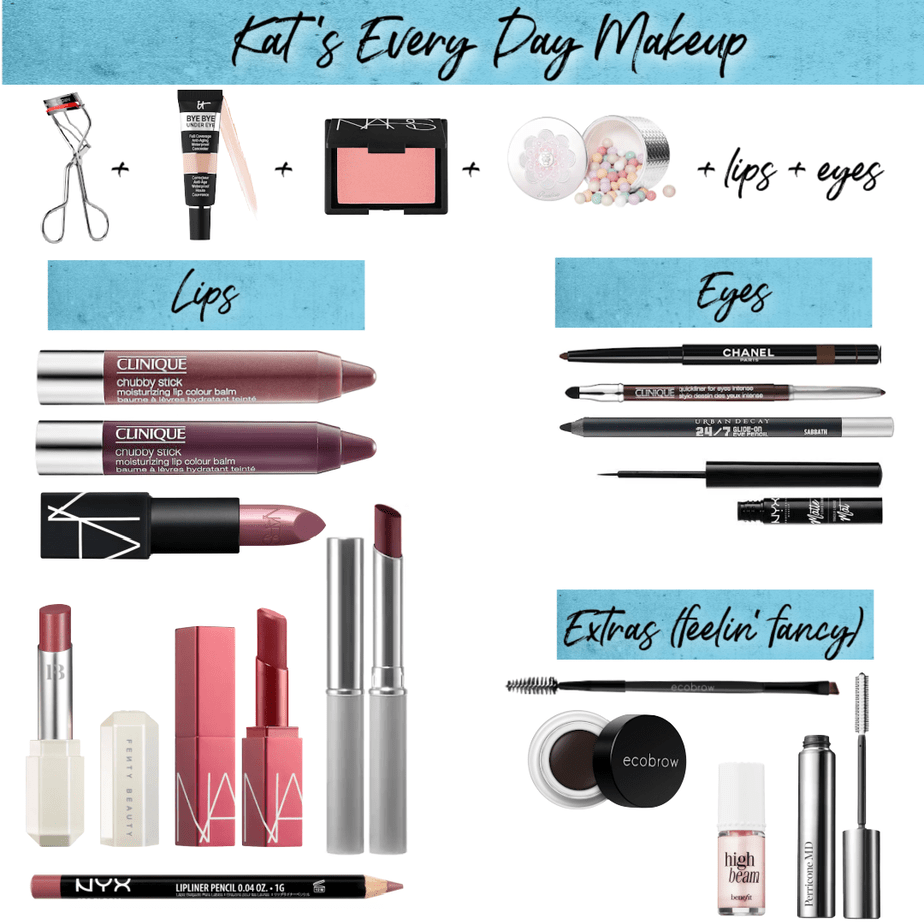 Some favorite lipsticks include Clinique (Graped Up & Voluminous Violet), NARS lipstick (Damage), Fenty (Goji Gang), NARS gloss (Orgasm, Fast Lane), and Clinique (Black Honey). I use this NYX lipliner (Natural) for almost all of them.
Favorite eyeliners include Chanel (Espresso), Urban Decay (Sabbath, Smoke), Clinique (Intense Chocolate & Plum), and this NYX liquid one.
Readers, how about you? How have you changed your makeup routine over the years? What do you think looks dated; what do you think is perfect for your situation?