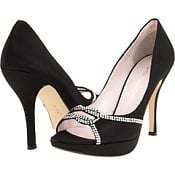 2017 Update: We still stand by this advice on how to do black tie on the cheap, but you may also want to check out all of our posts on holiday business etiquette.
How do you do black tie on a shoestring budget? Reader J wonders…
I am a law student who will be working at a firm over the summer. I am expected to attend a black tie event, but I don't know what to wear nor how to find the dress without breaking the bank. I am also hoping to find a dress that is multi-purpose, so that it won't gather dust in the closet until the next black tie affair comes along.
Congratulations — black tie events can be a lot of fun, and I don't think we've covered them in quite a while (see my advice for what not to wear to a black-tie, as well as how to dress for a black-tie affair at the last minute). Here are my tips:
If you're going to splurge on anything, splurge on shoes and accessories. You can wear these pieces to a multitude of different events, so your cost per wear is much less than it is for one-time-only items like dresses. Comfortable shoes are particularly important — although most business black-tie functions do not have dancing (at least in my experience), you can be on your feet for hours enjoying cocktails. You can borrow a clutch or wrap if you're really on a budget, but I would urge you to keep an eye out for these pieces, and when you find one you love at a decent price, consider snapping it up. If you have a wrap, a clutch, and fancyish shoes, you can make almost any black dress look appropriate for a black-tie event. (On the converse, if you have a full-length black gown or other great black cocktail dress and then wear it with regular accessories, nothing looks worse to me.) Local places like DSW and TJ Maxx will have great deals on shoes; you can also look to 6pm and other online deal places. If you already have a favorite brand of comfortable heels, see if they make evening shoes as well. I would stick with black, gold, or silver shoes for the most versatility, but that's just me. (Pictured above: Caparros – Webster (Black/Clear Satin) – Footwear, on sale at 6pm for $49.)
Do your hair yourself.  If you can do your hair in a fancy-ish way by yourself (put it in curlers, or have a friend help you put it up in a fancy up-do), this is a big place to save on money. A Cup of Jo has some great tutorials; I'm sure YouTube has a million more.
The dress.  The dress is probably the thing you're freaking out about, right? I remember for my first black-tie event. The joke around the office was that it was my law firm's Prom, and for weeks the first-year associates wondered what the heck we were supposed to wear. (Apparently "ask a more senior associate" didn't occur to us.)  Were we really supposed to show up in a long dress? Wasn't that a bit crazy for a work event? So I bought a black knee-length velvet cocktail dress, wore it with plain black heels, and, I think a fancyish clutch . . . and I never felt so underdressed in my life! I honestly think if my shoes had been fancier I would have felt better about it, but for every subsequent Prom I got a floor-length dress. I will say that if it's a black-tie event after work (such as when it's for a charity and a client has bought a table there, for example) that I saw more women wearing shorter, cocktail-length dresses (if not pants) for the event… whereas if it was a Saturday night type affair, longer gowns were far more common. Here are few tips for you to save money on the dress:
Befriend a slightly more senior coworker who has your body type — and then ask her if you can borrow something.
Rent a dress, such as through Rent the Runway. Your cost-per-wear for black-tie dresses can be quite high, so renting them often does make more sense.
Check out consignment stores. You may want to do some legwork before you start heading out — ask around in your town, and perhaps call ahead to the the store to see if you can get an idea of their inventory.
If you have old bridesmaids dresses, take a second look at them. If they're otherwise acceptable to wear to the event, you might be able to dye them black.
Stalk the sales! I remember getting a full-length skirt and a matching top from an Ann Taylor outlet store for $9.99 for each piece — but that was truly a "right time, right place" kind of sale. (And it was January, if I remember correctly, which is around the time you see a lot of good sales on this stuff.)
Readers, what are your tips for doing black-tie on the cheap? What have you worn to different black-tie, work-related events?
Social media picture credit: Pixabay.