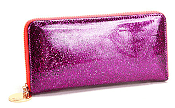 We've talked a bit about how you can save big money by making use of different employer-offered perks, such as flexible spending plans, health spending accounts, and more. But as 2012 starts to wind down, and people make their decisions for 2013, I thought now would be a great time to have an open thread. Here are some questions to get the discussion rolling:
How much do you put into an flexible spending plans (FSA)? What have you used it on in the past; what will you use it on in 2013?
Do you use a Health Spending Account (HSA)? How much do you put into it every year?
 What other year-end housekeeping are you doing to your financial health?  What else are you doing to get your ducks in a row for 2013?
(Pictured:DEUX LUX Jax Glitter Zip Wallet, available in four colors at Lord & Taylor for $60.)