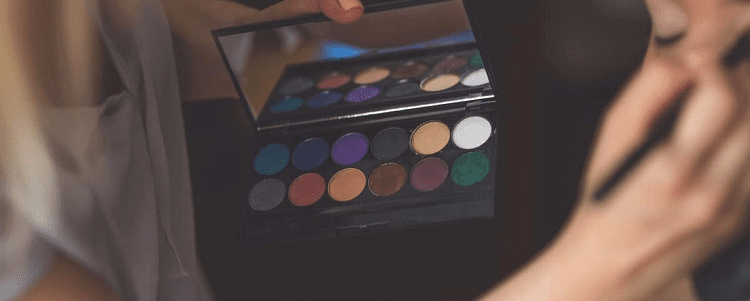 Does anyone else remember the GlamourShots trend of, like, 1992? (Ah: apparently the company is still in business!) It was the envy of every high school girl. The idea was that you'd go and get crazy cool makeup, awesome (read: big) hair, a super flattering soft focus, and WHOA: glamour!
Well, the trend may be back — for company headshots. Reader S wrote in with a troubling trend: company headshots where they bring in a hair and makeup team to redo your makeup for your professional portrait. Here's her email:
I just had an insane conversation with some friends from my former law firm. Apparently the firm had a photographer in to take headshots…but also brought in a hair and makeup team. Evidently it was not optional; men and women had to get makeup. They went so far as to pluck one woman's eyebrows! Our friend who switched firms said the same thing happened at her new job, and in fact they removed and totally redid her makeup for the photo. Is this a thing now? Because it strikes me as totally nuts.
MAN. I HATE THIS. I love being pampered and glammed up as much as the next person, but a) dang it takes a long time if you've got a makeup artist who's really into blending (or straightening! or curling!) or eyebrows or whatever, and b) you don't always look like yourself when the GlamourShots team is done.
I forget which sponsored post it was (maybe my JC Penny video back in the day), but for one of my early "introduce myself to the readers!" shoots I was really upset because when the makeup artist was done with me, I barely looked like myself.
I could never quite figure out what was wrong with the makeup — too little eyebrow pencil? too much bronzer? not enough blush? — but it. bugged. me. I even had a thought at some point that TV personalities/talking heads surely must have some way of ensuring that they have a consistent look, makeup artist to makeup artist — but I could never find anything on point.
One of my newer mom friends, S, used to be a television reporter. Here are her best tips for working with a makeup artist in a professional capacity (assuming you can't dissuade your company or firm from this course of action):
bring your own makeup in to show the makeup artist exactly what products and colors you use — particularly foundation if you like your own!
take a recent selfie of yourself — or show him or her another picture you like — and show it to the makeup artist as evidence of "this is what I look like"
be specific in your requests — if you barely wear make up, make sure they know to use a light hand; if you always wear a ton of makeup, let them know that too
if you're very particular about one aspect of your makeup, ask if you can do it yourself — my friend S always does her own eyelashes
In the past, we've shared makeup tips for interviews, as well as how we feel about the studies that say "makeup helps you be perceived as more competent" — and we've also talked about company headshots before, but this is a new one.
Readers, are you seeing this trend of law firms bringing hair and makeup teams in for company headshots? How are you dealing with it? What are your best tips for how to work with a hair and makeup team for your company headshots?