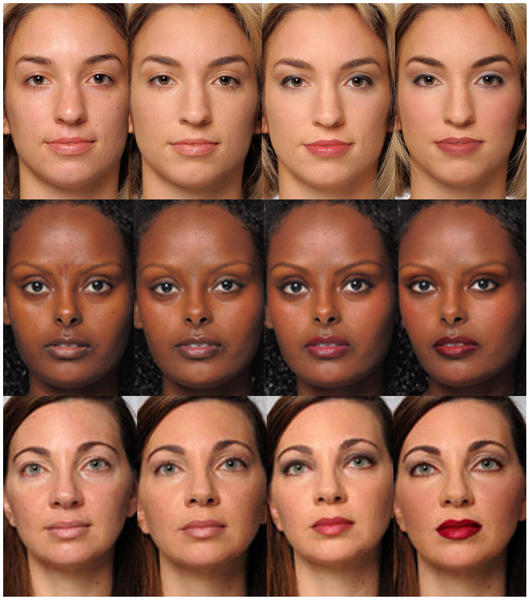 So a few weeks ago there was this survey: more makeup makes you look more competent. Or so they say. This seems like exactly the kind of thing we should explore here… hence today's open thread.
So here are some of the pictures they showed to test subjects. And I thought I'd share my thoughts (I typed these specifically for the first row, but really they sort of apply across the board).
– Picture 1: Aww, is she a college student on summer break? (Which is really interesting, because while we've talked about young women feeling unprofessional if they're not wearing makeup, it isn't a bias I generally think I have.)
– Picture 2: Meh. No opinion. She doesn't look very friendly.
– Picture 3: Ok, if I were this chick, this is probably the amount of makeup that I'd be comfortable wearing on a daily basis, at least at the beginning of the day. That said, does it affect how I feel to look at her as a potential colleague? I suppose it does, but it comes back to me — she and I both feel comfortable putting the same amount of work into our makeup and outfits, so we must have similar/same outlooks on life. Great!
– Picture 4: This is the "glamorous" look. Maybe I've been hanging out with fashion bloggers too long, but she doesn't look particularly glamorous to me. She looks kind of like the villainous boss in a movie. Is it because of the makeup? Because of the darker brows and lighter hair? The expression? This is also interesting, because according to the study, "women in glamorous makeup were found to be less trustworthy."
The thing that I kept thinking while looking at the pictures, though is this:  expressions are huge.  I've worked with a lot of young newbies starting their first job, and thinking back to that first meeting, whatever impression I had of them was formed not through abstract things (like their makeup, or even their clothes) but rather their expressions.  If someone comes into your office, plops down and gives you the dead stare seen in each of the 12 pictures:  you curse the hiring department.  Whereas, if she's eagerly listening to what you're assigning, and maybe even suggesting other avenues for research or development — it doesn't matter if she's wearing buckets of makeup or not, you think, WOW, it's gonna be great to work with her.
So let's take it back to the realm of photographs.  Would you want to work with her based ONLY on her picture?  Honestly, I wouldn't want to work with any of the women in this photo — they all look humorless, tired, and a bit wary.  I've advised this for corporate photos, and I'll advise it again here:  your resume and your achievements are usually posted alongside your photo, so the main thing your photo needs to convey is friendliness.  Forget "smize-ing" (as Tyra would say) or trying to give some smoldering look of sheer intelligence… just look like someone trustworthy, responsive, and friendly — the kind of person you'd want at the other end of a phone line if you've got a problem.
I'm not saying that makeup doesn't matter — but I think it speaks to judgment calls you make.  The woman in the third row — her first picture makes her look tired, weary, as if she is so overworked and overstressed that it is all she can do to get a shower in and show up at the office on time.  Her fourth picture (with the heavy lipstick) makes her look high maintenance, even vain, to me, because I know how much work maintaining that dark perfect lip must take. Women wearing the completely wrong color of lipstick similarly get dinged — they look like they haven't done a self-assessment in a while.
I don't know (um, obviously): readers, what do you think?  What do you think about the women in the photographs? And do you think those thoughts translate to makeup… or that the bigger thing you're evaluating in the photos is the expression?  Do you take anything away from the study re: how much makeup to wear for the office?