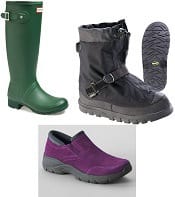 2018 Update: We still stand by this advice on how to interview in a snowstorm, but you may also want to check out our more recent discussion of how to dress professionally on the coldest days.
What should you do if you have an interview — in a snowstorm? Reader A wonders:
Can you do a post on what to wear to an interview during a snow storm?

I have a few interviews set for this week, but with the approaching east coast storm, I don't want to walk into an office with my winter coat, scarf, hat, laptop, etc. plus a huge bag just for snow shoes (not to mention awkwardly changing into heels nearby or in the lobby).

Do you recommend just bringing an extra bag to change shoes or do you have another trick or solution?
We've talked about general interview tips, as well as how to look professional in cold weather as well as a New York winter, but not this particular situation. Note that "professionalism" includes your own judgment about how to dress appropriately for the weather, so I wouldn't worry about wearing "normal" interview attire TOO much — if you have to leave a bag with snowboots at the hiring office (or bring it with you to the interview), it isn't the end of the world. That said, I did come up with a few tips for you:
Lighten your load as much as you can. For example, do you really need to bring your laptop to the interview? If you do, then you do, but that would be the first thing I'd consider leaving at home. If you can, bring a laptop sleeve instead of a separate bag for a laptop, or buy a tote that has a separate lining for your laptop, such as the Jetset tote or the O.G. If you know you're going to have to slip your commuting shoes and your interview shoes, that goes double. (Don't forget the plastic bag to put your shoes in!)
Arrive early enough to pop into a coffee shop nearby with a bathroom. I would take my hat off there, get the "winter slap" look out of my face, and also use the space to change into heels or boots.
A note on shoes in snowstorms. First: For my $.02, in the midst of a snowstorm, I think a pantsuit and boots are totally fine, even for an interview. You do have some options, though, for shoes that should fit into your trusty interview tote:

Packable wellies. These aren't the warmest option, but they pack down nicely and could be thrown into your regular interview bag. If you're wearing them with pantyhose, be sure to wear knee-high socks with them (or even get a welly liner).
Ankle-height snowboots, such as Lands' End All Weather Mocs. Oh yes: these are hideous. But they're only $60 — not bad for commuting shoes! — and they're relatively easy to slip into a plastic bag and throw into your regular tote bag.
Overshoes. I only just found this product, but it looks amazing: Neos Overshoes, which you slip on OVER your regular shoes. It's pricey, but if you live/work in an area with plenty of snow, these babies might be great. They look like they would pack down enough to slip into an interview bag. I would probably only wear these with flats and not chance heels, but your mileage may vary. (Amazon has a few other products that might be great — these rain shoe covers might be great to keep in your office for that emergency when it unexpectedly starts raining and all you're wearing is a pair of shoes that you can't get wet! Sadly, the Shuella seems to be no more.)

Finally: it's a snowstorm. Don't worry about it too much — and keep your personal safety where it belongs, which is at the top of your priority list.
Ladies, what are your thoughts for interviewing in a snowstorm? I've offered some tips for wearing normal interview attire, but would you really think poorly of someone who came to interview dressed for a snowstorm?