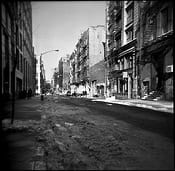 Reader B has some good questions about navigating a New York winter:
I work for a global financial firm and will be heading to Manhattan for a week-long business trip in mid-January out of our NY offices. As a lifelong Southern California Girl, I am totally clueless how to navigate the weather and still look professional?

I've seen your posts on individual aspects (footwear, coats, bring a pashmina, etc) but was hoping you might have an overall take on how to travel for work in a cold climate for the uninitiated, such as:

Will my Hunter wellies + warm socks be enough to get me from the hotel to the office to dinner?
Can I strut down the sidewalks in my kitten heel boots or will they get ruined?
Is my thin wool coat over my suit jacket enough or should I splurge on a down coat? (I noticed Overstock had some good looking coats and since this trip is a regular part of my new position, I don't mind spending money on a few investment items.)
How do most people in NY handle the office to dinner? Do I need to tote any sort of change of clothes with me?
I'm interested to hear what the readers say on this one. (Pictured: Slush, originally uploaded to Flickr by holly_northrop.) First, I would say this really depends on your trip. If you're going to be either a) working closely with senior executives from your firm or b) meeting clients, then I would axe the Hunter wellies unless they're a basic black. They're fine for a commute to and from the office, but I wouldn't want to be sitting around at dinner with VIPs while wearing them. (I have a sad, sad story about wearing Uggs to dinner with my senior partner and a client, but we shall have to save that for another day. But really, talk about huge regrets.)
As far as shoes go, the primary thing to look out for in NYC is the uneven streets and even some subway corridors — slush and rain can accumulate to make some ridiculously large puddles. Wellies are great if you're not paying attention, but with just a bit more care and attention you can avoid them entirely. In fact, I would go so far to say that unless there is a blizzard expected (such as our recent Snowpocalypse) or it has been raining for days, you should just wear your regular boots. I touched on some good brands and other waterproofing methods in this post a few months ago; at the very least I would recommend spraying your boots with a waterproofing agent before you leave. Kitten heel boots should be fine on the sidewalks — if you're heading to a spot like SoHo, beware of cobblestone streets (they are not kind to shoes or to their wearer!). If you've done a ton of walking and find your heels have worn unevenly, when you get home you may want to take them to the cobbler to get a new rubber heel put on the boots. In fact, if you're lucky you'll be able to expense cabs to and from dinner, which will make a lot of these questions a moot point.
As far as coats go — to be honest, it really depends on the material of your coat (sometimes a thin wool/cashmere blend is just fine). If you layer it with a wool scarf or wrap, a hat, and good gloves, you should be fine for all but the most blustry days. I have historically been opposed to puffy coats (whether it was the movie Romancing the Stone
or Working Girl
, I'll never know) but I must admit a friend just bought a fuchsia Land's End puffy coat and looked adorable in it, so there's that. (They're even on sale right now for $99.) You may also want to check out my post on silk long johns — they are fabulous under pants suits.
As for dinners — it depends on who you're dining with and where you're going. For example, if you're going on a date and want to change into something more alluring, I used to just swap an element of my outfit — change to higher heels, jeans, perhaps a lower top or more clingy sweater — rather than changing my entire outfit. That said, for the vast majority of restaurants in New York, you can go wearing whatever you wore to work. If you're going to an extremely upscale place, you might want to call ahead when you get a free moment, and see if the hostess can give you some guidelines (e.g., jacket + tie for men might be a more formal place for you). If you've got a charity ball, you can check out some of our other posts on that here or here.
Readers, what are your tips for the New York winter, specifically?