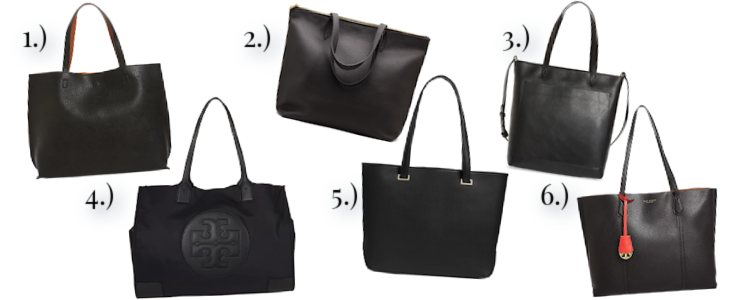 (Looking for a luxury work bag? Here's our latest roundup…)
Sure, we all know what basics professional women are supposed to have in their closets, but if you're buying one for the first time or replacing one you've worn into the ground, it can be a pain to find exactly the right incarnation in stores. In "The Hunt," we search the stores for a basic item that every woman should have.
A stylish interview tote is something that every woman needs — yet it can often be a hassle to find the perfect thing (at a price you like). For my money, a good interview tote:
is black (and can be worn with any color, including navy)
has structure to it and will stand up by itself if you set it down
is big enough to hold at least a folder with your resume, as well as a small bag of makeup and a bottle of water
has interior organization (pockets and the like) so you can find what you need, quickly and easily, without digging
In an ideal world, a good interview top would also zipper on top (so it's secure and won't accidentally spill out), and would be able to be carried by a shoulder strap so your hands can be free. 
Readers, what qualities do you look for in an interview tote bag? Are there any classics that we're forgetting? Have you made any recent purchases of a great tote bag?
The Latest Stylish Interview Totes We Love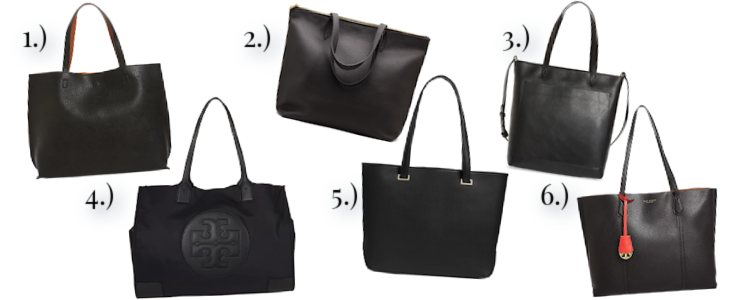 (Looking for a luxury work bag? Here's our latest roundup…)
As of Feb. 2023, some of our favorite luxury work bags for a splurge (large enough for work papers and sometimes even a laptop) are from Chanel, Louboutin, McQueen, Mulberry, MCM, Jimmy Choo, Ferragamo, and Strathberry. Of course, note that a lot of our readers who are in big jobs note that they love their (more affordable) Lo & Sons bags, as well as their Tumi.
Looking for work backpacks to splurge on? Montblanc, MCM and Senreve are great, and Valextra has some men's backpacks that look perfect.
Some of the below products are probably sold out by now, but check the image at the top of the post for our latest favorites!

Stylish Interview Totes Pictured Above:
Like this feature? Check out other recent installments!