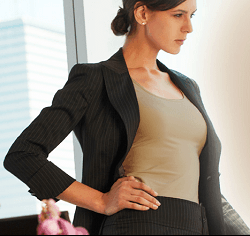 Disclosure: This is a sponsored post by Adea, luxurious yet modest every day clothing. 
With warmer weather finally upon us, layering is the name of the game — so I was delighted when Adea reached out (and that they're offering everyone a special discount code!).
I'm firmly on board with the founder's belief that "every woman's wardrobe should have a solid foundation of high quality basics that are reliable, flattering, and comfortable" — and I was intrigued to hear that Adea had sourced Italian-made fabrics "with the most advanced technology available" to create modern, body-conscious fits, particularly specializing in layering pieces.
They sent me two pieces to get a feel for their product.  The fabric is silky smooth, breathable, and — hooray! — it's machine washable.  I think Adea tops would be particularly great for travel (business or personal), because the pieces air dry in under an hour, so you can pack less.  The fabric is touted as having such a high opaqueness that it is extremely effective at filtering the sun's rays, offering twice the UV protection of cotton.  Another benefit is that the fabric is moisture-wicking, so you don't have to worry about embarrassing sweat marks under your arms.  With both pieces Adea sent to me, they hugged my curves without riding up or being uncomfortable.  Oh, and this is a big one — the fabric resists abrasions and pilling, so not only do the pieces themselves always look new, but you don't suffer the humiliation of spending serious money on a beautiful new blouse or dress and then realizing your outfit looks lousy because you have a ratty, nasty camisole peeking out.
The Adea collection is available in thirty (count 'em, 30!) colors, with most pieces available for under $100.  I was impressed to see a lot of glowing customer reviews, and happily surprised to see some really great sales if you click around, depending on colors and stock. You can see how saturated some of the colors are, below:

A few of my favorite pieces from their collection…
The bra-friendly camisole — this one strikes me as a great way to wear the sheer blouse trend to work.  It's $59 at MyAdea.com, but note that Espresso, Seafoam and Sherbert are 40% off.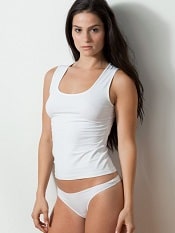 Another tank top: the U-neck tank (made of a slightly different fabric than the other Adea tops) — it was $98, but is now marked to $24 (on final sale, in black only).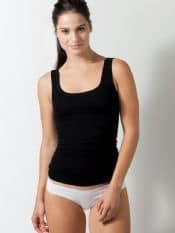 I featured this chemise back when we talked about what to wear under wrap dresses — now that I've felt the fabric I'm even more in love.  It's $89 at Adea (but only available in black, gray, and red.)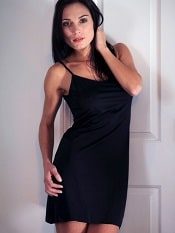 Finally: it's not quite the season for a 3/4 sleeve top, but it's an Adea bestseller, it has a ton of glowing reviews, and — since it's one of the pieces they sent me as well — I actually feel kind of loyal to this great layering piece.  You could, in theory, wear this one by itself, but note: it is very body conscious, so in my opinion it's best as a layering piece (at least for work).  It's $74, but note that some colors are on sale for 40% off.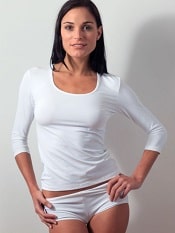 And now, that discount code: Corporette readers can take 15% off through the end of the week (ending 5/19) with code CORP13.  Code is valid for one time use on both full price and sale merchandise, cannot be used with other discounts or promos and expires on 5/19.
Readers, what do you look for in a luxury camisole or other layering piece?