2018 Update: We still stand by a lot of this advice for dressing professionally for summer, but you may want to check out our most recent post on what to wear to work in the summer. 
I was chatting with blogger RoadWarriorette the other day about dressing for summer — it can be a challenge when you're trying to look professional! So I thought we should have an open thread with people's best tips for dressing for summer. My personal tips:
– Layer, layer, layer. This helps with commutes in hot weather, and if you do it intelligently you can add and remove layers as needed throughout the day.  For example, I frequently will wear just a cotton t-shirt and my pants or a skirt to work, as well as sandals or flip flops.  Once at work, I'll give myself time to "air out" if I need it, and then pop on my blazer and a good pair of pumps.  I keep a lot of blazers and pumps at the office so I don't have to lug them around the city with me — for example, my current office has a basic black blazer, a white one, a beige one, a black/gray/silver leopard-print one and then about several pairs of pumps (basic black, really high black ones, purple pumps, brown pumps, a low pair of silverish/gray pumps, a nude-for-me pair of pumps, a red pair of really high heels) as well as a bunch of flats that I keep at the office (a black patent leather pair, a red patent leather pair, a brown lizard pair, a light pink pair, and a royal blue pair).  Similarly, a lightweight scarf (such as one made out of linen or silk) can be a great addition — it'll provide warmth if you're freezing, and not that much bulk if you need to take it off and tie it around your work bag.
– Choose your fabrics wisely. Natural fibers like cotton, silk, and linen are going to be much better in the summer than polyester or most man-made fabrics.  Particularly if you have to actually be outside for a work-related event, a linen, light-colored blazer is going to be a million times more comfortable than a polyester, black blazer. (Pictured: BandolinoBlu Jacket, Ada Three Quarter Sleeve Ruffle Hem Tailored Blazer
, $48 at Macy's.)
– Know thyself — and your route. If your morning commute leaves your makeup streaked across your face, and your hair limp or frizzy, plan in advance.  Switch to waterproof makeup, or if you can, put your makeup on at the office.  Do your hair in an up-do or pulled-back look when you leave the house.
– Keep your colors seasonal. This doesn't really help with heat, but I always like to swap my colors when the weather changes.  In the spring I'll pull out my pastel blouses and t-shirts, and my white and beige blazers, which I'll wear into early summer.  Around the Fourth of July I'll switch to darker colors — more jewel tones, dark reds, maybe browns — and wear those into fall.  (I live in NYC, so I wear black year-round, but that's me!)
– Know how to cool down quickly if you have to. You can frequently pick up a noisy, small fan at the local office supply store for as little as $15 — they're not ideal to keep a regular, quiet breeze going in your office, but they are great for when you need to blast yourself with some cool air upon your arrival.  Similarly, I like to take something cold (a can of soda, a bottle of water) and put it against the inside of my wrists.  I forget the exact reason (pressure point? acupuncture point? major artery?) but it really does help cool you down more quickly than, say, putting the can of soda to your forehead.
Readers, what are your tips for dressing professionally for summer — while staying cool?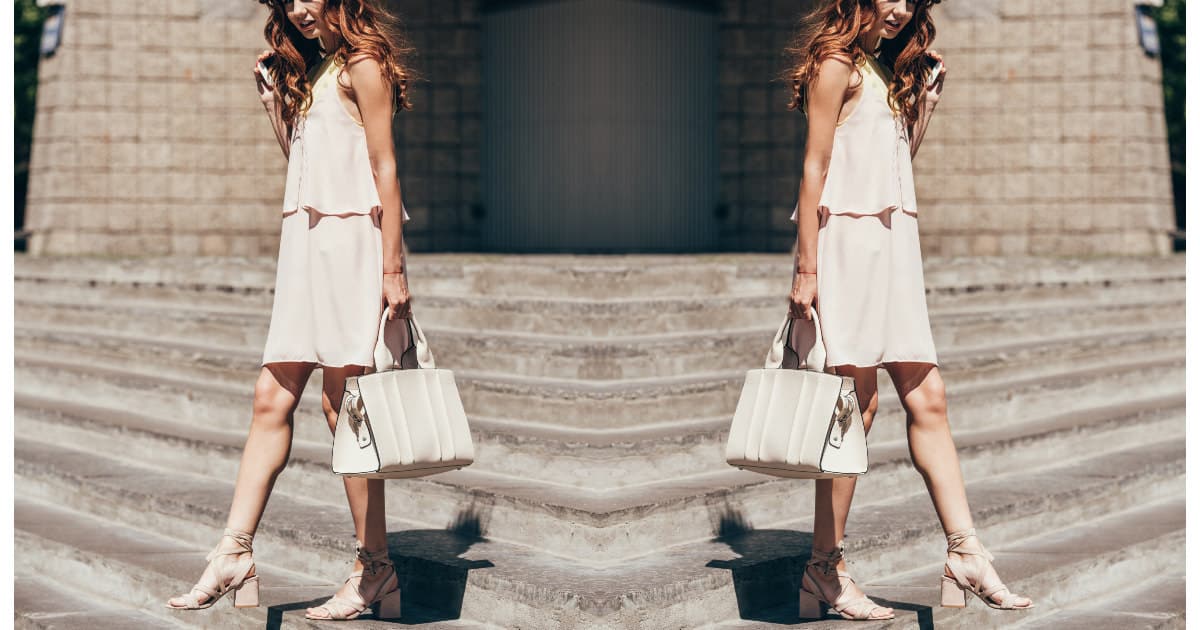 Pictured: Deposit Photos / IgorVetushko.