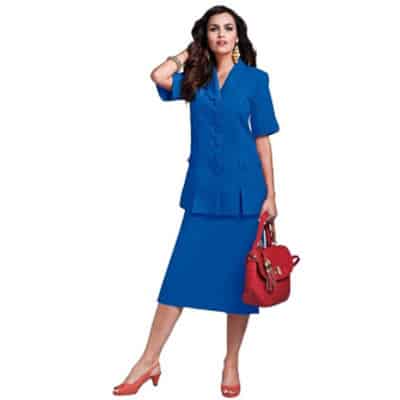 Are short-sleeved suits appropriate for young women in professional jobs — or are they horribly frumpy and tacky? Reader C wonders.
What are your thoughts on short-sleeved suits? Appropriate or tacky? To provide some context, I am an attorney in my late 20s in Kansas City, and I work for a non-profit which is generally business casual, erring on the side of casual. I also never have to appear in court. I'm looking for a summer suit for any big meetings and/or conferences that may pop up, and last summer it was blazing hot for months. Is a short-sleeved suit (probably khaki, white, or navy) ever appropriate in these settings? Or would I just look like an idiot? If I get one, I'd make sure it was fairly plain styling. If not short-sleeved, does 3/4 length work as a compromise? I am lacking in work attire role models in my office so advice would be much appreciated!
Difficult question. My gut reaction here is: when you say "short sleeved suit," I think of something like the picture above — horribly frumpy. But that said, I have recommended short-sleeved suits at least four times here on Corporette (pictured below):
(Awww, remember the puff sleeve trend of 2008?)  I also fondly remember wearing a cap-sleeved blazer that I got from Anthropologie years ago (Nanette Lepore, I believe) — I normally wore it in the fall and spring on top of long-sleeved tees and turtlenecks with a pencil skirt; I remember it so fondly because I happened to be wearing it when my husband proposed. I can't find a picture of it or me in in it that really displays the jacket, but it was similar to the purplish one above in cut. (2018 Update: I just found a picture of me in it!) So: never say never.
But here — where Reader C almost never wears suits — I'd say she should instead spend her money on a seasonless wool suit (with both pants and a skirt) from the likes of Banana Republic, Ann Taylor, J.Crew, or Theory if she can afford it — and carry her suit jacket with her to meetings in the hot Kansas summers, only putting it on once she's inside the inevitably air-conditioned building or meeting. Because a) these meetings will inevitably be air conditioned and you'll be freezing in there, b) even if they are hot, for my $.02 you'll look far more professional even if you're just sitting in the meeting with your suit jacket hung neatly on a chair, and c) how crazy hot do your elbows really get that you need a short-sleeved suit? If you have a lot of outdoor meetings in the summer that necessitate wearing suits I might look for a long-sleeved version in a lighter fabric like cotton or linen, but I think for Reader C's purposes, seasonless wool would give her a lot more bang for her buck.
What do you think, readers — is this a regional thing? Do you often see short-sleeved suits at summer meetings and networking events? If you only have a few suits in your closet, should one of them be a short-sleeved one?