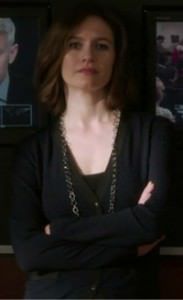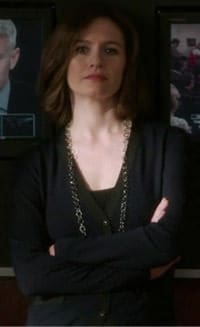 Today's guest post is a 360 review of MacKenzie McHale of HBO's The Newsroom. If you're not familiar with them, a Corporette 360 review examines a fictional "professional" woman's attire and critiques it from all perspectives: underling, boss, friend. Today's guest post is from Emily Ward-Dickerman, the editor-in-chief of mock-off.com. Welcome, Emily!

If you passed MacKenzie McHale walking down the street you likely wouldn't suspect she was a highly successful news producer. But, as the executive producer of News Night, a nightly news show on fictional cable network ACN, MacKenzie — or Mac as her associates call her — manages a team of 100+ producers, researchers, bookers, editors and controllers. Mac is played by English actress Emily Mortimer* who does a brilliant job of portraying Mac's clumsy quirks, wide-eyed honesty and savvy instinct. Her wardrobe can best be described as simple professional –- a collection of pieces that can be found in the local mall, but nothing close to the top-trend designer clothing you might expect a television producer to sport.
When we first meet Mac she is thrown into her new EP position working with her ex-boyfriend, news anchor Will McAvoy (played by Jeff Daniels). Her goal is to bring a new kind of news to the cable network — one focused on truth and integrity rather than shock-value and exaggeration. In order to do this Mac and her staff must track down the most trustworthy sources in topics ranging from political shakeups to national disasters to the economy. While Mac stays up to date on breaking news stories, she is not one to keep up with fashion trends. She does find a way to pull her reachable business look together.
While not a fashionista, she does find a way to pull her reachable business look together (anyone  with access to an Ann Taylor could mimic her style). Her mind is sometimes jumbled but her wardrobe is never hurried.
The Good:  Mac's look can best be described as professional yet comfortable. She is on her feet 8 hours a day gathering facts and sources, leading production meetings or watching the newscast from the control room. She lives in pencil skirts, flowy blouses, long cardigans and plain black heels. Mac's simple wardrobe mimics the honest, to-the-point type of newscast that she is trying to run.
Mac's hair and make-up are also uncomplicated. She opts for an easy hairstyle – shoulder length and generally parted to one side – perfect to wear under an unforgiving headset. Her makeup is constant day to day – dark lids and lashes with a raspberry lip.
The Bad: Mac is big on loyalty, which is a great thing when it comes to her professional relationships, but does lead to some redundancy in her wardrobe. Her outfit formula is cookie cutter – flowy blouse, tucked in to either a pencil skirt or slacks, and black heels. I have no issues with these choices, but I feel like she should change up her accessories. She is almost always wearing the exact same gold hoop earrings, black leather watch and gold disc necklace.
Also, while the formula for the outfits is okay, sometimes her tops are less than flattering. Patterned tops tend to age her and she ends up looking like a middle school teacher circa 1985.
The Impression:  If I were one of Mac's underlings, she'd be my inspiration. With her professional confidence and instinct, I might not notice what she was wearing. But if I did I would appreciate a leader who dresses like the rest of the team – someone who doesn't intimidate by wearing clothing I could never afford.
From a boss's perspective, her wardrobe would be considered 'fine', but nothing defining. Mac wasn't hired for her fashion sense. The perception from some higher ups might be that a 2-time Peabody Award winner (the highest honor among journalists) could afford and would wear designer suits. But Mac has more pressing issues than whether her outfit is a custom suit from Donna Karan or was pieced together by a sales associate at The Limited.
As Mac's friend, I would make it my mission in life to expand her accessory drawer. Necklaces, earrings, bracelets, scarves – there are many ways to add some color and spice to her look. Mac got into her position because of talent. She deserves to stick out more than she does.Like many, The Newsroom has kept me captivated on Sunday nights. I look forward to seeing more of Mac and her team at News Night. While Mac's wardrobe might be nothing special, the show certainly is.
Emily Ward-Dickerman is the editor-in-chief of mock-off.com. She has also written stories for Crave Company. You can follow on Twitter for posts about fashion, blogging and celebrity style. 
—
*Random Kat story:  A few years ago, my then-boyfriend (now husband) and I went to see a small production of a play written by an old friend of his. We were standing in line outside the very small theater and the woman in front of me looked really familiar. "Oh, hey!" I said. "I know you! I think we met at Jeff's thing the other week." She tilted her head, confused. "You're a friend of Cori's, right?" I said. She was honestly racking her brain, and we started to go over where we might have met. After a few sentences I realized that soft accent, that familiar voice — it was Emily Mortimer, who I should have recognized immediately because Dear Frankie is one of my favorite romances, and I had just seen her on Conan telling a hilarious story about her son. Dear God, I realized, I was Pestering A Celebrity, one of the biggest no-nos among New Yorkers. I choked out "OH! I DON'T KNOW YOU!" and abruptly turned away. I'm sure she thought I was crazy! She was very sweet to play along as long as she did.