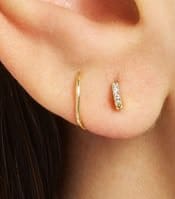 I'm intrigued by these cool earrings that curve around your lobe. The brand has a ton of similar earrings; for some reason I like these the best. They seem interesting but effortless, cutting edge but work appropriate, and I think once you got the curved loop figured out, they'd be very comfortable (much like my beloved huggies). (They remind me a bit of these earrings, which were also a solid piece.) They're $475 at Net-a-Porter. Maria Black Fine Jewelry Lila Twirl Earrings
P.S. Note that Net-a-Porter is a member of the "Responsible Jewellery Council," which commits to follow a code of practices that addresses "human rights, labour rights, environmental rights, mining practices, product disclosure, and many more important topics in the jewellery supply chain." Interesting — this is my first time hearing of the group.
P.P.S. Net-a-Porter also has a lower-priced option from Maria Black in gold-plated silver.