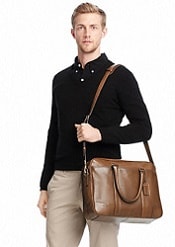 Messenger bags: unprofessional, or just fine for the office? Reader H wonders:
Hello! I love Corporette, and had a question about messenger bags. I read through some of the blog's archives re: work bags, and found plenty of negative comments about carrying messenger bags to work. I always wore them in school, and recently impulse-bought a men's messenger bag on sale (this one to be specific), because it was so gorgeous in the store. Going through the comments made me wonder — would this be appropriate to bring to the office and wear to a meeting? The leather is just such great quality, and I love the simple, understated lines. For the record, very, very new at NYC BigLaw, and I only wear these sorts of bags on one shoulder, not across the body.
Interesting question, Reader H! (Pictured: Bleecker Commuter in Leather, $598 at Coach.) We've talked about backpacks for commuting (including walking to work), women's briefcases, and interview totes, and for Coffee Breaks I've often suggested briefcases primarily marketed to men, but I've never thought about the messenger bag question — so I'm curious to hear what the readers say.
For my $.02:  The bag you bought looks great. It's professional, functional, subdued, and — particularly if carried by its handle straps instead of its longer strap — just looks like a regular briefcase. A+.
I do think there are some messenger bags that aren't appropriate — but I tend to think it's more the bag specifics than the fact that they're "messenger" bags that disqualifies them. For example, I have always loved the Le Sportsac line of messenger bags for simple gym bags to keep at the office — but the wild prints and nylon fabrication make them generally too casual for work. Ditto, I was recently eyeing the Timbuk2 and Rickshaw brands of messenger bags for work for my husband (who somehow managed to KILL a Cole Haan briefcase I'd bought him in record time), and we decided that they were just too casual for him for work.
Readers, what do you think makes a messenger bag appropriate or inappropriate for work? Do you think the recent rise in trendiness of longer straps has changed your answer from what you might have said a few years ago?
—————
N.B. PLEASE KEEP YOUR COMMENTS ON TOPIC; threadjacks will be deleted at our sole discretion and convenience. These substantive posts are intended to be a source of community comment on a particular topic, which readers can browse through without having to sift out a lot of unrelated comments. And so, although of course I highly value all comments by my readers, I'm going ask you to please respect some boundaries on substantive posts like this one. Thank you for your understanding!