Dec. 2020 Update: Many of these jeans are marked down in the 2020 Nordstrom Half-Yearly Sale! There are links to sale options next to each image.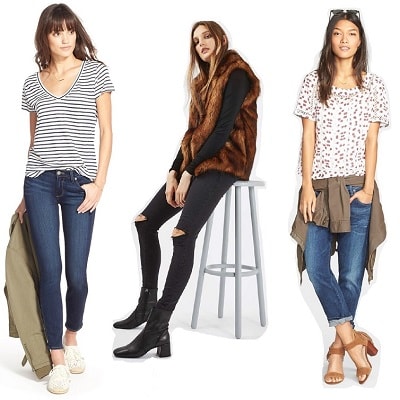 We haven't done a Weekend Wednesday in too long! Today: what are your favorite brands and styles for jeans? I was curious what the most-loved denim at Nordstrom was, so while I was doing my own research I thought I'd round them up into a Hunt-like post for you guys.
I'm curious: Which are your favorite jeans in 2020, ladies? (And, for those of you in business casual offices, do you differentiate between weekend denim and jeans for the office? How do you wear jeans to work?)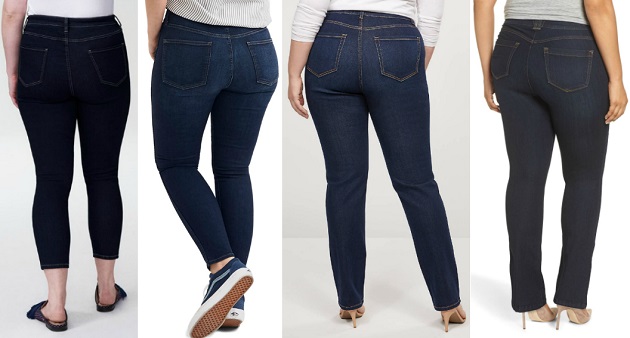 Psst: here's our latest conversation about skinny versus bootcut.
We'll do the most-loved denim at Nordstrom in regular sizes first: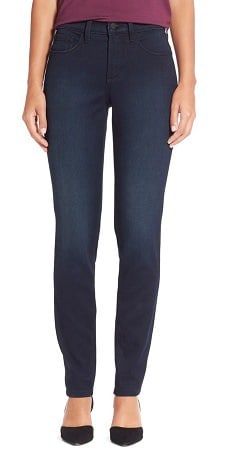 The highest rated jeans on this list — I guess the most-loved denim at Nordstrom! — with 271 votes and 4 stars, are from NYDJ. If you want a basic skinny jean, especially in a dark rinse, I think these are a great choice. They're available in sizes 0-16 and are pretty affordable, from $56 (sale price) to $134. (Depending on the particular style, you can also find them in petite and plus sizes.) NYDJ Alina Colored Stretch Skinny Jeans / sale options!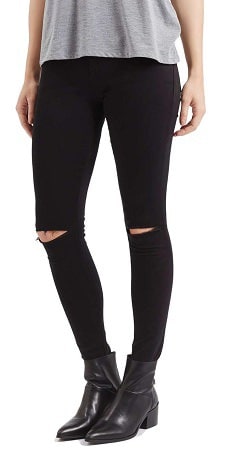 These jeans come in different lengths by inches, like men's jeans, which is great if you're looking for something shorter (and huzzah for brands finally offering that option to women!). Of course, Topshop will be on the younger, smaller side, but a lot of Nordstrom customers seem to really like these jeans. They're available in blue, gray, and black denim and range from $41 (sale price) to $75. Topshop Moto 'Jamie' Ripped Skinny Jeans / sale options!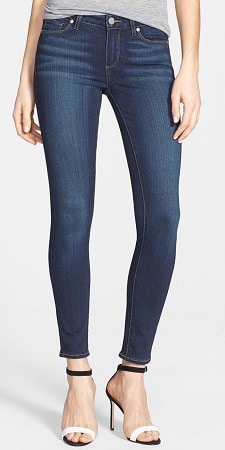 People just love these jeans from Paige — so far they have 129 reviews and almost 5 stars. They come in a bunch of different colorways, as well as various levels of distressing (going up to "destructed"), and they're available in sizes 23 to 32 for $126 (sale price) to $219. I like the basic blue denim of the pictured jeans. Paige Verdugo Skinny Jeans / sale options!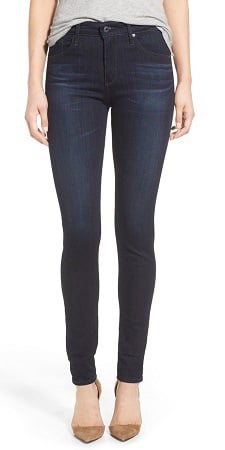 These jeans have 128 reviews and 5 stars, and the pictured style is $168. I like that it has a dark, clean look — but of course these come in a number of different colors and other options, including an interesting Contour 360 version. (If you really want a nice tight fit, that's the one to go with.) Sizes range from 24-32, and as for prices, they're $125 (sale) to $235. AG The Farrah High Rise Skinny Jeans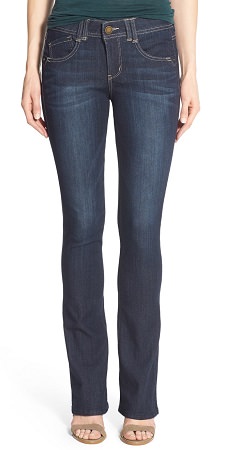 Here's a great pair of affordable jeans from Wit & Wisdom — the top one in this price range. These jeans are just $68 and have 4.5 stars from 101 reviewers. (There are several different leg openings, with these Itty Bitty Bootcuts being the highest rated.) They look great, especially for the price, and they come in petite and regular sizes 0-16, as well as plus sizes. Wit & Wisdom Ab-Solution Itty Bitty Bootcut Denim / sale options!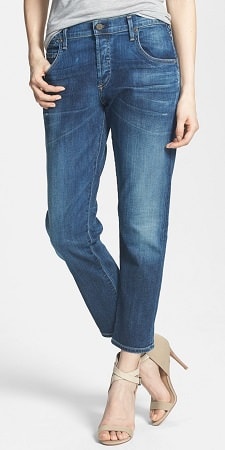 The next highest rated jeans are from Citizens of Humanity. This boyfriend style comes in different versions (with distressing, embroidery, etc.), and the price range is $112 (sale price) to $298 (embroidered) in sizes 24-32. Citizens of Humanity 'Emerson' Slim Boyfriend Jeans /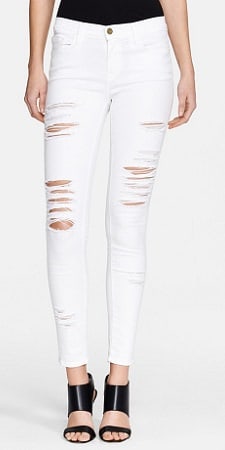 Frame denim has been the cool-girl choice for a while, and these Le Color skinny jeans, available in distressed versions as well as non-distressed versions, look like the highest rated. They have 77 ratings, and almost a solid 5-star rating. They come in sizes 24-31, and are $184-$239. Frame Le Color Rip / sale options!
I've noted which of the styles above come in plus sizes, but graphics are always helpful: these are some of the best jeans in plus sizes right now: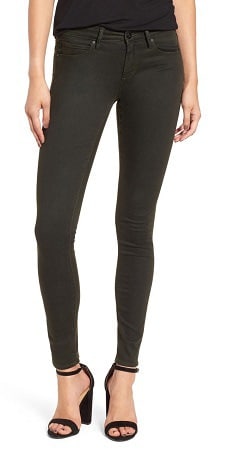 These jeans range in price from $35 (sale) to $59, so if you're looking for the best affordable jeans in 2017, these taket he cake! This pictured style looks like the highest rated, with 53 ratings and 4.5 stars. I like a good distressed denim, especially in black skinny jeans, and these would look great paired with ankle boots. They come in sizes 24-32. Articles of Society Sarah Skinny Jeans
(If you are interested in plus size workwear, please sign up for CorporettePlus, our newsletter! Signing up helps us gauge interest in the project, and we promise not to blast your email more than once a week at most. (Right now it's more like once a month.)
How about you, readers — what are your favorite jeans to wear in 2017? Have you bought any of these "most loved" denim at Nordstrom? How many different styles of jeans do you wear (skinny, bootcut, boyfriend, etc), and how many pairs on average do you have?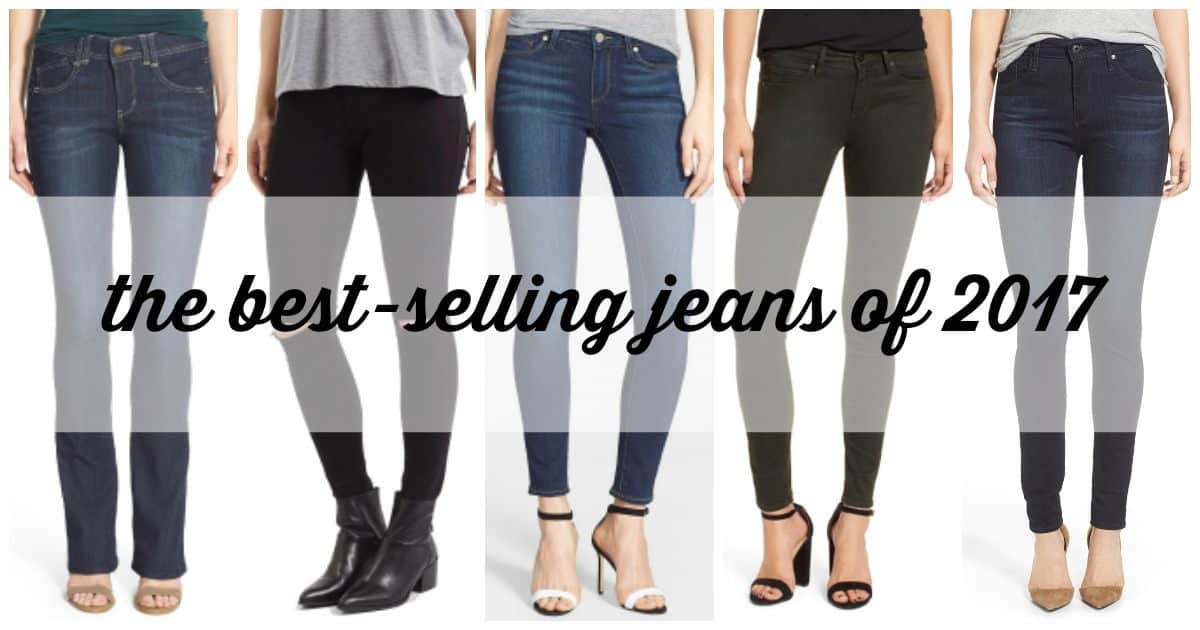 Pictured in our Pins, below (feel free to share!) one / two / three / plus-size jeans