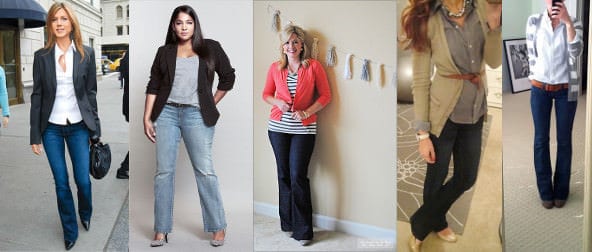 How can you wear jeans to work — and particularly, what shoes should you wear ? Which business casual outfits look the most professional? Reader B wonders which shoes to wear with jeans to work…
I work in public accounting and we have "Jean Fridays," but HR says no sneakers, tennis shoes, etc., so I can't wear my suede Pumas or Onitsuka Tigers with my jeans. Please suggest alternate shoes a girl can wear with jeans to the office. I am a size 8 1/2 and feel like distressed oxfords or driving shoes give me clown feet. And black booties are not the look I'm going for (too motorcycle or bar night or something…). Thanks for any advice if you decide to pick this one up!
Great question, Reader B! We've talked about business casual for women, as well as how to wear jeans to the office (but back in 2009!).
This post contains affiliate links and Corporette® may earn commissions for purchases made through links in this post. For more details see here. Thank you so much for your support!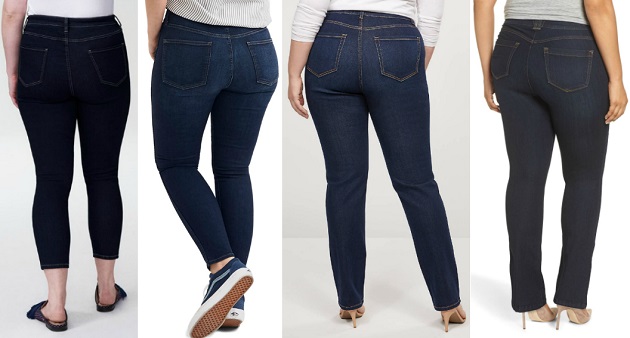 A lot of this depends on how your jeans are hemmed, but here are a few pointers:
A more traditional, structured shoe like a pointed toe pump will almost always elevate a denim look (see our favorites below!)
The wider your pants' ankles are (bootcut, baby bootcut, etc) the more pointed your shoe needs to be — but shoes with rounder toes can even look better with skinny jeans and the like.
You don't need heels — if you're more of a flats person, look for either a teeny tiny kitten heel or a pointed-toe flat (see some of our favorites below)
When in doubt, go for a dark rinse denim with little to no distressing — rips are not appropriate for most offices.
A lot of our favorite comfortable flats have pointy toes, as well…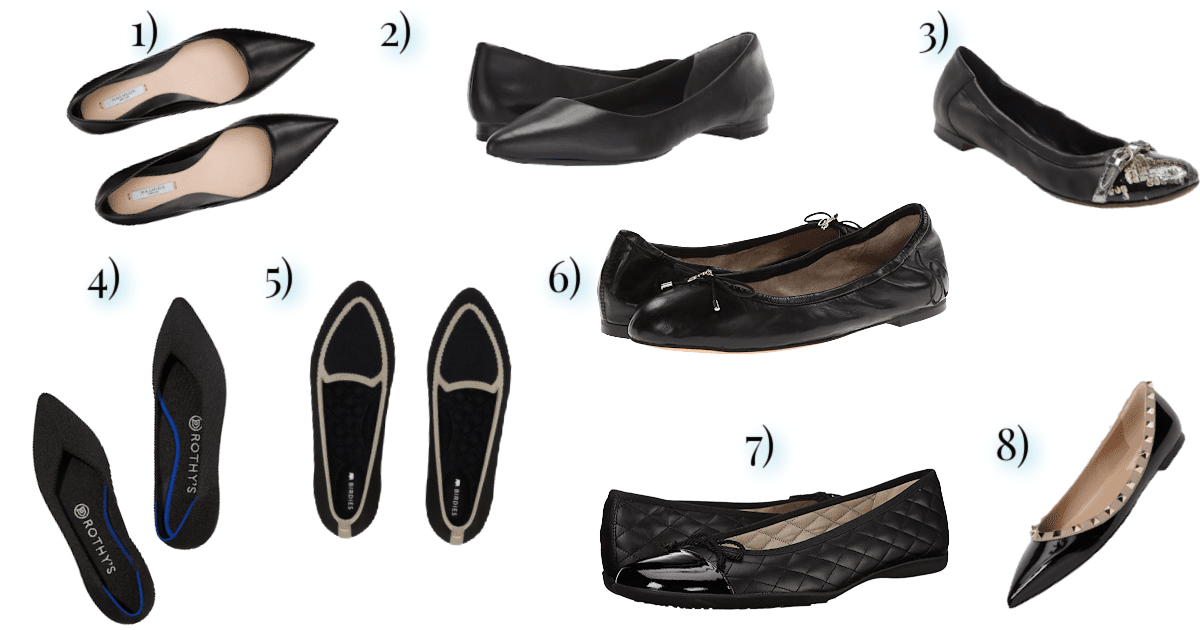 I've rounded up a few images from Pinterest to aid you visually, below, and maybe even give you a few business casual outfit ideas…
Below, I agree with this guide to hem length with different styles of jeans (courtesy of Savvy Sassy Moms)… Personally I feel like a rolled cuff is more appropriate for the weekend than for work — even on a casual day — but you should really know your office. (Ladies, what are your thoughts on rolled cuffs for denim? Here's a good guide on rolling denim from Advice from a Twenty Something.)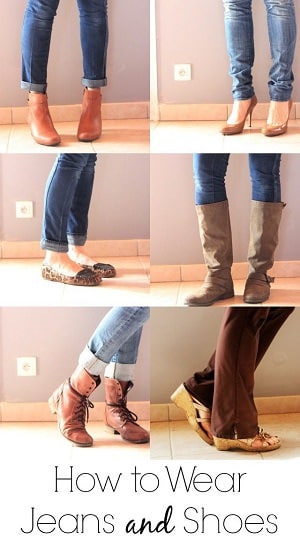 Below, I love the look of the monochromatic look with the blazer — very clean and sophisticated, particularly in a greige (courtesy of Outfit Ideas)… the nude pumps help keep the outfit clean.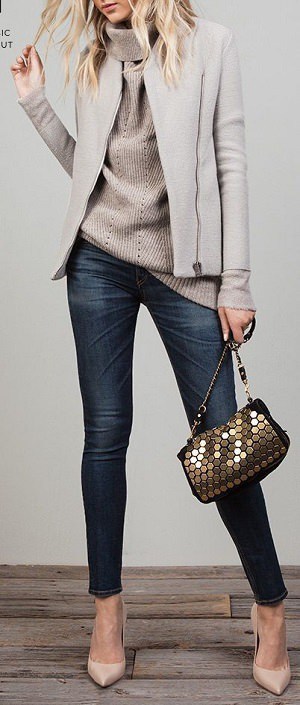 Tall boots are still a know your office situation, but I do like the layered look of the blouse, sweater, long necklace, jeans, and boots (picture below courtesy of Bows and Sequins). I always think brown boots are more casual, and black boots are more formal, but that's just my $.02.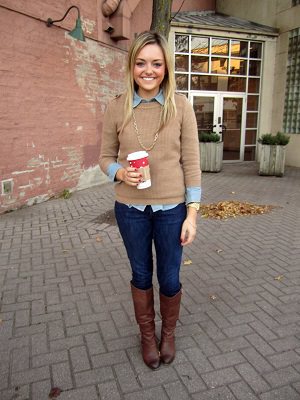 The layered look also works well for work with heels and a blazer — I'd skip the distressed denim for work (photo courtesy of Fashion Inspiration), or with flats (photo courtesy of All Things Katie Marie):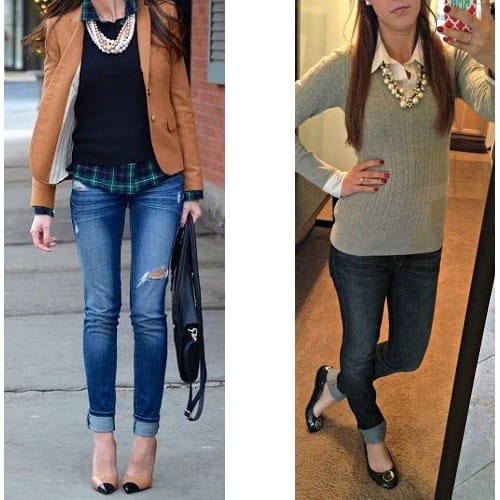 I realize I've posted a ton of skinny jeans above, so I thought I'd do a quick roundup of a few bootcut jean ideas for work too.
I think these look better with a pointed toe, even if it's just a slight point, but that's just my $.02. In the Jennifer Aniston picture (courtesy InStyle), it's such a simple outfit, but I think would still work in most casual offices — the black pointed boot (that's taken care of – no scuffs or scrapes), the crisp white blouse, and the gray blazer. I like the dark rinse, too.
Contrast that with the second picture (courtesy of Torrid), with the lighter distressed denim and the gray, low cut tee — she still looks professional but much less so; just a few changes (darker denim, less sloppy blouse) would make it a bit more polished.
The third, fourth, and fifth pictures are great examples of how a cardigan and a slight point to a shoe can really elevate an outfit. (The Small Things Blog / Taylor Rae Brommel / What She Wore 365).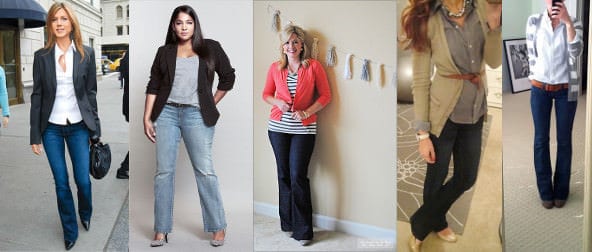 Psst: sweater blazers are always a great way to add polish (but stay comfy!) in jeans — here are some of our latest favorites:

Ladies, what's your best advice for how to wear jeans to work? Which shoes do you wear with jeans to work — and what are your favorite business casual looks in general? Do you agree or disagree with some of these rules for wearing jeans to work?