2018 Update: A lot of these options for nude flats are still available — you may want to check our more recent discussion on cute flats for the office for more updated brand and style options.
Sure, we all know what basics professional women are supposed to have in their closets, but if you're buying one for the first time or replacing one you've worn into the ground, it can be a pain to find exactly the right incarnation in stores. In "The Hunt," we search the stores for a basic item that every woman should have.
Almost since this blog was born, we've done roundups of nude-for-you heels — beige heels, brown heels, pink heels and more. But I don't think we've ever done a roundup of nude flats — so I thought we'd do one today. Ladies, do you wear nude-for-you flats as often as you wear nude-for-you heels? Which outfits are your favorite to pair with nude-for-you flats? Any favorite brands of flats, either for comfort or the perfect match to your skin?  
(Psst: check out our recent roundup of comfortable ballet flats, and of course our recently updated guide to comfortable heels.)
First up, some of our "Workwear Hall of Fame" styles — these are the best sellers and classics that have been around for years:
Before we get into today's recommendations, some specialty categories:
Yes, we've featured these bad boys before — but c'mon, they're $50, available in champagne and some lucky sizes left of a beautiful dark brown "cognac", and they win a zillion rave reviews. BP. 'Moveover' Pointed Toe Flat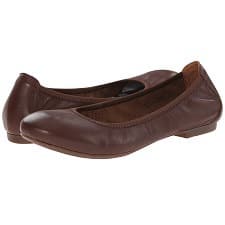 These Julianne flats from comfort brand Børn are best sellers at Zappos with 652 positive reviews, and they come in a ton of possibly nude-for-you colors such as castagno (pictured), mid brown, noche, and taupe. They're $85, and available in sizes 5-12. Børn Julianne
These flats are pictured at the very top, and there are a number of great things about them — the pointy toe makes them look more sleek and sophisticated than round-toe flats, which always look a bit like slippers to me. I like that the straps make them more comfortable for walking longer distances, and I think give the shoes an "intentional" look — and I always think whenever straps get involved, that's when the "nude-for-you" has the biggest, leg-lengthening impact. There are a number of shoes in this style right now (Topshop, BP., Bella Vita, Kendall & Kylie), but the pictured shoe has tons of sizes in stock as well as good reviews, and is available in blush and bone snake (which for some reason I keep typing as "bone snack"). They're $89 at Nordstrom. Halogen® 'Owen' Pointy Toe Ghillie Flat
Sam Edelman's Felicia style continues to rack up positive reviews, and they have a ton of possibly nude-for-you colors to select from, including saddle (pictured), bronze shimmer leopard, seashell pink, pink mauve, new putty, and "classic nude."  They're available for $70-$120 at Nordstrom, in M and W sizes 4-13; Zappos has them in 20 colors for $100. Sam Edelman 'Felicia' Flat
Cole Haan Tali's are amazingly lightweight, and they continue to be bestsellers in both their flat and wedge forms.  These beige versions are on sale for $119 over at Nordstrom in beige and black, and they also have a few other colors that might be leg-lengthening colors as well, like rose gold and natural snake print, for $85-$180.  (New to me: a loafer version of the Tali!) Pictured: Cole Haan Tali Ballet Flat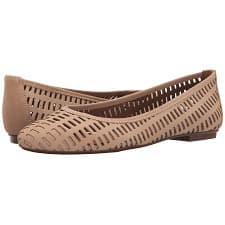 French Sole almost has cult favorite status right now, and these dark tan perforated suede flats look lovely. (Oooh: so do these woven flats, and the classic Passport style does come in a lovely dark brown metallic.) They're $180, available in sizes 6-10 at Zappos. French Sole Quartz
Like this feature? Check out other recent installments!