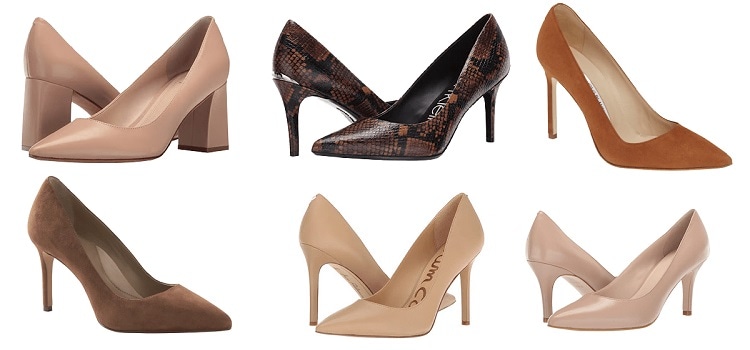 Sure, we all know what wardrobe essentials for work professional women are supposed to have in their closets, but if you're buying one for the first time or replacing one you've worn into the ground, it can be a pain to find exactly the right incarnation in stores. In "The Hunt," we search the stores for a basic item that every woman should have.
This post was last updated in September 2022.
It's been two years since our last full roundup of the best nude heels for every skin tone — in part because it felt really inappropriate to talk about heels at all back in April 2020. Whee, 2020. Anyway! For those of you who are heading back to the office (or building your office wardrobes from scratch), I thought we'd do a little roundup of some of the best nude heels for every skin tone, as well as some other great neutrals.
Some general reminders as we head into our roundup:
Summer shoes don't have to be your skin tone; if you like a shoe in one of these shades, feel free to wear it!
If you do seek shoes in your skin tone (or close to it), they're often thought to give the optical illusion of longer legs — in general they also serve as a great neutral no matter what colors you're wearing with the rest of your outfit.
Know your office — we've focused our roundup on closed-toe shoes, as that's what appropriate at most offices, but some may allow sandals. Trust your own comfort level with shoes that show more skin, such as slingbacks that show your heel, d'Orsay heels that show your instep, or shoes that bare toe cleavage. (Maybe that's a topic for another post — I'm curious if anyone is still scandalized by toe cleavage.)
Similarly, know your office with regard to whether bare legs are appropriate — depending on how conservative your office is, I might assume that pantyhose is still appropriate for "big meetings" or, say, court appearances, and you may want to keep a pair in your desk just in case. (In our last roundup of pantyhose for work, Oroblu, Wolford, and DKNY were among our favorites.)
This post contains affiliate links and Corporette® may earn commissions for purchases made through links in this post. For more details see here. Thank you so much for your support!
This post contains affiliate links and Corporette® may earn commissions for purchases made through links in this post. For more details see here. Thank you so much for your support!
Hunting for some nude-for-you flats? Here's a mini-update…

Above, some comfortable flats with a variety of skin-tone options as of 2021: one / two / three / four / five / six (also this, this and this)
Looking for older installments of this post? Check them out here: 2019, 2018, 2017, 2016, 2015, 2014, 2013, 2011, 2011, 2009, 2008 (awww, just a few weeks after the blog was born).
The Best Nude Heels for Pale, Pinkish Skin Tones
I am extraordinarily pale, but I have more yellowish undertones to my skin, so these never match my own skin. But if you've got coloring like Shiv Roy on Succession, this might just be the shade you're looking for if you're looking for a nude-for-you.
As with all of the shoes in this roundup, though, you can wear them even if they're not your skin tone. If you like them, go with them!

The Best Nude Heels in Light Beige
This is generally the color range I'm looking for for myself — there's still a surprising amount of variety in the shades though!

The Best Greige/Putty Pumps
Greige is a great neutral no matter your skin tone — there's a pretty limited selection this year, but the selection includes some great shoes.

The Best Nude Heels in Light Tan / Café au Lait
There's some overlap with the "café au lait" and greige category. (This whole post is starting to make me feel like the old SNL sketch on alert levels and shades of tan.) There are some nice options though if you're on the hunt!

The Best Nude Pumps in Light Brown / Caramel
There are a ton of great options in this category (and some overlap with the other categories, also).

The Best Nude Heels in Dark Brown
Anyone can wear a dark brown shoe, but if it matches your skin tone then you get a great leg-lengthening effect. (I've also heard that if you're unsure what to wear with navy, a deep brown will "dress down" your outfit while a shiny black will "dress it up" — thoughts on that, readers?)
There are a ton of beautiful dark brown shoes out there right now — some of our favorites include these:

Another Neutral Option: Animal Prints
Animal prints aren't technically nude for anyone — but they can be great leg-lengthening neutrals if you're not sure you want a nude-for-you heel, if your skin tone varies a lot with tanning and so forth, or if you just like animal prints as a fun way to add some patterns to your work outfits.
These are some of our favorite animal-print heels right now…

Readers, what do you think are the best nude heels for every skin tone? Are you hunting for higher or lower heels right now?
Like this feature? Check out other recent installments!
We are a participant in the Amazon Services LLC Associates Program, an affiliate advertising program designed to provide a means for us to earn fees by linking to Amazon.com and affiliated sites.