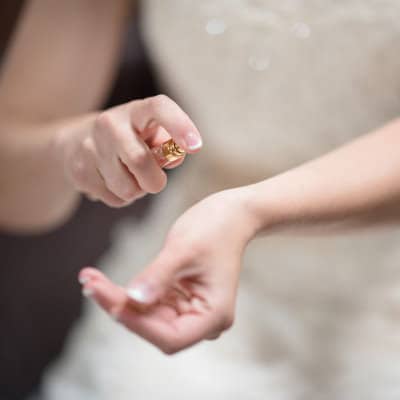 Here's a topic we haven't discussed in about a thousand years: perfume at the office. DO office-appropriate perfumes exist, ladies? If so, what are the business etiquette rules for perfume?
When I grew up I always loved the idea of having "a scent" that people would know me by — there's a line in When Harry Met Sally about how at the end of the day he wants to come home and smell her perfume on his clothes, and that always struck me as romantic and lovely.
When I started the blog, I was fascinated to find that readers, by and large, haaaaated perfume for the office. They got migraines, couldn't escape the strongest of scents, and NO, in fact, they did not want the conference room or their clothes smelling like your perfume if you were no longer there.
Then, I took a long break from perfume because I was in that pregnancy corridor, and either it turned my stomach to wear it while pregnant, or I worried the baby would react negatively to it. My kids are 4 and 7, so I'm slowly starting to go back and try different perfumes — and it's been really fascinating to me how strong and overpowering my longtime favorite perfumes are, at least to me.
I'd read some interesting stories about how perfumes that smell like nothing are really popular, though, so I've been sampling some of those, and I thought we'd revisit the topic: if a scent is personal to you (as in, you have to be in hugging/kissing distance to smell it), can it add to your personal sense of polish or empowerment — without annoying others in the office?
Are there business etiquette rules one should follow (like not spraying in the office bathroom or your own office) in an abundance of caution for your colleagues? Furthermore, which are the best perfumes "that smell like nothing"?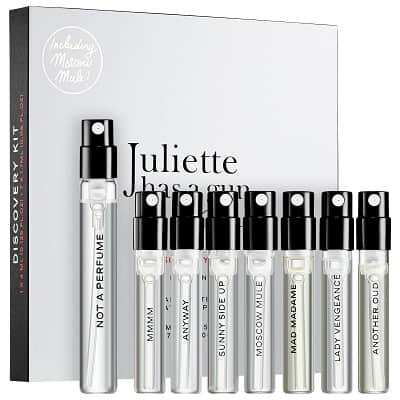 This post contains affiliate links and Corporette® may earn commissions for purchases made through links in this post. For more details see here. Thank you so much for your support!
For my $.02, I've been sampling a few different brands, and my favorites are the lines from Juliette's Got a Gun (although I'm not personally fond of the brand's signature scent, "Not a Perfume.") (Sephora has the sampler set that I bought back in stock! I literally love all of them except for Not a Perfume; if I had to choose I'd say Another Oud, MMMM, and Lady Vengeance are my top three.)
I wouldn't say that they smell like "nothing," though — it's more like the subtle scent that you notice if you use scented handsoap, shampoo, or deodorant (but with better staying power) — it's an understated smell that stays with you and makes you happy when you find a great scent. I also really like Glossier's scent, but for some reason I bought it in solid form, and it's too strong for me in that format.
I loooove Phlur's Hepcat, but I might put it more with Le Labo (I have this one) as a "modern perfume" and less of a "not a perfume" — the scent is stronger and more traditionally "perfume/cologne" and less soapy, at least in the modern sense of the word.
Let's hear from you, readers — do you think office-appropriate perfumes exist, or is all perfume at the office on the "no go" list?
Which do you think the best perfumes to wear to work are — and what are the business etiquette rules for perfume?