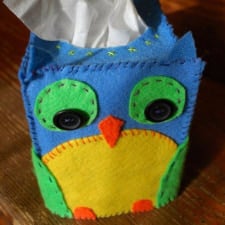 When I saw the headline about this — a firmwide memo smacking down an employee who dared to come to work with flu-like symptoms — I was a bit amused. (When I read the memo, I was a bit disgusted — whoever had flu-like symptoms knew he or she would be working in a closed conference room with several others, including a pregnant woman — and I have to agree that it was just as "self-absorbed" as the managing partner said it was.) But it seems to raise an interesting question: when you're forced to work while you're sick, how do you power through? (Pictured: This exact item is sold out now, but there are tons of great tissue cozies at Etsy.)

{related: how to pamper yourself while you're sick}
Fun story: for this post I actually spent a bit of time trying to find authoritative information for you guys on when a cold is contagious — I seem to remember it having something to do with the color of your snot (clear = allergies or cold, yellow or green = contagious) and your temperature (over 100 is bad). I couldn't actually find any quick and easy source, but really — these days, we're all just going to come down on the same side, aren't we? If you're sick, work from home.
In any event — even if you're home in your pajamas, you may not have the luxury of lounging about in bed and watching "Real Housewives" reruns. You may actually have to work. If you do, here are some tips for working when you're sick…
(Caveat: I am not a doctor; these are just my own tips on what works for me. Feel free to call me insane.)
Psst: here are our favorite products to have on hand when you're sick at work...

– Take Vitamin C. No matter where you are, when you start to get that telltale tickle in the back of your throat, take Vitamin C. Orange juice from the deli or vending machine will do fine, but I like Emergen-C. (Less calories.)
– Prep your office. If you're still at the office when you start to get sick, either take paperwork home with you, or — at least! — put your paperwork in a neat pile (or piles) before you leave, instead of leaving it spread around your office. Because sure, you might be fine tomorrow — but you might wake up feeling like a truck hit you. In which case, if you need to do work, your office will want to send your paperwork to you by messenger, and you'll want whoever the lucky person is who's ransacking your office to find things easily.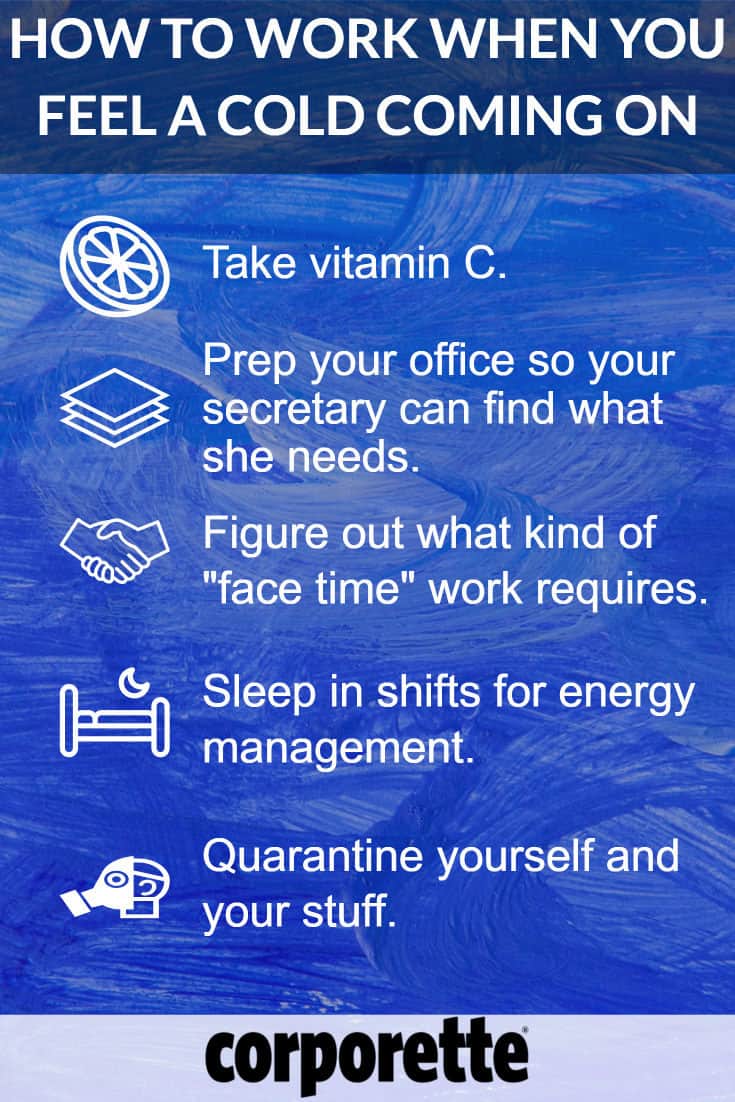 – Figure out what sort of "face time" you need for your office. No office is going to encourage you to come into the office, but in this economy you want to make sure that you're still getting "points" for doing your work (particularly if you're nearly killing yourself to do it). Call whoever you need to call (cough into their voicemail, whatever); be sure to follow it up with a work-related e-mail that shows you're actually working if you say you are (and if you're expending energy to do so).
– Sleep in shifts. If you really need to work and are just completely sacked by a cold, stop thinking about a normal "day" and sleep in shifts. For example: if you're exhausted when you get home but have tons more work to do, go to sleep at 9:00. Set your alarm for midnight — after three hours you'll have just completed two REM cycles, and you'll be much more refreshed, focused, and energetic than you would have been had you tried to work until midnight. (Repeat as necessary until the project is where it needs to be.)
– Liquids, liquids, liquids. Soup. Water. Tea. (If you have a nasty cough, I lurve drinking hot water with lemon and honey — the honey soothes the throat and the lemon cuts the phlegm.) Did I mention soup? Force the water down — the faster this cold runs its course the sooner you can be back at full speed.
– Quarantine both yourself and your stuff. Don't be around other people (roommates, spouse, kids, whatever) any more than you have to be. If you're working with company books (treatises or whatnot), try to be considerate of them — no sneezing on the materials. In fact, try to get in the habit of sneezing into your elbow — it's a better way to go about it in general. When you're back at the office, feeling better, don't give your germy paperwork to someone else. If you were wearing a favorite sweater or wrap or anything (either while sick or in the day or two leading up to getting sick), wash that puppy. In fact, try to wipe down your whole office (including your telephone handset).
All right, ladies — what are your tips for working when you're sick? How do you power through when you have to work and you're sick?