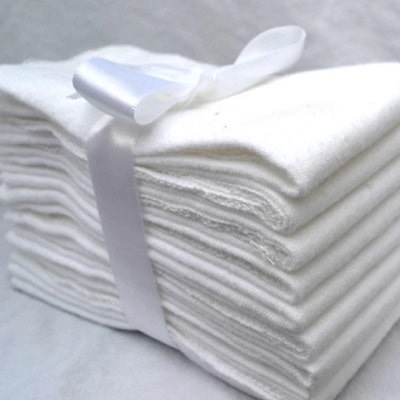 Even though I've written posts on zero-waste cleaning products and green cleaning products that actually work, it's still so easy for me to use too many paper towels. We use both paper napkins and cloth napkins at home, and I recently switched to these reusable makeup pads from Paula's Choice — and now we have "paperless towels."
After seeing a reader recommend the Etsy shop Gina's Soft Cloth Shop in the comments on a recent post, I clicked on over. The shop sells reusable/washable fabric products like "paperless towels," baby wipes, and napkins, and uses birdseye cotton, organic cotton flannel, white cotton flannel, organic cotton/bamboo velour, and organic cotton/bamboo fleece.
The paperless towels are available in sets from 5 to 50. I chose this 10-pack of seconds for $8.50 (all with various "cosmetic flaws"). I finally put them in the kitchen this weekend, and I made sure to grab them instead of paper towels for things like wiping a fridge shelf, wiping water off the counter, and so on. They don't have the same absorbency as a paper towel, so they wouldn't be my first choice for a big mess — an old towel would be a better choice for that. Otherwise, they're great (and very soft), and can save a ton of paper.
This "extra big stack" of 50 is a good buy — it's on sale for $63.96 and qualifies for free shipping. (Your choice of colored edging is also included.)
With the coupon code BEKIND, you can get 15% off of your next order.
P.S. Because you obviously need water and energy to clean these, I did some googling to see if these are really more sustainable than paper towels. This Sierra Club article says "it's a wash." This Washington Post story, which cited the Sierra Club's conclusion, noted "you can basically make an argument for whatever side of the divide you favor" but pointed out that used paper towels can't be recycled and end up in landfills, while their manufacture contributes to rising CO levels.) Btw, you can also buy 100% recycled disposable paper towels.
This post contains affiliate links and Corporette® may earn commissions for purchases made through links in this post. For more details see here. Thank you so much for your support!
Workwear sales of note for 12.3.21…