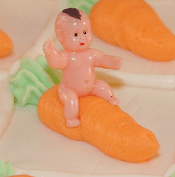 2016 Update: Check out our latest discussion on planning your career for babies. 
Over at Law.com's The Careerist, Vivia Chen ponders one of the most interesting lessons from Sheryl Sandberg's TED talk: "Don't leave before you leave." As she notes:
But it was Sandberg's third point that really stopped me in my tracks: Women sabotage their own careers because they consciously or unconsciously put the brakes on their jobs. Often young women are so concerned about balancing work and family that they pull back from challenging work–even at the starting gate.
This was also one of the most interesting points to me, if only because I know that I've done this to some degree, and so have other friends.   (Pictured: Naked Mohawk-Baby Carrot Jockeys, from the fabulous humor blog Cake Wrecks.) So let's talk about this:
1) Did you plan your career with a family juggle in mind? I know one friend who, upon starting her MBA, was interested in the investment banking track — and she was overwhelmed with "don't do it" advice from other people, all of whom pointed out that no women do that track because the job requires too much.
2) Have you changed your career due to babies on your brain? How so? I think I can speak for a lot of women when I say that babies and the family juggle were absolutely not on my mind when I applied to law school — ah, the hubris of youth!  It was only several years later, in my late 20s, when friends started to have kids, that I took a long look at working conditions of the few supervisors I worked with who were mothers and seriously assessed my career options.
3) For those of you *with* kids — what's your advice to those of us without kids? Plan ahead?  Roll with the punches? What job benefits have you found absolutely essential to you as a mother? Flex time? Ability to work from home?  For those of you who quit jobs over lack of certain benefits, or if you have a wishlist of benefits, which ones would you like to see?