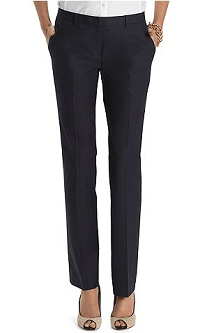 Reader M wonders which pants have the best pockets:
I'm type I diabetic and have an insulin pump. This means I really need pockets in pretty much everything I wear. But I find that most women's pants either have tiny useless front pockets, fake back pockets, or no pockets at all. Dresses with pockets have become fairly popular, which is amazing and wonderful, but I really am a pants sort of girl. Could you do a post on pants (or skirts and dresses, even, I can adapt!) with pockets? I can't be the only one in the world who wishes that actual pockets weren't always relegated to jeans.  You've posted a fair number of dresses with pockets lately, so even if you don't do an entire post, I thank you for making it that much easier for me to find things to swear to the office and avoiding having to tuck the little nuisance in my waistband.
See, here's my thing with pants:  I hate pockets.  Cuffs AND pockets.  I know, I'm crazy. I have actually sewn down the pockets in some pants if they hit at that unflattering "right on the side of your body" spot and give the pants any slight resemblance to a cobra flattening its neck. So here's my actual best piece of advice for reader M:  Blazers!  Blazers are awesome for many reasons, but one of the foremost reasons is because they often have pockets in 'em.  (Handy for ID badges, lipgloss, and insulin pumps!)  I'm not an expert in insulin pumps, but if Reader M has the kind that attaches to her body on one end and is an iPod-sized thing on the other end, It should be pretty simple to get a tailor to "reverse" the pockets for your blazer so they're accessible from the inside of your jacket instead of the outside.
But — like everything else on this blog — that's just my opinion.  So let's poke around and see if we can't find Reader M some professional pants with pockets.
– First — and I'm sure this is obvious, but just in case it isn't:  note that many pants are sold with the pockets sewn closed.  (Same with the vents on jackets and skirts, ladies.)  So what at first glance might seem like a non-functional pocket is really something that with some quick snips can be totally functioning pockets.  If the inside of your pant has a pocket, there's a 98% chance the manufacturer intended you to open the pockets.  (But you may choose, like I often do, to keep 'em sewn down, because you prefer the streamlined look.)
– Second — I actually think pants with pockets can be found everywhere — for example, the Gap Perfect Trousers.  But if you're shopping online and having trouble, I think "chinos" is the phrase you want.  They come in all sorts of colors, but I normally think of them as having pockets.  Case in point: the Brooks Brothers Plain Front Non-Iron Chinos
, pictured at top, available for $89.  (See also the Land's End Women's Regular Fit 2 Stretch Chino Trousers.)
– Third — Think about pants that are cut like jeans — they'll often be advertised as having "5 pockets."  I normally advise against wearing any pants that have pockets like jeans, but in your case I think we can make an exception.  Cords, chinos, sometimes even velvet pants frequently have five pockets.  Look, here we have an Armani wool pair of pants with five pockets — here a Tory Burch pair of corduroys — either of which you could get away with for the office.  (But I'd still throw a blazer on top anyway, just to make it look more professional.)
– Finally, a note on fit.  A lot of places where you'll find pants with pockets will have a pretty definite demographic in mind.  On one end we have things like Alloy, Victoria's Secret, and more — where the cuts are all a bit sexier and younger. On the other end we have more utilitarian, functional clothes type of places like Land's End and Eddie Bauer — where the cuts may be much looser and boxier.  So: I'd go shopping with a fairly open idea of what your "size" is, because you may end up two sizes off from where you normally are.
Readers, can you recommend a particular style or brand that you love because of the pants pockets?  Do you prefer to wear pants with pockets, or have you found other places to stash your stuff?