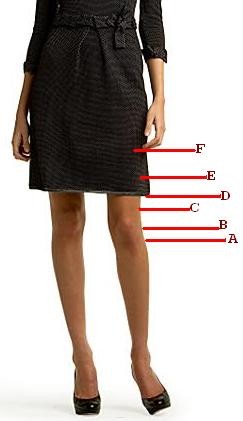 Obviously, miniskirts are not office-wear. However, about a week ago, we asked when — and if — miniskirts become inappropriate even on the weekends if you're a serious, professional woman. As always, the poll is still open, but the initial results are in:
40% said the miniskirt question came down to a woman's legs: if she has the gams, go for the miniskirt; if not, avoid
28% said that anyone in their mid-30s or beyond should only consider wearing a miniskirt with dark tights, leggings, or pants
18% said anyone in their 30s or older was pushing it
7% said it was inappropriate as soon as college was done
only 4% said that a woman could wear whatever she wanted on the weekends, regardless of age
In comments, readers weighed in on the issue. CityGirl suggested — and others agreed — that one should remember that you may run into a professional colleague over the weekend and, while not wearing business casual 24/7, you should dress appropriately. MJ noted that miniskirts look less trashy with flats or wedges, and that as long as one knows how to "keep everything 'important' covered," there was no reason why a woman couldn't wear them out and about. K thought that it was asking for people to judge you poorly if you wore a miniskirt while lugging kids around.
Readers were undecided as to what constituted a "mini" skirt, but most agreed it's a skirt that hits mid-thigh. Some said it was anything shorter than one credit-card above the knee; others said it was anything they had to be careful in, explaining: "if you have to make sure to smooth the skirt behind you when you sit down or otherwise actively monitor what's going on, it's short." Interestingly, people agreed that there are skirts that are too short for the office, yet are not miniskirts. (Let's brainstorm a name for these too-short-yet-not-minis skirts in comments! It seems weird to us that we have distinct names for pants that hit at a different points on a woman's leg — floodies, capris, bermudas, et cetera — but just the word "skirt" with adjectives. Maybe something like brunchers (a skirt one wears to brunch) or … uh, we'll keep thinking.)