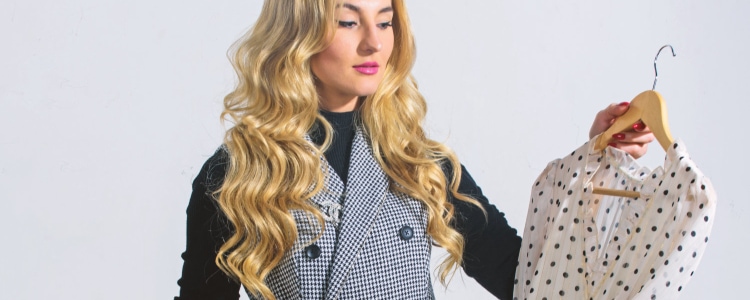 Which prints are "you," readers? We did a post a LONG time ago about how certain styles and patterns just feel intrinsically wrong — and it feels like a good time to revisit that conversation as we all are peering into our wardrobes trying to figure out what stays and goes in this strange new world.
We've talked about your personal style, mixing textures and prints, and even how to get started wearing patterns, but not in a long while.
Some questions: Which patterns and prints do you ALWAYS buy? Some options: Polka dots, animal prints, paisley, flowers, windowpane, plaid, buffalo check, stripes, diagonal stripes, gingham, camo, repeating quirky patterns (think pineapples or skulls), etc. Which patterns and prints will you NEVER buy (or have bought and never WEAR)? Has this changed with age or something external (such as office culture or participation in a hobby like golf), or have you just, well, never been a gingham girl or whatnot?
Personally, I am always drawn to buffalo check, Black Watch plaid, vertical or diagonal stripes, and repeating quirky patterns. Tie-dyes and ombrés often call my name as well. I also sometimes like a GOOD paisley or similarly busy patterns, but I feel like brand matters here, as well as where you plan to wear it… I like many Lilly Pulitzer patterns for weekends, and hate many Kohl's-type patterns for workwear. I would not think that I was a camo person, but I have a few pairs of pants/shorts that have proven really versatile. (I always did think olive pants were an unsung work wardrobe workhorse — the colors go well with navy, black, and purple tops.)
As for what prints are NOT my personal style — I keep buying polka dots but I'm not sure they're "me." I'm a bit undecided on animal prints right now — I never shied away from them when I was younger but something about my current situation make animal prints, on me, feel less "delightfully quirky" and more "sad middle-aged lady."
I'm almost never a floral person — any kind of floral pattern just isn't for me. I don't have anything against windowpanes, gingham, or other patterns you might find on a Brooks Brothers tie table… but I also don't have a ton of them in my wardrobe at the moment.
I suppose this conversation could also extend to textures — fisherman knits, cable knits, fluffy sweaters, nubby knits like bouclé, leather/faux leather, fur/faux-fur details, slub jersey, matte jersey, corduroy, velvet, linen, seersucker, pique/textured cotton, etc. Are there textures you won't wear due to personal style? (On the flip side, are there textures you love to pair together?)
I must admit I'd have to truly love a fluffy sweater or a thick knit like bouclé to wear it, and I'm not much for any shiny texture or fur/faux-fur detail. Leather or leather details I don't mind, but I am pretty particular about where they're placed and what the effect is.
How about you, readers — what prints do you think align best with your personal style? How about textures? What prints and textures do you NOT wear due to personal style? (Bonus question: are you someone who's mastered how to mix and layer prints and textures well? Do you do it often or is it more for dress up?)
Some of the Best Prints for Workwear to Consider Right Now
I took a quick swing around to look at what prints are on the market right now at big stores like Ann Taylor, J.Crew, Boden, J.Crew Factory, MMLF, and more — here are some of the best dresses in prints:

This post contains affiliate links and Corporette® may earn commissions for purchases made through links in this post. For more details see here. Thank you so much for your support!
And these are some of the best tops for work with prints:

Stock photo via Deposit Photos / stetsik.