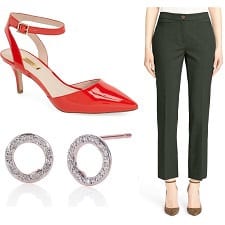 2021 Update: We still stand by our thoughts on workhorses for your working wardrobe, but if you're building a wardrobe for work for the first time you may want to check out The Ultimate Guide to Business Casual for Women and our Wardrobe Essentials for Work.
Ladies, what are the workhorses in your working wardrobe? Are there any surprises in there — things that you reach for a ton more than you thought you would when you bought them? On the flip side, which were the wardrobe disappointments — the things you thought you'd wear a ton but found aren't that versatile? (Are there any suiting pieces in the mix on either side, either bought as separates or as a suit set?)
When we last discussed surprise basics for workwear, I called out my love of colorful purses, olive-colored pants, a good watch, and nice pearls as things that I was surprised to find myself wearing a ton. (I've had good luck with dark olive pants, like the ones pictured, as well as lighter olives with more brown in them. I'd wear the pictured pants with neutrals like black, white, navy, gray (as well as with cobalt); pastels like peach/pink, lavender, or French blue; dark eggplant, or even limited pops of red or orange.) 
I've also written of other things that are outside the usual "must have" lists, including very light gray pants instead of summer whites, velvet blazers for festive in-office holiday lunches, huggie earrings, light blue blazers, and purple pumps. It also came up a bit with our discussion of light blue suits, with lots of readers noting that they often wear a pair of colorful blue trousers or a colorful blue blazer (but not together).
(Pictured at top: shoes / pants / earrings)
In our last discussion, some of the items the readers noted they loved included:
fake pearls
red shoes (pictured above, on sale today)
stud earrings (love these modern ones, pictured above — available in silver, gold, and rose gold!)
belts
colorful coats and blazers
On the disappointment side of things, everyone noted they never wore button-down shirts. This is on my mind because I just saw some fashion rule about thirds: buy a third as much clothing as you used to buy, but pay 3x as much per piece. This way, the reasoning goes, you'll always look like a million bucks. Yet that strategy has failed for me, and some of my worst "wardrobe disappointments" came from me trying to do just that — level up my wardrobe by replacing a cheap piece with a "nice" piece. The boots I bought for $17 at DSW were somehow perfect and I wore them everywhere — but when I finally tried to level up and spent $300 on a similar pair of calf leather boots from a little NY boutique, the boots just sat in my closet, unworn. (The toes were too pointy, and I somehow seemed prone to stubbing my toe while wearing the boots — and the heel felt wobblier.) #Shoppingfail. Similarly, the one bag I've really splurged on — my LV Alma — I actually never wear because I find it uncomfortable to carry it by the handle, yet don't like the look of it with the shoulder strap.
So let's hear it, ladies — what in your closet do you find yourself reaching for, again and again, and pairing in different ways? What did you buy thinking it would be a wardrobe workhorse, and instead it just sits there, never worn?
Some of Our Recent Favorites for Work Wardrobe Workhorses
This is an older post but some of the items mentioned here are such favorites that we have little widgets we keep updated. Here are some of the ones we mentioned…
Olive Pants for Work
Stay tuned for a roundup of olive pants for work!
Purple Pumps for Work

2022 Update: Here are our latest favorite sangria-colored heels and purple pumps for work!
Red Pumps and Flats for Work
Update! As of Oct. 2021, these are some of our favorite red heels for work…

Very Light Gray Pants
Stay tuned for our latest roundup of light gray pants for work!
Velvet Blazers for Work
(Stay tuned for our 2023 roundup of festive blazers, probably closer to October! This Eliza J one is almost always in stock.)
Light Blue Blazers for Women
Psst: If you're hunting for colorful suits, note that light blue suits for summer are some of the easiest because you can wear them as you would a light gray suit. Here are our favorites for 2023!