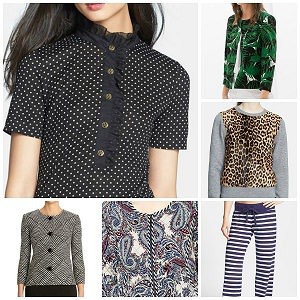 Your personal style is made up of many preferences and habits — your work style vs. your off-the-clock style, how conservative or edgy your wardrobe is, the accessories you choose to complement your look, your opinions on what's office-friendly and what isn't, and the styles/colors/trends that you've decided you just don't wear, ever.
Many moons ago, I had a purple t-shirt with a teensy flower stuck on it, right at the base of the jewel neck. I was in college — and wearing primarily black — and one of my new best friends (ah, freshman year) took one look at me in the shirt and said, "WHAT ARE YOU WEARING? YOU DON'T WEAR FLOWERS!" At the time, the comment really irked me — I hated that it was such a blanket statement, and I hated feeling pigeon-holed. Like I was giving up my right to wear flowers simply because I primarily wore something else all the time.
It's been a looong time since then, but I found myself thinking back on that conversation recently when my mother was in town visiting and helping me sort my closet into things to give away and things to wear. Because you know what? My friend was right. I don't wear flowers. I sometimes really like floral patterns, but I just never wear them. I don't wear flowers.
Since then I've started thinking about how funny this is. With certain styles and cuts of clothes — and even with certain colors — the main reason I've avoided them has been because they weren't flattering on me, either because of some aspect of my figure, or my skin tone, or whatever. But with many prints, it just comes down to a personality thing — my personal style. Granted, some prints I won't wear because of color or scale (too big, too small), or because I don't like the way the pattern is laid out or stitched together or whatnot. But a blanket statement that I really just don't wear anything floral? No matter what color or size? That was a new one to me. I can't quite put my finger on why — it isn't that it's too girly, or because it's too patterny (of the patterns above, I would wear all but the stripes — apparently I also don't wear stripes). I just… don't wear flowers.
For our morning TPS reports, I've noticed similar things — I'll suggest a piece (such as, ahem, a leopard print), and there will be massive pushback from some commenters because they just don't wear that pattern. So I thought we'd discuss — which styles do you never wear? Which pieces stay in your closet, unworn, or always end up in your giveaway pile? What sorts of things do you find yourself buying over and over? (And how do you know when you're stuck in a fashion rut?) What do you WISH you could wear but feel like you just can't?
Pictured above, clockwise from the big image: