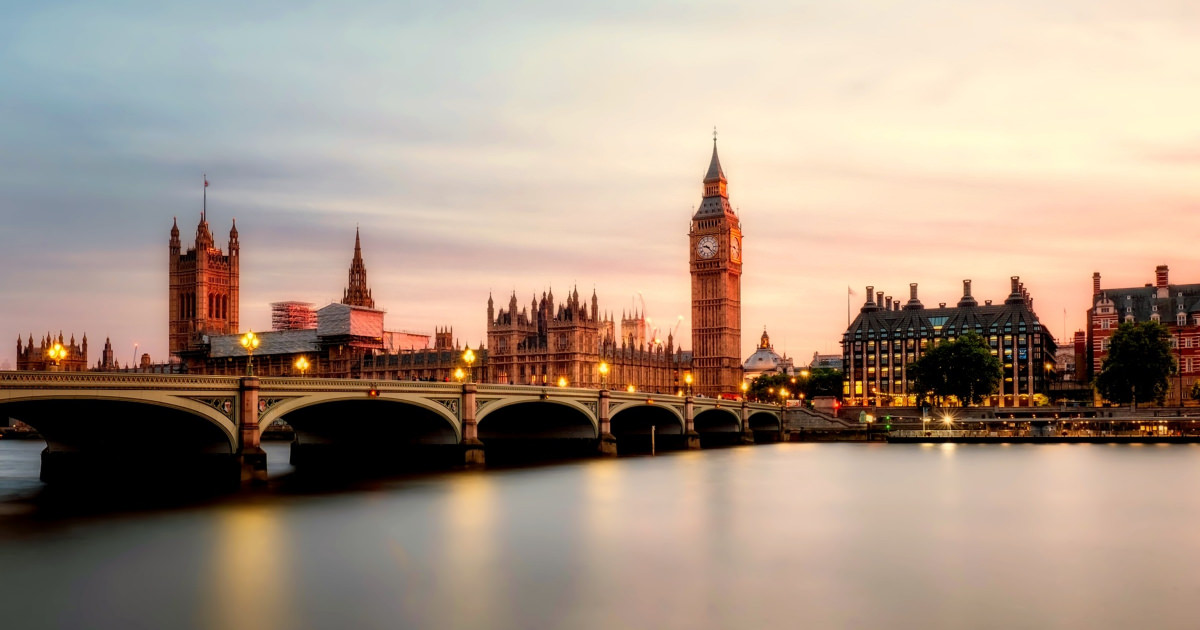 Today's reader mail has a young law student wondering how to pack for a summer working abroad…
I'm a second-year law student and will be spending part of my summer interning for a government agency in Slovenia, and the rest at a study abroad program in London. My dilemma is that I only have a limited amount of space in my luggage (particularly due to the strict weight limits on European flights) and I need to pack for essentially three different trips: business, school, and backpacking (I'm going to be doing a lot of travel on the weekends).

I'm lucky in that the place where I'll be working only requires business casual, but considering that it is an Eastern European country, I don't know quite what that might entail. I'm thinking I'll definitely have to dress more conservatively than I would in the U.S. at the very least.

Any suggestions would be welcome, particularly involving shirts I can wear to work and not look too dressy wearing them to school as well.

My one limitation: please no button-ups! I'm what you would call a "busty" girl and button-ups never end well with me. Thank you so much for any advice you can give!

First: we must confess, we've never worked in Slovenia or backpacked through Europe. Very exciting… as a luggage problem.
How to Pack for a Summer Working Abroad
Silk T-Shirts and Other Easy Care Clothes
We would recommend investing in silk t-shirts. Not the heavy sweater kind, but the lightweight kind with spandex or lycra added in. These can be hard to find, but aren't necessarily expensive. The great thing about these shirts is that you can wash them by hand and they dry uber-fast — perfect for stuffing in your bag to go backpacking — yet because they're silk they look great under a suit jacket.
As of 2023, some of our favorite silky silk t-shirts include Quince, Cuyana, M.M.LaFleur, AmourVert, and Brooks Brothers. Silk-blend knits are harder to find; LilySilk and J.Crew both have them.
Reversible Workwear
Hunting for the best reversible workwear? There is a surprising amount out there right now — as of Nov. 2023, we'd recommend taking a look at White House | Black Market, Aday, Wool&*, DvF, Lafayette 148 New York*, and Akris. (Asterisks have plus sizes as well as regular sizes!)
Washable Workwear
There is a surprising amount of washable workwear out there right now, as well! We've even done roundups of machine washable suits and machine washable blazers.
Some of our favorite brands of washable workwear as of 2023 — where many of the pieces are machine washable — include NYDJ, Vince Camuto, Halogen, Quince, Everlane, Summersalt, Banana Republic, Banana Republic Factory, Lands' End, and Karen Kane. On the fancier side, check out M.M.LaFleur, Hobbs, Ming Wang, Boden and Eileen Fisher.
As of 2023, these are some of the reader favorites that are also machine washable blazers…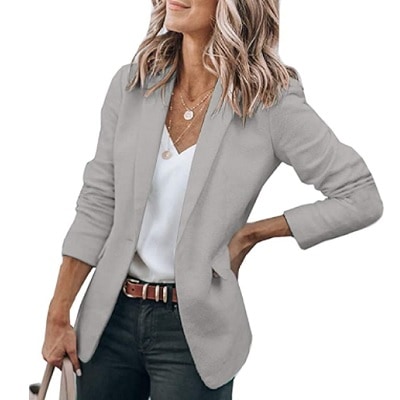 Travel & Camping Stores
Be sure to check out places like Travel Smith, which specializes in fabrics that travel well, breathe easily, and wash and dry quickly. (They even have a new outlet section.) Check out their dress selection, especially — some of them will work both for the office as well as for a a restaurant meal while traveling, such as the Microfiber Dress (for $89).
Be sure to check out camping and other specialty stores for pieces that can do double-duty, also — they're likely to be really easy care and durable.
As far as other clothes, not everything can be double-duty. Pack a suit for your work — even if you don't wear it often, better safe than sorry. (Bring as many possible matching pieces — dress, skirt, etc — and see how many times you can recycle the outfit. You may want to check out Spiegel for this kind of thing — the prices are good and they have numerous matching pieces.)
How to Pack for a Summer Abroad in General
For school, some of it can be reused — for example, a plain black skirt, worn with a t-shirt and flats or flip-flops, is totally acceptable for school. We'd advise you to stay away from heavy stuff that only works for one of your three endeavors — will you wear jeans while backpacking? If not, don't bring them to wear to school.
Otherwise, make sure you maximize your luggage — you can buy various tools to "vacuum pack" your luggage (or do it yourself with Ziplock bags — they even have larger sizes out now). If possible, read up on how to pack wisely — for example, you may want to roll your clothes rather than folding them (we just did this with a bridesmaid dress and it worked beautifully).
There are other tricks to be learned, such as how to fold a suit jacket so it isn't wrinkled. And repackage as much as possible of your toiletries — think outside the box and try to use the smallest sizes possible. For example, we've put a week's supply of eye-makeup remover in a single pill container or contact lens case — even if you have to use more than one you can still discard as you use up your supply. (Get a trusty label maker to make sure you don't get anything confused.)
What the Readers Pack for Business Travel
These are some of the things readers have noted they pack for frequent business travel — some of these ideas may be helpful to you!
These are some of the Corporette readers' favorite items for business travel…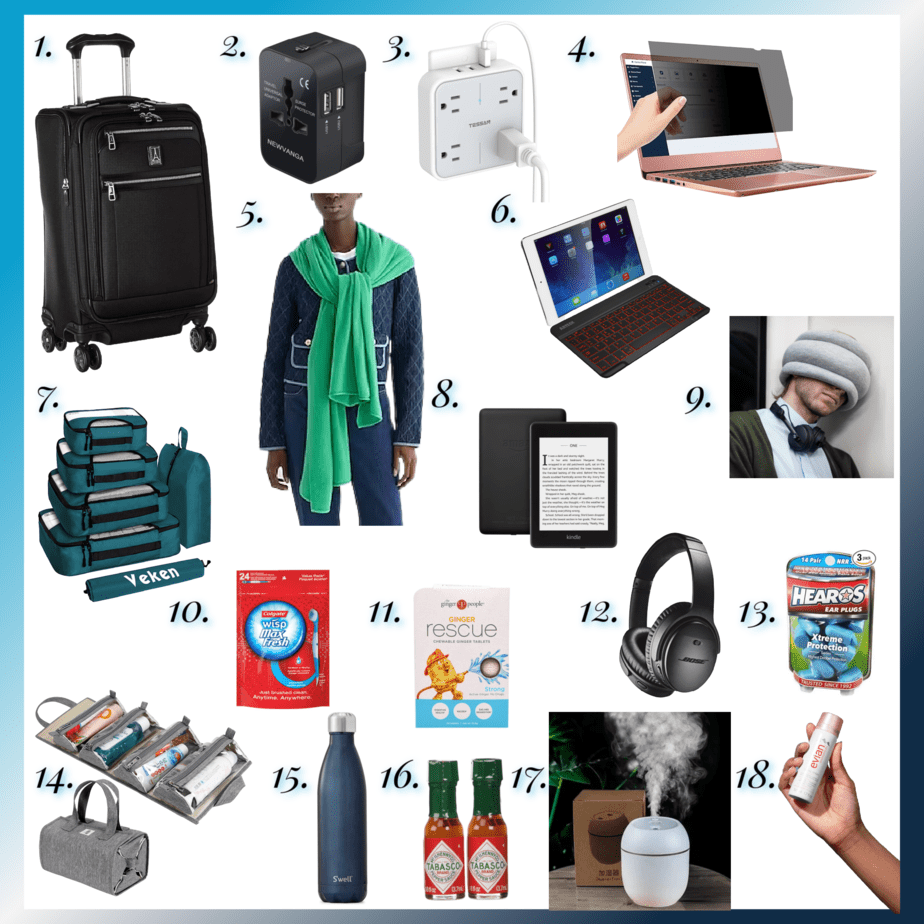 Originally pictured above: Skofja Loka, Slovenia, originally uploaded to Flickr by jaime.silva — updated 2019 to stock photos of London via Stencil.