Besides keeping a blazer at work, it's also a great to have a wrap handy in your office. Sure, they're great to grab as a top layer when you're freezing, but that's just one of the many ways to use a wrap or office pashmina. Here are nine other reasons to keep a wrap at the office:
We are a participant in the Amazon Services LLC Associates Program, an affiliate advertising program designed to provide a means for us to earn fees by linking to Amazon.com and affiliated sites.
This post contains affiliate links and Corporette® may earn commissions for purchases made through links in this post. For more details see here. Thank you so much for your support!
9 Ways to Use an Office Pashmina
1. Use it as a lap blanket when you're wearing a skirt or dress and your legs get chilly.
2. Need a quick power nap at work? Fold your wrap and use it as a pillow.
3. Could your dreary office really use some color? Drape a folded wrap on the back of your chair or on another chair in your office.
4. Sit down at work and realize your new skirt is shorter than you thought? Add a little coverage with a wrap. This also works if you like to get comfy at your desk by putting your feet up, etc.
5. In the same vein: If your new top didn't seem revealing in the dressing room but you end up inadvertently flashing someone at the office, layer a wrap over it.
6. Hold a wrap over your head (or wrap it around yourself) in the rain when you're caught without an umbrella.
7. Spill something on yourself? Cover it up with a wrap until you can change your outfit.
8. On a work trip and the plane is freezing? Use it as a nicer and softer blanket/pillow than the ones from the airline.
9. Cover your neck in the wintertime if you're wearing a neck-baring winter coat and don't have a scarf with you.
Now that you've realized all the great ways to use a wrap, check out a few of Kat's favorites: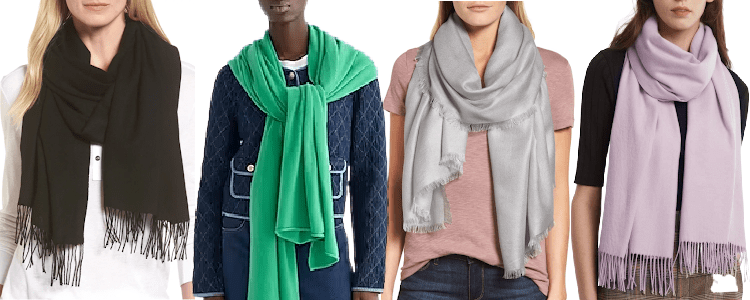 Some of our favorite office pashminas as of 2023: black / green / gray (lighter weight) / lavender ($20!!). If you're looking for more of a ruana jacket, I highly recommend the Brooks Brothers' ones!
You may have noticed that one of those is called a ruana and the rest are labeled wraps. What's the difference, anyway? The terms are often used loosely, but here's a guide to the technical definitions:
Wrap: A general category that refers to a garment meant to loosely wrap around the upper body, like a shawl.
Shawl: A square, rectangular, or triangular piece of fabric that's designed to be draped over the shoulders and arms. A pashmina is a type of shawl.
Pashmina: The technical definition refers to fine wool produced from a Cashmere goat. The most popular blend is 70% pashmina/30% silk, but 50/50 is common as well.
Poncho: A piece of material with an opening in the center for the wearer's head, with or without a hood.
Ruana: A poncho-like item (but longer) with or without a hood; a sleeveless square or rectangle of fabric with a slit down the front and a hole in the center for the wearer's head.
Scarf: A garment that can either be square or thin and long that's meant for wrapping or tying around the neck. An infinity scarf is a closed loop.
What are your favorite wraps? Do you leave one (or more) at work for one of its many potential uses? What are your favorite ways to use a wrap? Have you found any inexpensive wraps from, say, Amazon or Target that you like just as much as fancier wraps?
Pictured below: I love this tissue-thin silk/cashmere wrap, particularly in warmer months — and it comes in a ton of colors.