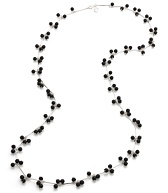 Today's reader mail has to do with long necklaces…
What are the rules of thumb for long necklaces?  I love the look, but I only have a couple and wear them all too rarely because I'm never sure that the necklace "fits" the outfit.  I remember a number of "we would wear this with" suggestions (I love those, by the way – they're often my favorite part of the TPS reports), but I did a search on the site and couldn't find much beyond that.  You've suggested long necklaces with boatnecks, and I generally think turtlenecks would work too, but are there any other general guidelines you can think of?
We love long necklaces, but agree that the outfit has to be right, as does the length of the necklace for your body type. For example, a necklace that's in the 30″ range is going to hit you right at your bust — which if you're busty is just going to look weird. Our preference is generally for what they call "opera length" necklaces — 36″ or so.  This length gives you a bunch of options for how to wear it.  For example, wear it long and loose when you're wearing things like a shift dress with a blazer — the length of the necklace will compliment the length of the blazer and add visual interest.  Another option is to wear it long, but knot it at the bottom to give it more of a pendant/V-shape to the look — we like to wear it this way when we're wearing it with a boatneck or turtleneck.  A great option if you're wearing a crewneck or a boatneck is such as to double the necklace, wearing the first "loop" of it close to your neck (not quite a choker, but above the crew neck) and the other loop down your chest.  Finally, you can double the necklace and wear the loops evenly across your chest — this looks nice with turtlenecks and scoopnecks.
In general, we would advise against wearing long necklaces with a v-neck — in general this kind of necklace will lower the eye, not raise it, which is generally what's needed with v-necks.  Readers, anything to add? (Also:  have you seen any long noteworthy necklaces lately?)
Pictured above: 36″ Cluster Drop Necklace
, available at Brooks Brothers on sale for $49.60 (was $248).
Check out some more 36″ necklaces, below…