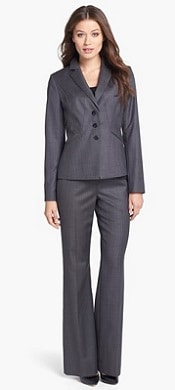 Update: We still stand by this advice on the dress code for an informal interview — but you may also want to check out our more recent advice on what to wear to an informational interview.
Today's reader mail is an interesting one… what DO you wear to an informal interview?
I am not really stressed about this, but I would appreciate some input. I have an informal interview on Friday morning – what is your opinion on the dress code for an informal interview? It is taking place at the actual law firm and, just for reference, this firm has about 60 attorneys and is one of the "big firms" in my small Southern state, which in my experience, means that it is a touch more formal, at least as far as dressing goes. My thoughts are that since it is a Friday and the recruiter has specifically dubbed it "informal" then I should not wear a suit but, obviously, wear a nice and professional skirt/pants/blouse combo. Thoughts? Advice? Well wishes :o).
First:  good luck!
What Lawyers Should Wear to Informal Interviews
Our gut feeling is that the answer depends on what the reader is currently doing. If you're currently a lawyer, suit up. We'd say a pants suit is probably fine for an informal interview — doesn't even have to be a "power" color like black or navy —  but, still:  suit up.
It doesn't matter that the interview has told you it's going to be informal, because you can always pass it off as having a big meeting or court appearance later that day. If you're a student and you don't own a suit, go as professional as possible. But honestly, if you already own a suit, we'd say to wear that anyway. After all, you always have the option to take the jacket off.
What To Wear to Informal Interviews (in General)
But really, unless the company you're "informally" interviewing with is amazingly casual — a surfing company, or a place that is famous for a khaki-panted workforce —  the answer for us is almost always going to be a suit, if only to show the interviewer that you take the prospective job seriously.
It also avoids distracting the interviewer — e.g., if you should have worn a suit and didn't, she or he may sit there wondering, geez, do they not have a suit? Do they not care about the interview?
UPDATE: There are some situations where a sheath dress + jacket would work for an interview, and we also have suggestions for what to wear for interviews for business casual jobs.
We're curious, though — what do readers think about the dress code for informal interviews? 
{related: the best interview attire for different types of jobs}
{related: how to style long hair for interviews}
{related: the best coats to wear over a suit in winter}
{related: check out our entire Guide to Women's Interview Attire!}
{related: the best tops to wear under suits}
{related: the best women's suits of 2022}
{related: what are "the rules" for interview shoes (if there are any)?}
{related: the guide to basic women's suiting}
{related: what to wear for informational interviews}
{related: interview makeup tips}
{related: how to look stylish in women's pants suits}
{related: what to wear for the dinner reception portion of an interview process}
{related: what to wear when you want a promotion at a business casual office}
(updos, separate block with image)